Lap times 3rd free practice 2019 Bahrain F1 GP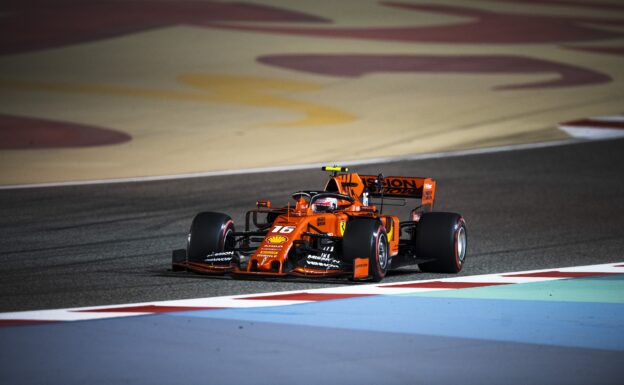 Event: Bahrain Grand Prix
Track: Bahrain International Circuit
Weather: 26.0-26.4°C sunny & dry
Tarmac: 40.1-36.7°C dry
Humidity: 51.5%
Wind: 2.0 m//s
Pressure: 1009.7 bar
The final practice for the 2018 Bahrain Formula 1 Grand Prix was again kicked off by McLaren driver Lando Norris who came out the pits as first. Ferrari driver Sebastian Vettel was the first who clocked a lap time. His first lap in FP3 was 1:31.617.
Because the ambient and track temperature is much higher than during qualifying and the race. That's why a lot of team waited until the temperatures dropped a bit. The track was also faster then yesterday because this morning the F2 had rubbed in the tarmac with some extra rubber.
Half way the session both Mercedes drivers Valtteri Bottas and Lewis Hamilton had driven their laps and took over the fastest lap of Vettel. Nico Hulkenberg again was bet of the rest in the Renault.
Max Verstappen still had to drive his laps in the Red Bull RB15 on his first timed lap he had beaten the time of Hamilton with a small gap of 0.057 s to P2.
With 20 minutes to go Leclerc attacked the track to improve his lap time. He did a very good job and was 1.390 sec. quicker than Verstappen's time. His teammate Vettel also put in a good lap on the soft tyres a few minutes later, but had to settle for second.
In the last 6 minutes a few teams did some laps to test their qualifying performance. That's why you see Haas driver, Grosjean, Hulkenberg and McLaren driver Norris on P5, P6 and P7. Nevertheless it's a very good result for Norris and looks promising for the qualifying session later today.
Kimi Raikkonen was quickest in last years FP3 driving for Ferrari. His quickest lap time was 1:29.868 min.
FP3 Lap Times 2019 Bahrain GP
Don't forget to update your Bahrain quali and race classification in our F1 Poule!
---
✅ Check out more posts with related topics: