Qualifying results 2019 Bahrain F1 Grand Prix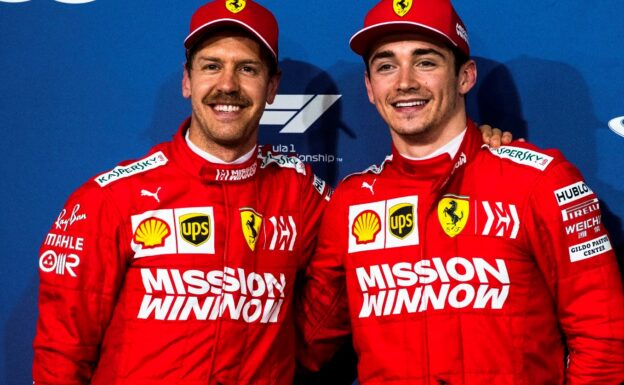 30 March 2019 by
Leopold
3 min read
Event: Bahrain Grand Prix
Track: Bahrain International Circuit
Weather: 25.2-24.8°C sunny & dry
Tarmac: 29.7-27.6°C dry
Humidity: 52.9-57.3%
Wind: 1.6 m/s
Air pressure: 1.010.1 bar
Charles Leclerc scored pole position for the Bahrain GP qualifying session. The Ferrari driver scored his first ever Formula 1 pole position. He will start from P1 tomorrow. It's the 220th pole for Scuderia Ferrari.
Qualifying for the 2019 Bahrain Grand Prix was held in the twilight zone. The session will start in daylight and end in darkness. The track will be light up by hundreds of floodlights.
Q1 session
In Q1 all drivers used the quickest soft tyre compound ride away. After the first qualifying session in Australia were the complete top 15 was classified in 1 second, nobody took the risk by using the slower medium compound. Ferrari was very dominating after his first stint Charles Leclerc was over 1 second faster than the other teams and even was faster then his 10 years older and 4 times world champion Sebastian Vettel.
In the second stint Hamilton was able to close the gap to 0.7 sec. which was still a very big gap in Formula 1 terms. Surprisingly Nico Hulkenberg was one of the drivers that was eliminated for Q2. His strong performances during all free practice session were no ticket for a good grid position. His teammate Daniel Ricciardo could push his Renault to P11 both McLaren drivers did a great job with Lando Norris on P4 and Carlos Sainz on P7.
Q2 session
The second qualifying session showed more or less the same picture as Q1. Both Ferrari was quickest by far. Leclerc again was fastest while his teammate Vettel made a mistake in his first stint at turn 10. Leclerc, Hamilton and Bottas didn't went out for a second stint. Leclerc was already over 0,5 sec. faster then Hamilton in his first stint.
McLaren again showed a very good performance by being 6h and 9th fastest and making it to Q3. The Renault team didn't make it into Q3. Ricciardo was just 0.017 sec. to slow to make it to Q3. Pierre Gasly had a though qualifying session in Bahrain. He again didn't make it to Q3. Gasly still didn't make to Q3 while driving at a top team in 2019.
Both Haas drivers again made it to Q3, with Kevin Magnussen on P5 and Romain Grosjean on P8. A very good performance again for the only United States team in Formula 1.
Q3 session
Lando Norris was the fist driver to go out of the last 10 drivers that were allowed to battle for pole. In this Q3 the cars used their quickest setting to score P1. The quickest lap time of the first stint was set by Leclerc. He drove a 1:27.958 which is exactly the same time as the record pole time of Vettel last year on Bahrain circuit. Vettel drove only 1 stint and came out with 2:45 min to go. In the second stint Vettel couldn't beat Leclerc's lap time and the drive from Monaco scored his first pole and even improved the pole record that Vettel set last year.
Ferrari came equal to Williams and McLaren on the record amount of 62 front row lockouts. Leclerc is the second youngest driver ever to score a pole position.
Qualifying Results 2019 Bahrain GP
---
✅ Check out more posts with related topics: