Lap times 1st practice 2018 Spanish F1 Grand Prix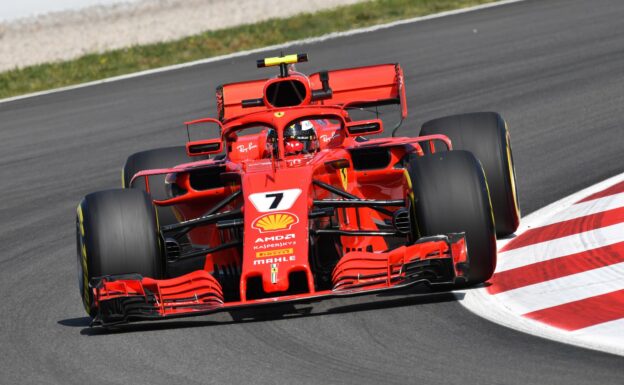 Event: Spanish Grand Prix
Track: Catalunya Circuit
Weather:  Sunny, Clear Sky,  19.4ºC
Tarmac: Dry, 31.1ºC
Wind speed: 11.9 km/h
Humidity: 64.6%
First free practice on the resurfaced Catalunya circuit started off at 11 (CET) today.
Instead of Sergey Sirotkin, Robert Kubica took over the wheel for first practice for the 2018 Spanish GP. His last practice session was in Abu Dhabi 2010.
We also could see the first live pictures of the new McLaren MCL33 nose and the very ugly halo mirrors with wings on the Ferrari SF71H.
This weekend the supersofts (red), softs (yellow) and medium (white) Pirelli tyres may be used by the teams.
After 14 minutes into the session Stoffel van Doorne set the first lap time: 1:22.529 min in the McLaren with the new nose design.
Half way the session Daniel Ricciardo crashed his Red Bull in turn 4 and caused a virtual safety car. The damage caused by the crash was to big to come out again this session.
Lance Stroll was struggling for grip in the Williams and went of the track several times. The updates on the McLaren MCL33 seem to work great as Alonso showed up on sixth place of the time table.
Mercedes looked very strong with Bottas during FP1 in Spain today. The quickest lap time of last year was 1:21.151 min.
FP1 Lap results 2018 Spanish GP
| | | | | | | | |
| --- | --- | --- | --- | --- | --- | --- | --- |
| Pos | No | Driver | Team | Lap Time | 1st Gap | Laps | Tyres |
| 1 | 77 | Valtteri Bottas | Mercedes | 1:18,148 | | 32 | soft |
| 2 | 44 | Lewis Hamilton | Mercedes | 1:18,997 | 0,849 | 22 | soft |
| 3 | 5 | Sebastian Vettel | Ferrari | 1:19,098 | 0,950 | 24 | super |
| 4 | 33 | Max Verstappen | Red Bull | 1:19,187 | 1,039 | 26 | medium |
| 5 | 7 | Kimi Räikkönen | Ferrari | 1:19,499 | 1,351 | 19 | super |
| 6 | 14 | Fernando Alonso | McLaren | 1:19,858 | 1,710 | 26 | soft |
| 7 | 3 | Daniel Ricciardo | Red Bull | 1:19,871 | 1,723 | 11 | soft |
| 8 | 8 | Romain Grosjean | Haas | 1:19,906 | 1,758 | 24 | soft |
| 9 | 2 | Stoffel Vandoorne | McLaren | 1:20,083 | 1,935 | 28 | medium |
| 10 | 10 | Pierre Gasly | Toro Rosso | 1:20,508 | 2,360 | 29 | medium |
| 11 | 20 | Kevin Magnussen | Haas | 1:20,637 | 2,489 | 28 | medium |
| 12 | 16 | Charles Leclerc | Sauber | 1:20,665 | 2,517 | 23 | soft |
| 13 | 11 | Sergio Pérez | Force India | 1:20,924 | 2,776 | 36 | medium |
| 14 | 9 | Marcus Ericsson | Sauber | 1:20,984 | 2,836 | 18 | soft |
| 15 | 55 | Carlos Sainz | Renault | 1:21,053 | 2,905 | 28 | super |
| 16 | 31 | Esteban Ocon | Force India | 1:21,144 | 2,996 | 27 | soft |
| 17 | 27 | Nico Hülkenberg | Renault | 1:21,159 | 3,011 | 26 | super |
| 18 | 28 | Brendon Hartley | Toro Rosso | 1:21,373 | 3,225 | 28 | soft |
| 19 | 40 | Robert Kubica | Williams | 1:21,510 | 3,362 | 24 | super |
| 20 | 18 | Lance Stroll | Williams | 1:22,756 | 4,608 | 15 | super |
---
✅ Check out more posts with related topics: