Lap times 1st practice 2018 Canadian F1 Grand Prix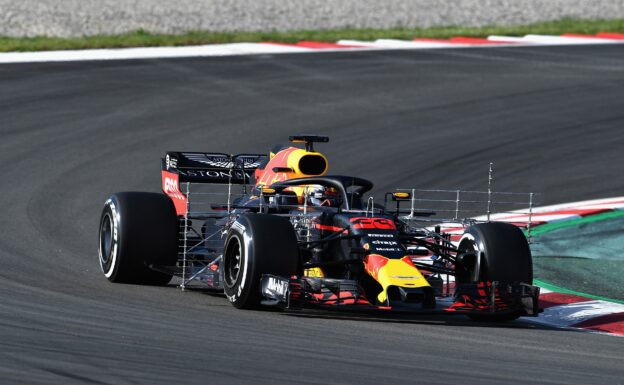 Event: Canadian Grand Prix
Track: Circuit Gilles Villeneuve
Weather:  Sunny & Clear Sky,  18.2ºC
Tarmac: Dry, 29.8ºC
Wind speed: 7.6 km/h
Humidity: 33.1%
The first practice session started off normal. All teams with Renault and Ferrari engines have updated power unit's which generate more power.
Only Mercedes powered teams didn't get an engine update. Mercedes seems to be 2 weeks back on schedule and will bring their engine update to France.
Williams driver Sergey Sirotkin was the first to set a lap time (1:20.427 min) on super soft tyres. Last years quickest lap time in FP1 was 1:13,809 min, set by Lewis Hamilton on Ultra soft tyres.
After half an hour the Renault RS18 of Nico Hulkenberg stopped on the long back straight. Hulkenberg lost drive and caused a red flag. The session was stopped and all cars had to return to the pit lane for 10 minutes.
Lewis Hamilton with the Mercedes and Max Verstappen in the Red Bull were lapping the quickest lap times. With 22 minutes to go Verstappen had to box with a left front suspension problem.
Lance Stroll broke his right rear rim when he hit the Wall of Champions and got a puncture and got back to the pit for a new one.
Canadian and Force India reserve driver Nicholas Latifi was allowed to drive the car of Sergio Pérez this session.
With 12 minutes on the clock Verstappen's suspension was fixed and he got out again to put in some more laps on the pink Hyper tyres.
In the last minutes of the session Marcus Ericsson spun his Sauber. Sirotkin spun his Williams and hit the protec barrier in turn 6 but was able to continue.
FP1 Lap Result 2018 Canadian GP
| | | | | | | | |
| --- | --- | --- | --- | --- | --- | --- | --- |
| Pos | No | Driver | Team | Lap Time | 1st Gap | Laps | Tyres |
| 1 | 33 | Max Verstappen | Red Bull | 1:13,302 | | 26 | Hyper |
| 2 | 44 | Lewis Hamilton | Mercedes | 1:13,390 | +0,088s | 29 | Ultra |
| 3 | 3 | Daniel Ricciardo | Red Bull | 1:13,518 | +0,216s | 24 | Hyper |
| 4 | 5 | Sebastian Vettel | Ferrari | 1:13,574 | +0,272s | 19 | Hyper |
| 5 | 77 | Valtteri Bottas | Mercedes | 1:13,617 | +0,315s | 31 | Ultra |
| 6 | 7 | Kimi Räikkönen | Ferrari | 1:13,727 | +0,425s | 28 | Hyper |
| 7 | 14 | Fernando Alonso | McLaren | 1:13,900 | +0,598s | 27 | Ultra |
| 8 | 55 | Carlos Sainz | Renault | 1:14,116 | +0,814s | 24 | Hyper |
| 9 | 2 | Stoffel Vandoorne | McLaren | 1:14,311 | +1,009s | 19 | Ultra |
| 10 | 10 | Pierre Gasly | Toro Rosso | 1:15,004 | +1,702s | 31 | Ultra |
| 11 | 31 | Esteban Ocon | Force India | 1:15,071 | +1,769s | 29 | Hyper |
| 12 | 8 | Romain Grosjean | Haas | 1:15,119 | +1,817s | 21 | Ultra |
| 13 | 9 | Marcus Ericsson | Sauber | 1:15,386 | +2,084s | 30 | Ultra |
| 14 | 16 | Charles Leclerc | Sauber | 1:15,439 | +2,137s | 30 | Ultra |
| 15 | 20 | Kevin Magnussen | Haas | 1:15,579 | +2,277s | 21 | Ultra |
| 16 | 28 | Brendon Hartley | Toro Rosso | 1:15,756 | +2,454s | 38 | Ultra |
| 17 | 35 | Sergey Sirotkin | Williams | 1:15,768 | +2,466s | 30 | Super |
| 18 | 18 | Lance Stroll | Williams | 1:16,259 | +2,957s | 16 | Super |
| 19 | 34 | Nicholas Latifi | Force India | 1:17,145 | +3,843s | 28 | Hyper |
| 20 | 27 | Nico Hülkenberg | Renault | no time | - | 3 | |
---
✅ Check out more posts with related topics: