Race results 2018 Monaco F1 Grand Prix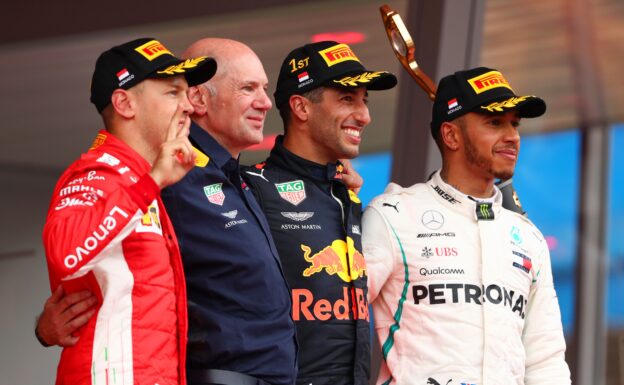 Event: Monaco Grand Prix
Track: Monaco Circuit
Weather:  Dry  25.9ºC
Tarmac: Dry 33.6ºC
Wind speed: 3.6 km/h
Humidity: 54.4%
Daniel Ricciardo won the 2018 Monaco GP today. It was his 7th victory and the 57th for his team Red Bull Racing.
All cars got away clean at the start. P2 starter Sebastian Vettel was quicker in his Ferrari than Daniel Ricciardo's Red Bull RB14, but couldn't pass him.
Stroll had a flat right left when trying to pass the car in front of him in lap 4
Lewis Hamilton was the first of the top team drivers that pitted to get rid of the Hyper soft tyres in lap 7 and used the purple Ultra soft tyres. Later on P2 driving Vettel and P1 driver Ricciardo also switched to the Ultra soft tyres.
In lap 28 Ricciardo told his team he was losing power and Vettel got right on his tale. Brave Ricciardo was able to keep Ferrari driver Vettel behind him until the finish in lap 78. Ricciardo probably had a problem with the battery or energy recovery system in his RB14.
On lap 52 Fernando Alonso had to retire with an engine problem on his McLaren. In lap 58 Max Verstappen did an unbelievable move around the outside of Carlos Sainz in the Renault coming out of the tunnel and got 9th place.
✅ Check out 2018 Monaco F1 GP Pictures
✅ Check out 2018 F1 Championship Standings
✅ Check out 2018 F1 Calendar
✅ Check out All Time F1 Drivers Rankings
✅ Check out All Time F1 Teams Rankings
✅ Check out All Time F1 Driver Records
F1 Classification 2018 Monaco GP
| P | No | Driver | Team | Time | Laps | Grid | Pts |
| --- | --- | --- | --- | --- | --- | --- | --- |
| 1 | 3 | Daniel Ricciardo | Red Bull | 01:42:54.807 | 78 | 1 | 25 |
| 2 | 5 | Sebastian Vettel | Ferrari | 01:43:02.143 | 78 | 2 | 18 |
| 3 | 44 | Lewis Hamilton | Mercedes | 01:43:11.820 | 78 | 3 | 15 |
| 4 | 7 | Kimi Räikkönen | Ferrari | 01:43:12.934 | 78 | 4 | 12 |
| 5 | 77 | Valtteri Bottas | Mercedes | 01:43:13.629 | 78 | 5 | 10 |
| 6 | 31 | Esteban Ocon | Force India | 01:43:18.474 | 78 | 6 | 8 |
| 7 | 10 | Pierre Gasly | Toro Rosso | 01:43:19.138 | 78 | 10 | 6 |
| 8 | 27 | Nico Hülkenberg | Renault | 01:43:19.646 | 78 | 11 | 4 |
| 9 | 33 | Max Verstappen | Red Bull | 01:43:20.124 | 78 | 20 | 2 |
| 10 | 55 | Carlos Sainz | Renault | 01:44:03.820 | 78 | 8 | 1 |
| 11 | 9 | Marcus Ericsson | Sauber | 01:44:04.671 | 78 | 16 | 0 |
| 12 | 11 | Sergio Pérez | Force India | 01:44:05.268 | 78 | 9 | 0 |
| 13 | 20 | Kevin Magnussen | Haas | 01:44:09.630 | 78 | 19 | 0 |
| 14 | 2 | Stoffel Vandoorne | McLaren | 01:42:55.039 | 77 | 12 | 0 |
| 15 | 8 | Romain Grosjean | Haas | 01:43:25.050 | 77 | 18 | 0 |
| 16 | 35 | Sergey Sirotkin | Williams | 01:43:46.428 | 77 | 13 | 0 |
| 17 | 18 | Lance Stroll | Williams | 01:43:27.518 | 76 | 17 | 0 |
| 18 | 16 | Charles Leclerc | Sauber | Collision | 70 | 14 | 0 |
| 19 | 28 | Brendon Hartley | Toro Rosso | Collision | 70 | 15 | 0 |
| DNF | 14 | Fernando Alonso | McLaren | Power unit | 52 | 7 | 0 |
Fastest lap: : 1:14.260 min Max Verstappen (Red Bull)  lap 60  @161.772 km/h
Highest speed: 293.5 km/h by Max Verstappen Red Bull RB14
---
✅ Check out more posts with related topics: