Qualifying results 2018 German F1 Grand Prix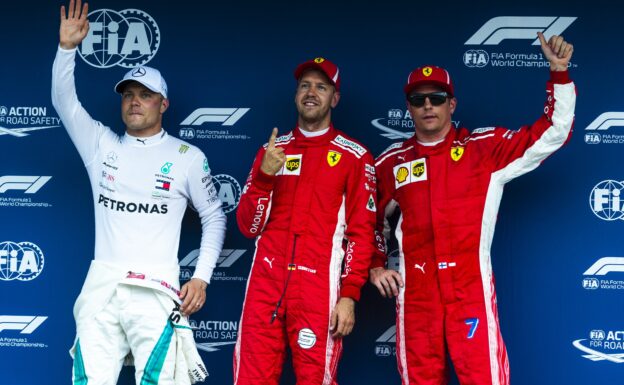 Event: German Grand Prix
Track: Hockenheimring
Weather:  Overcast,  21.5ºC
Tarmac: 27.3ºC
Wind speed: 2.9 km.h
Humidity: 84.1%
Sebastian Vettel scored the pole position for tomorrow's 2018 German Formula One Grand Prix. The German dirver scored his 55th pole and his second pole in Germany. It was his 5th pole position of the 2018 F1 season and the 218th for Ferrari.
Q1 started of dry. Until 20 minutes before the start of qualifying it was drizzling. The change of rain has shrunk to 40%.
In Q1 both Ferrari drivers were topping the time sheet, with Kimi Raikkonen being faster than his teammate Sebastian Vettel.
The criticised Haas driver Roman Grosjean trew in a great lap in Q1 and set the 4th quickest lap time and pushed his car between Hamilton and Bottas.
We also saw a very good lap time of rookie Charles Leclerc, who drove the 6th quickest lap time in Q1 with only 0,07 difference with the Mercedes of Hamilton.
At the end of Q1 we saw Lewis Hamilton having a hydraulic problem with his Mercedes car. The British driver was very determent to go to Q2 and wanted to push his car to the Mercedes pitbox al the way from turn 11, but wasn't allowed by the officials.
In Q2 we only saw 13 drivers back on the track as next to Hamilton it was Ricciardo who also skipped Q2. The Australian driver choose to save tyres and power unit. because has to start as last for tomorrow's race due to several grid penalties for replacing a lot of power unit items in the back of the RB14.
The Q2 session was stopped because there was to much gravel on the track after Marcus Ericsson had a trip through the gravel in the Sachskurve (turn 13).
Max Verstappen was the only top team driver in Q2, who tried to set his quickest lap time on the slower Soft compound (yellow)j. The tyre compound you set your  quickest lap on in Q2 is the tyre you have to use at the start of the race tomorrow.
The Dutch driver set the 9th quickest lap time on the Soft tyre and still had to switch to the purple Ultra soft tyres to be sure to make it into Q1.
In Q1 it was party mode for Ferrari and Mercedes. Untill the last lap of Vettel it was Bottas who was on P1 for pole, but Vettel put in a flawless lap and got first place.
Vettel also broke the qualifying record of his countryman Michael Schumacher set in 2004 with  2.094 sec! The old qualifying record was: 1:13.306 min.
See the overview of all 2018 F1 drivers with pictures and all statistics.
Qualifying Times 2018 German GP
---
✅ Check out more posts with related topics: