Qualifying results 2018 British F1 Grand Prix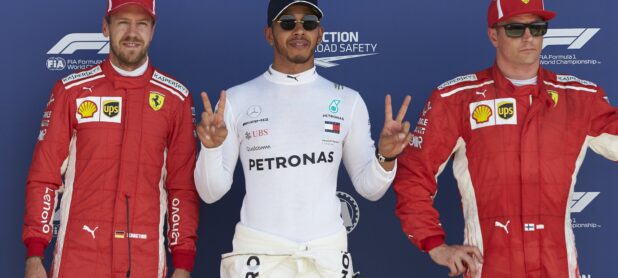 Event: British Grand Prix
Track: Silverstone Circuit
Weather:  Sunny  25.8ºC
Tarmac: 51.1ºC
Wind speed: 5.0 km/h
Humidity: 39%
Lewis Hamilton won pole for tomorrow's 2018 British Grand Prix. It was the 76th pole of his F1 career and pole number 93 for the Mercedes team.
It is the 6th time that Hamilton scored pole on Silverstone and it was the 4th pole of the 2018 F1 season for the British driver.
It was Pierre Gasly and both Haas drivers Romain Grosjean and Kevin Magnussen who were the first to come out of the pits.
Lance Stroll ended his qualifying session after 3 minutes when he beached his Williams in the gravel at Brooklands and caused a red flag period.
His teammate Sergey Sirotkin also took a visit in the gravel trap, but was able to get out with his car.
In Q3 it was Kimi Raikonen who set the first lap time for Ferrari. A 1:26.296 min. Lewis Hamilton than improved that time to 1:25.993, followed by Sebastian Vettel who got P1 with a 1:25.936 min.
See an overview of all 2018 F1 drivers with pictures and all statistics.
Qualifying Times 2018 British GP
Note - Hartley didn't take part in qualifying after crash in FP3.
---
Check out more items on this website about: