Lap times 3rd practice 2018 Spanish F1 Grand Prix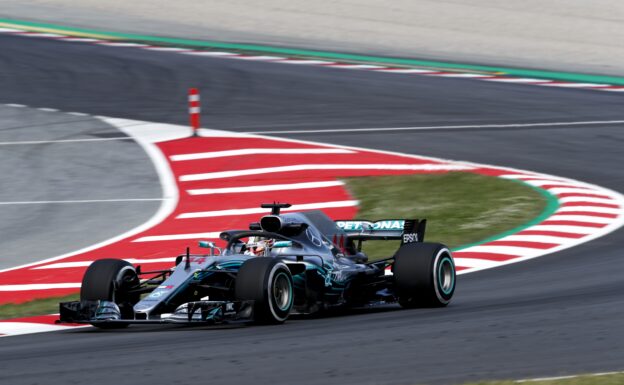 Event: Spanish Grand Prix
Track: Catalunya Circuit
Weather:  Partly Clouded,  21.1ºC
Tarmac: Dry, 35.3ºC
Wind speed : 9.5 km/h
Humidity:   62.5%
Sauber, Haas and McLaren were the first teams that got out during this final practice.
Last night the Kimi Raikkonen's Ferrari SF71H was fitted with a new combustion engine, turbo and MGU-H.
Brandon Hartley clocked the first lap time of 1:20.073 in the Toro Rosso STR13 with the Honda power unit.
Halfway the session Lewis Hamilton drove the fastest lap time ever on Catalunya circuit and set it on 1:17.844 min on the yellow soft Pirelli tyres.
Max Verstappen left the track in turn 1/2 and return on the circuit the wrong way.
Stroll also could not keep his Williams on the track in turn 4 and drove trough the gravel pit onto the grass behind it to return to the track.
With almost 20 minutes to go Max Verstappen had to return to the garage to get a new floor on his RB14. He didn't got back on the track.
Kevin Magnussen drove a very good session and clocked the 5th fastest lap time in the Haas VF-17.
Romain Grosjean was blocked by Sergio Sirotkin's Williams and also left the track in turn  2 with the Haas.
With 3 minutes to go the final practice session got red flagged when Brandon Hartley had a severe crash in the high speed turner 9, where the cars drive with a speed of 245 km/h.
He wasn't hurt in the crash and could walk away to the medical car by himself. When the marshal's tried to recover the heavenly crashed car, the back of the car even broke off.
3rd practice results 2018 Spanish GP
---
✅ Check out more posts with related topics: