First Free Practice Results 2023 Spanish F1 GP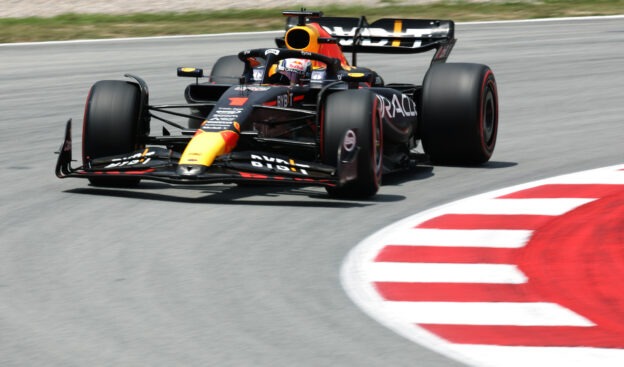 Event: Spanish Grand Prix
Track: Catalunya Circuit
Weather: dry  25°C
Tarmac: dry  43°C
Humidity: 53%
Wind: 1 km/h NE
Pressure: 999 bar
In today's First Free Practice of the 2023 Spanish F1 GP, we witnessed the world's fastest drivers and their teams navigating the Circuit de Barcelona-Catalunya's updated track layout.
The session opened with Fernando Alonso leading the pack on the circuit, almost all drivers heading out early, except for Nico Hulkenberg. This weekend, Pirelli is providing teams with the C1, C2, and C3 compounds, and they've also gifted two extra sets of the hard compound for testing purposes due to increased car performance this season.
Notably, Max Verstappen, the Dutchman from Red Bull Racing, was quickest right from the get-go, posting a 1m 17.425s time. This easily surpassed Charles Leclerc's pole time from last year, even though comparisons aren't straightforward due to the circuit changes.
Alpine's Alonso, on a used set of soft tyres, managed an impressive eighth place, throwing his car around and leaving nothing behind. His teammate Esteban Ocon finished third, being only eight tenths behind Verstappen, putting on an impressive show after his stellar performance in Monaco. However, some small pieces of carbon fibre were observed being kicked out from Ocon's car as he ran wide over the kerbs, leading him to the pits for a check-over.
The top 10 at the halfway mark was:
Max Verstappen, Red Bull (M) - 1:15.945
Pierre Gasly, AlphaTauri (M) +0.418
Sergio Pérez, Red Bull (M) +0.475
Esteban Ocon, Alpine (M) +0.905
Fernando Alonso (M) +0.931
Nyck de Vries (M) +1.058
Carlos Sainz (M) +1.090
Logan Sargeant (M) +1.141
Charles Leclerc (M) +1.189
Yuki Tsunoda (M) +1.253
Mercedes, known for their better performances on Fridays, appeared to struggle a bit, with both drivers out on cooldown laps. Lewis Hamilton, running on soft tyres, could only manage P11, not quite what the team was expecting. On the other hand, rookie Logan Sargeant of Williams, drove impressively to land sixth place on medium tyres.
The forecast is mixed for the entire weekend, with the highest chance of showers expected on race day. In the backdrop of last weekend's race at Monaco, this could lead to some interesting strategy calls.
Towards the end of the session, ominous clouds were appearing over the distant mountains, hinting at a change in weather conditions. Red Bull's Verstappen, however, showed some discomfort with his engine mode and expressed his dissatisfaction over the team radio.
Meanwhile, Pierre Gasly had a moment sliding out of Turn 1, going fully off track and causing sparks as his floor met the underside of the painted kerbs. Ferrari's Carlos Sainz had a similar episode at Turn 12 while improving his lap on a set of soft tyres.
Overall, this practice session provided teams with valuable data and insights. With the revised track layout causing some bouncing at the final corner entry and some weather fronts approaching, teams will have to plan and strategize accordingly for the upcoming sessions and the main race.
The final timings of FP1 were Verstappen leading from Pierre Gasly and Perez, although the soft tyre runs had only just begun, indicating potential changes in the leaderboard in the forthcoming sessions.
That's the round-up from the First Free Practice of the 2023 Spanish F1 Grand Prix. The stage is set for an exciting weekend of F1 action!
The quickest sector times during this free practice were set by:
Max Verstappen - 22.088
Max Verstappen - 29.880
Max Verstappen - 22.638
Last year the quickest lap time of FP1 was a 1:19,828 min, driven by Charles Leclerc with the Ferrari F1-75.
FP1 Times Table 2023 Spanish GP
| | | | | | | | |
| --- | --- | --- | --- | --- | --- | --- | --- |
| P | No | Driver | Team | Time | 1st Gap | Laps | Tyres |
| 1 | 1 | Max Verstappen | Red Bull | 1:14,606 | | 31 | 🔴S |
| 2 | 11 | Sergio Pérez | Red Bull | 1:15,374 | +0,768s | 31 | 🔴S |
| 3 | 31 | Esteban Ocon | Alpine | 1:15,418 | +0,812s | 27 | 🔴S |
| 4 | 21 | Nyck de Vries | AlphaTauri | 1:15,504 | +0,898s | 26 | 🔴S |
| 5 | 10 | Pierre Gasly | Alpine | 1:15,545 | +0,939s | 26 | 🔴S |
| 6 | 14 | Fernando Alonso | Aston Martin | 1:15,547 | +0,941s | 23 | 🔴S |
| 7 | 20 | Kevin Magnussen | Haas | 1:15,689 | +1,083s | 21 | 🔴S |
| 8 | 16 | Charles Leclerc | Ferrari | 1:15,694 | +1,088s | 27 | 🔴S |
| 9 | 55 | Carlos Sainz | Ferrari | 1:15,726 | +1,120s | 26 | 🔴S |
| 10 | 63 | George Russell | Mercedes | 1:15,753 | +1,147s | 31 | 🔴S |
| 11 | 4 | Lando Norris | McLaren | 1:15,783 | +1,177s | 24 | 🔴S |
| 12 | 44 | Lewis Hamilton | Mercedes | 1:15,845 | +1,239s | 28 | 🔴S |
| 13 | 24 | Zhou Guanyu | Alfa Romeo | 1:15,906 | +1,300s | 23 | 🔴S |
| 14 | 22 | Yuki Tsunoda | AlphaTauri | 1:15,915 | +1,309s | 26 | 🔴S |
| 15 | 18 | Lance Stroll | Aston Martin | 1:15,939 | +1,333s | 24 | 🔴S |
| 16 | 77 | Valtteri Bottas | Alfa Romeo | 1:15,978 | +1,372s | 23 | 🔴S |
| 17 | 81 | Oscar Piastri | McLaren | 1:16,353 | +1,747s | 25 | 🔴S |
| 18 | 27 | Nico Hülkenberg | Haas | 1:16,461 | +1,855s | 27 | 🔴S |
| 19 | 2 | Logan Sargeant | Williams | 1:16,506 | +1,900s | 29 | 🔴S |
| 20 | 23 | Alex Albon | Williams | 1:16,630 | +2,024s | 27 | 🔴S |
---
✅ Check out more posts with related topics: