Results Third Free Practice 2022 British F1 Grand Prix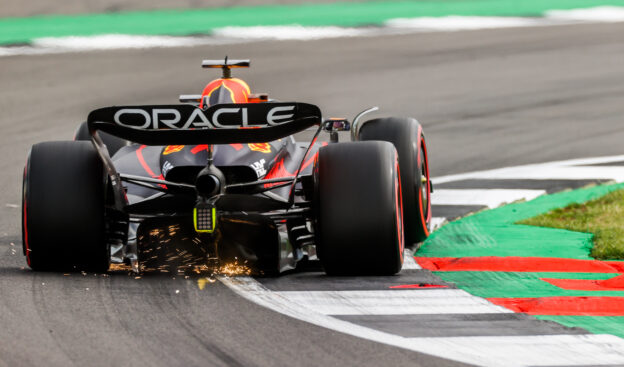 Event: British F1 Grand Prix
Track: Silverstone circuit
Weather: dry  17.3°C
Tarmac: dry  25.1°C
Humidity: 65%
Wind: 5.8 m/s NW
Pressure: 999.7 bar
Lance Stroll was the first to go out on the track in the Aston Martin to kick off the third and final practice for the 2022 British F1 Grand Prix. Silverstone is literally the home race for Aston Martin as their factory is right next to the Silverstone circuit.
After ten minutes only 8 drivers had clocked a lap time around Silverstone. Both Ferraris again were topping the leaderboard with Charles Leclerc 0.365 sec. quicker than Carlos Sainz. Leclerc's tine on a set of soft tyres was a 1:29.452 min. Both Red Bulls and Mercedes' drivers had not put a lap time on the timesheet.
After 20 minutes Max Verstappen and Sebastian Vettel still had not recorded a lap time. Vettel and Verstappen had driven two laps and was busy with their first clocked lap. Verstappen's very first lap in the Red Bull was almost 0.5s faster than Lelcerc's with a 1:28.541 min. Pérez was third on +0.561s, Russell was 4th on +0.625s, Hamilton was 5th on +0.687s, Sainz was on P6 (+0.724), Zhou was 7th on +1.509s, 8th was Schumacher on +01.720, Bottas on P9 on +1.922s and Albon was 10th on +2.037s. All cars in the top 10 used soft tyres.
Because their was a threat of rain this session, a lot of teams decided to off with qualifying runs. The drivers got different messages about the rain showers and with 24 minutes to go Pérez told his team he experiencing some drops of rain on the back straight.
The McLaren team didn't start with qualifying laps and drove around on P17 and P18 with medium tyres to figure out if their overnight changes and optimise their race pace.
Lewis Hamilton showed the upgrades on the W13 were working very well by being fastest in the fast corners. The upgrades on the Ferrari seemed to have made their porpoising worse in fast corners. Sainz's F1-75 was bouncing a lot through Copse corner.
With 15 minutes to go the track got faster because the sun had come out a bit. Verstappen had improved his lap time to 1:27.901 min. Leclerc was second on +0.487 and Hamilton was third on +0.587. Russell was 4th on 0.649, Sainz was 5th on +0.788 and Pérez was 6th on +1.027. Pérez was struggling with a lot with understeer in turn 13 (Chapel).
In the end Pérez seemed to have fixed the understeer problem and went 0.6 sec. quicker to be second fastest on +0.410s behind his teammate.
FP3 Times Table 2022 British GP
| | | | | | | | |
| --- | --- | --- | --- | --- | --- | --- | --- |
| P | No | Driver | Team | Time | 1st Gap | Laps | Tyres |
| 1 | 1 | Max Verstappen | Red Bull | 1:27,901 | | 17 | S |
| 2 | 11 | Sergio Pérez | Red Bull | 1:28,311 | +0,410s | 20 | S |
| 3 | 16 | Charles Leclerc | Ferrari | 1:28,348 | +0,447s | 20 | S |
| 4 | 63 | George Russell | Mercedes | 1:28,426 | +0,525s | 20 | S |
| 5 | 44 | Lewis Hamilton | Mercedes | 1:28,488 | +0,587s | 24 | S |
| 6 | 55 | Carlos Sainz | Ferrari | 1:28,689 | +0,788s | 21 | S |
| 7 | 4 | Lando Norris | McLaren | 1:29,102 | +1,201s | 19 | S |
| 8 | 77 | Valtteri Bottas | Alfa Romeo | 1:29,185 | +1,284s | 19 | S |
| 9 | 47 | Mick Schumacher | Haas | 1:29,510 | +1,609s | 20 | S |
| 10 | 14 | Fernando Alonso | Alpine | 1:29,520 | +1,619s | 19 | S |
| 11 | 31 | Esteban Ocon | Alpine | 1:29,552 | +1,651s | 23 | S |
| 12 | 5 | Sebastian Vettel | Aston Martin | 1:29,593 | +1,692s | 24 | S |
| 13 | 24 | Zhou Guanyu | Alfa Romeo | 1:29,752 | +1,851s | 16 | S |
| 14 | 23 | Alex Albon | Williams | 1:29,780 | +1,879s | 21 | S |
| 15 | 10 | Pierre Gasly | AlphaTauri | 1:29,885 | +1,984s | 22 | S |
| 16 | 18 | Lance Stroll | Aston Martin | 1:29,892 | +1,991s | 25 | S |
| 17 | 22 | Yuki Tsunoda | AlphaTauri | 1:30,039 | +2,138s | 21 | S |
| 18 | 3 | Daniel Ricciardo | McLaren | 1:30,293 | +2,392s | 20 | S |
| 19 | 6 | Nicholas Latifi | Williams | 1:30,489 | +2,588s | 15 | S |
| 20 | 20 | Kevin Magnussen | Haas | 1:30,523 | +2,622s | 18 | S |
✅ Check out our 2022 British F1 Grand Prix preview
---
✅ Check out more posts with related topics: