Qualifying Results 2019 Abu Dhabi F1 GP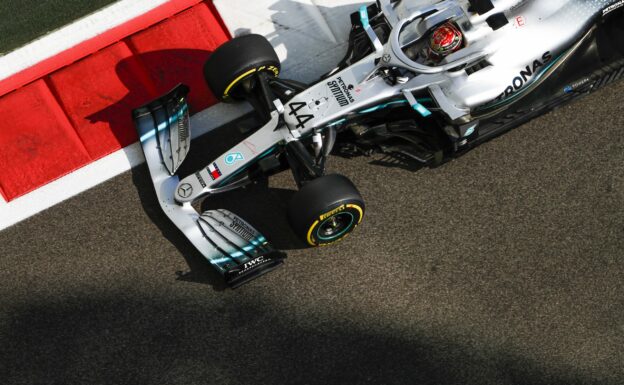 30 November 2019 by
Leopold
3 min read
F1 Race Event: Abu Dhabi F1 Grand Prix
Race Track: Yas Marina Circuit
Weather: dry  26.5-°C
Tarmac: dry  32.4°C
Humidity : 61.4%
Wind : 1.7 m/s S
Pressure: 1016.3 bar
Lewis Hamilton scored his 88th F1 pole position during the 2019 Abu Dhabi qualifying session today. He will start from P1 for the 5th time on Yas Marina circuit in his F1 career tomorrow. It was the 111th pole for Mercedes.
Q1
During this first session it's still daylight as the sunsets in Abu Dhabi. After the first stint of his qualifying session for tomorrow's 2019 Abu Dhabi Grand Prix it was Lewis Hamilton who had set the best lap time with a 1:36.231 in his Mercedes. At the same time Hamilton did his lap when we saw Sebastian Vettel spin the Ferrari SF90 when he started his first quick lap. 2nd was Max Verstappen on 0.159s and Valtteri Bottas on P3 with a gap towards his team mate of 0.237s.
Five minutes before the end of Q1, Kimi Raikkonen, Romain Grosjean, George Russell, Antonio Giovinazzi and Robert Kubica had to improve there lap time to get into Q2. They all did improve their lap time but still got eliminated.
Q2
During this session it got dark and after the first stint Hamilton again was on top of the leaderboard although he used the medium tyres. His team mate Bottas claimed P2 and was only 0.040s slower on the mediums. P3 was for Leclerc with a small gap to 0.063s on soft tyres, who Vettel also used to get on P4. Verstappen was 0.641s slower than Hamilton on medium tyres.
Daniil Kvyat, Lando Norris, Lance Stroll, Pierre Gasly and Kevin Magnussen were in the elimination zone. In the last stint Leclerc used the medium tyres and was able to drive the quickest lap time by being 0.091s quicker than Hamilton. Norris was the only driver who improved enough to get into Q3.
Q3
Again Hamilton was the guy to beat after the first stint. He lapped the circuit in 1:34.828 to have the provisional pole. The British driver was more than 0.3s quicker than Verstappen who was on 2nd, Bottas 3rd, Leclerc 4th, Vettel 5th and Albon 6th.
In the second stint was Hamilton was also the first to go out and was close behind Carlos Sainz in the McLaren. Leclerc was to slow in his outlap and didn't make it before time had run out. Hamilton did improve his lap time. Bottas also jumped to P2, but has to start from the back due to several grid penalties for using more than 3 power unit elements.
The pole time of last year was scored by Hamilton with a 1:34.794 min.
Qualifying Times 2019 Abu Dhabi GP
Note:
Valtteri Bottas (Mercedes no.77) will have to start from P20 due to several grid penalties for using more than 3 power unit elements this race.
---
Check out more items on this website about: