Lap times 1st practice 2018 Monaco F1 Grand Prix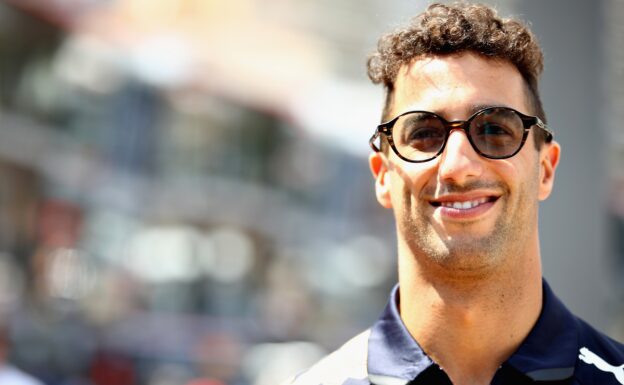 Event: Monaco Grand Prix
Track: Monaco Circuit
Weather:  Partly Clouded,  21.5ºC
Tarmac: Dry, 33.5ºC
Wind speed: 1.4 km/h
Humidity: 72.1%
The Monaco Grand Prix event kicked off with the first practice on the narrow green but dry street circuit.
Valtteri Bottas had a special helmet design. His helmet was painted the same as Mika Hakkinen's helmet was, to honour his Monaco victory 20 years ago.
This weekend is also the first race that the teams can use the new Pirelli Hyper soft (pink) version tyres.
The first driver to hit the unforgiving barriers of Monaco was rookie driver Sergey Sirotkin who drives at Williams.
Mercedes driver Lewis Hamilton and Red Bull with both drivers Mac Verstappen and Daniel Ricciardo were battling out who could set the fastest lap time.
At the end it was Ricciardo who was the fastest with an amazing lap time that is already 1.299 seconds faster than last year quickest lap time of FP1!
FP1 Lap result 2018 Monaco GP
| | | | | | | | |
| --- | --- | --- | --- | --- | --- | --- | --- |
| Pos | No | Driver | Team | Lap Time | 1st Gap | Laps | Tyres |
| 1. | 3 | Daniel Ricciardo | Red Bull | 1:12,126 | | 36 | Hyper |
| 2. | 33 | Max Verstappen | Red Bull | 1:12,280 | 0,154 | 25 | Hyper |
| 3. | 44 | Lewis Hamilton | Mercedes | 1:12,480 | 0,354 | 34 | Hyper |
| 4. | 5 | Sebastian Vettel | Ferrari | 1:13,041 | 0,915 | 40 | Hyper |
| 5. | 7 | Kimi Räikkönen | Ferrari | 1:13,066 | 0,940 | 38 | Hyper |
| 6. | 55 | Carlos Sainz | Renault | 1:13,456 | 1,330 | 40 | Hyper |
| 7. | 77 | Valtteri Bottas | Mercedes | 1:13,502 | 1,376 | 39 | Hyper |
| 8. | 11 | Sergio Pérez | Force India | 1:13,717 | 1,591 | 39 | Hyper |
| 9. | 8 | Romain Grosjean | Haas | 1:13,943 | 1,817 | 24 | Hyper |
| 10. | 35 | Sergey Sirotkin | Williams | 1:13,962 | 1,836 | 40 | Hyper |
| 11. | 31 | Esteban Ocon | Force India | 1:14,000 | 1,874 | 39 | Hyper |
| 12. | 28 | Brendon Hartley | Toro Rosso | 1:14,034 | 1,908 | 46 | Ultra |
| 13. | 27 | Nico Hülkenberg | Renault | 1:14,134 | 2,008 | 38 | Hyper |
| 14. | 10 | Pierre Gasly | Toro Rosso | 1:14,240 | 2,114 | 38 | Ultra |
| 15. | 2 | Stoffel Vandoorne | McLaren | 1:14,291 | 2,165 | 37 | Hyper |
| 16. | 16 | Charles Leclerc | Sauber | 1:14,521 | 2,395 | 39 | Hyper |
| 17. | 14 | Fernando Alonso | McLaren | 1:14,637 | 2,511 | 16 | Hyper |
| 18. | 18 | Lance Stroll | Williams | 1:14,782 | 2,656 | 43 | Hyper |
| 19. | 9 | Marcus Ericsson | Sauber | 1:15,206 | 3,080 | 39 | Hyper |
| 20. | 20 | Kevin Magnussen | Haas | 1:18,801 | 6,675 | 7 | Ultra |
---
✅ Check out more posts with related topics: