Lap times 1st practice 2015 Bahrain F1 Grand Prix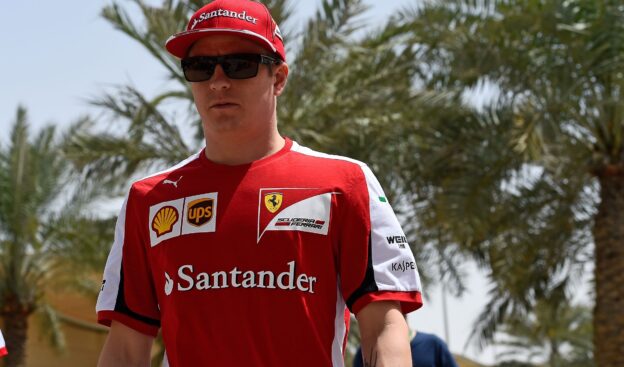 Event: Bahrain Grand Prix
Track: Bahrain International Circuit
Weather: Dry, clear sky 34ºC
Tarmac: 51ºC
Ferrari drivers Kimi Raikkonen and Sebastian Vettel proofed that the pace of the Ferrari in hot circumstances is great.
Due to the sandstorm this week in Bahrain, the track was very slippery. All drivers where driving a lot of laps. Jenson Button had a technical problem and only drove a few laps. Sebastian Vettel also had some technical problems and lost power. He had to go back  to the pit to have his car checked.
Williams driver Valtteri Bottas was testing a new front wing at the end of the session. Read more in our 2015 Bahrain F1 GP 1st practice report.

FP1 Lap Times 2015 Bahrain GP
| | | | | | | |
| --- | --- | --- | --- | --- | --- | --- |
| Pos | No | Driver | Team | Lap Time | 1st Gap | Laps |
| 1 | 7 | Kimi Räikkönen | Ferrari | 1:37,827 |  - | 13 |
| 2 | 5 | Sebastian Vettel | Ferrari | 1:38,029 | 0,202 | 12 |
| 3 | 77 | Valtteri Bottas | Williams | 1:38,390 | 0,563 | 23 |
| 4 | 55 | Carlos Sainz | Toro Rosso | 1:38,447 | 0,620 | 14 |
| 5 | 3 | Daniel Ricciardo | Red Bull | 1:38,455 | 0,628 | 17 |
| 6 | 33 | Max Verstappen | Toro Rosso | 1:38,504 | 0,677 | 22 |
| 7 | 14 | Fernando Alonso | McLaren | 1:38,598 | 0,771 | 18 |
| 8 | 12 | Felipe Nasr | Sauber | 1:38,628 | 0,801 | 17 |
| 9 | 26 | Daniil Kvyat | Red Bull | 1:38,661 | 0,834 | 17 |
| 10 | 19 | Felipe Massa | Williams | 1:38,790 | 0,963 | 21 |
| 11 | 11 | Sergio Pérez | Force India | 1:38,793 | 0,966 | 15 |
| 12 | 13 | Pastor Maldonado | Lotus F1 | 1:38,842 | 1,015 | 23 |
| 13 | 27 | Nico Hülkenberg | Force India | 1:39,187 | 1,360 | 20 |
| 14 | | Jonathan Palmer | Lotus F1 | 1:39,283 | 1,456 | 31 |
| 15 | 6 | Nico Rosberg | Mercedes | 1:39,293 | 1,466 | 23 |
| 16 | 44 | Lewis Hamilton | Mercedes | 1:39,532 | 1,705 | 22 |
| 17 | 9 | Marcus Ericsson | Sauber | 1:39,534 | 1,707 | 21 |
| 18 | 28 | Will Stevens | Manor | 1:42,973 | 5,146 | 12 |
| 19 | 98 | Roberto Merhi | Manor | 1:44,265 | 6,438 | 15 |
| 20 | 22 | Jenson Button | McLaren | no time | - | 2 |
---
✅ Check out more posts with related topics: