Qualifying results 2018 French F1 Grand Prix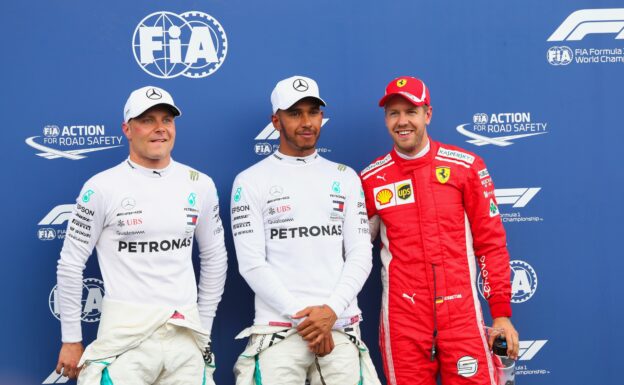 Event: French Grand Prix
Track: Circuit Paul Ricard
Weather:  Partly clouded,  22.6ºC
Tarmac: Dry, 30.2ºC
Wind speed: 1.8km/h
Humidity: 66%
Lewis Hamilton won pole for tomorrow's 2018 French Grand Prix. It was the 75th pole of his F1 career and pole number 91 for the Mercedes team.
Williams driver Lance Stroll was the frist to leave the pit lane in Q1. The session was driven without any incidents. The 3 top teams set the fastest lap time one by one with Hamilton topping the time sheet after 20 minutes and the end of Q1.
Because it started to drizzle at the beginning of Q2, both Red Bull's got out as first onto the French circuit. It was very important to set a good lap before the rain would fall down.
The rain didn't came and the track dried and became faster and all cars got out at the end  of the session to improve their lap time. Charles Leclerc caused a small sensation by being fast enough in the Sauber to get into Q3. The last time Sauber was able to get into Q3 was Italy 2015.
Both Mercedes and Red Bull drivers set their fasest lap time on Supersoft tyres and will start the race on that compound tomorrow.
Sebastian Vettel was the first to go out for Q3 and set the 3rd quickest lap time in this first stint when Romain Grosjean lost control of his Haas and crashed in turn 6. The session got red flagged to recover the crashed car.
When the session resumed Kimi Raikkonen was the first to go out with the Ferrari but could not improve his position.
See an overview of all 2018 F1 drivers with pictures and all statistics.
Qualifying Times 2018 French GP
---
✅ Check out more posts with related topics: