Lap Times 2nd Free Practice 2019 French F1 GP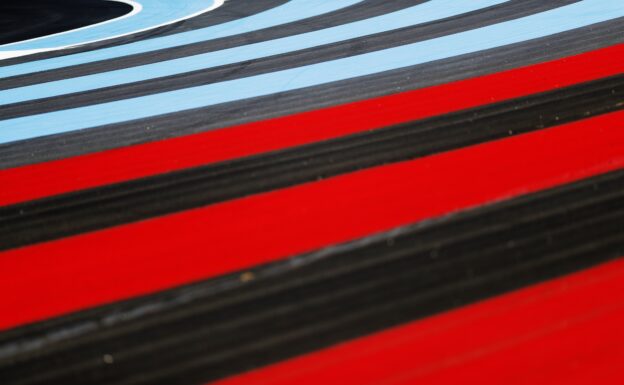 Event: French Grand Prix
Track: Circuit Paul Ricard
Weather: 25.8-25.5°C Sunny & dry
Tarmac: 55.8-52.6°C dry
Humidity: 43.1-54.5%
Wind: 1.6 m//s SE
Pressure: 965.6 bar
Mercedes driver Valtteri Bottas was the man to beat on soft tyres during this 2nd practice session for the 2019 French Formula 1 Grand Prix. Hamilton was 2nd on medium tyres.
After the water leak during FP1 Romain Grosjean could go out again in the Haas during this second free practice for the 2019 French F1 GP. He only drove 9 laps in the morning, but locked up his right front tyre in the first couple of laps of this FP2. The French driver had to come in to the pits to get new tyres, because the vibrations caused by the flat spot were to heavy on the Haas. He had a tough afternoon and was 0.8 sec. slower than his team mate Kevin Magnussen who was 10th quickest.
Ferrari was the quickest in the first part of the session. After 20 minutes Sebastian Vettel was on P1 and drove a 1 1:32.763 min. But that was mainly because both Mercedes drivers didn't set their lap times yet...
Mercedes driver Valtteri Bottas was quickest straight away. He drove a 1.31.669 min. during his first stint. His team mate Lewis Hamilton was complaining about his front tyres were not in balance.
Half way this 2nd practice session in France we saw Lando Norris drive the 4th quickest lap time in the McLaren on the hard tyre. Nevertheless he still was 1.5 sec. a lap slower than Bottas in the Mercedes who had clocked a 1:30.937 on soft (red) tyres , which was even quicker than his Q2 time of last year.
The very high track temperature of almost 56°C made the track quite hard to drive. Even 5 times WC Hamilton lost control of his Mercedes in turn 3. With 30 minutes to go Norris even was 0.2 sec. quicker than Max Verstappen in the Red Bull. The English teenager was 5th fastest at that moment on the soft tyres.
This last part of the FP2 session Hamilton stayed in the Mercedes garage to let the mechanics check his W10. After his adventure in turn 3 his car seem to have an issue that had to be fixed. With 20 minutes to go he got out again to do his long run.
The quickest lap time of last years FP2 a 1:32.539 min. was set by Lewis Hamilton in the Mercedes W09.
FP2 Lap Times 2019 French GP
---
✅ Check out more posts with related topics: