Day 1 - 2019 Bahrain In-Season Test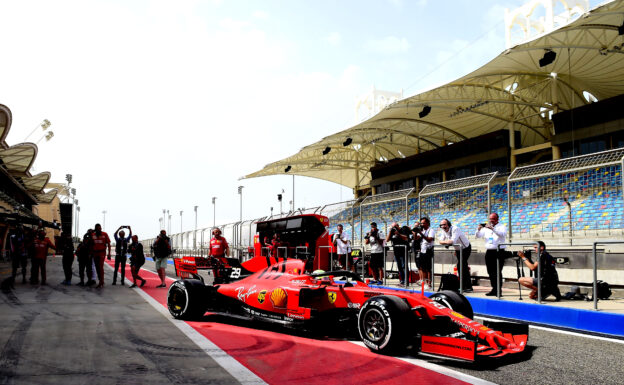 Event: In-season Test Bahrain
Track: Bahrain International Circuit
Weather:  24°C  dry/wet/dry
Tarmac: 28°C dry/wet/dry
Rain severely affected running on the opening day of the first 2019 in-season test. Weather conditions began overcast and windy but rain showers, late morning and early afternoon, before constant rain, restricted on-track running with over four hours lost due to a damp or wet track in today's scheduled nine-hour test. Add some sandstorms into the mix, covering the track with a sprinkling of golden dust last night, and track conditions this morning were far from ideal.
Max Verstappen posted the fastest lap of this first day of testing in the Red Bull RB15. He clocked a 1:29.379. The pole time Charles LecLerc last Saturday was 1:27.866. Verstappen's quickest quali time was 1:28.752.
Lewis Hamilton completed 77 laps on a wet first day of testing at the Bahrain International Circuit. Which is the most amount of laps a single driver did today.
There were 2 special driver today at Bahrain. The first one was Fernando Alonso. He was driving an F1 car for the first time since the Abu Dhabi Grand prix last November. He was the first car on-track shortly after 09:00. The former double world champion was aboard the Pirelli test car evaluating 2020 tyres. As per regulations, his MCL34's specification is using an aerodynamic set-up previously utilised in a race. Daniil Kvyat was also testing for Pirelli in a Toro Rosso car.
The second special driver was son of 7 times WC Michael Schumacher; Mick Schumacher, who was doing some testing for Ferrari. Mick completed 23 laps, as he gradually gained confidence in the SF90, while working on a programme including tyre and set-up work. By the end of his first day in a Formula 1 car, the youngster had run up a total of 56 laps, equivalent to 303 kilometres, one lap less than Sunday's race distance. He also drove the second fastest lap time of the day! His time would have been good enough to qualify as 16th on the grid Saturday.
For the second and final day of the Sakhir test, Sebastian Vettel will be behind the wheel for Scuderia Ferrari Mission Winnow. Mick Schumacher will be in action yet again, switching to the cockpit of the Alfa Romeo Racing car.
This is what Mick Schumacher said about his first F1 drive:

I really enjoyed today. It felt like home in the garage from the very first moment with a lot of people that know me since I was very young. The SF90 is incredible because of the power it has, but it is also smooth to drive, and that's why I enjoyed myself so much. I was impressed by the braking power an F1 car has. It seemed to me you could brake later and later and the car would have made the turn anyway. I would like to say thank you Ferrari for this incredible opportunity and I'm looking forward to test the Alfa Romeo tomorrow.
Here are the lap times of all drivers that had a go today.
Lap times 1st day 2019 Bahrain Test
| | | | | | | | |
| --- | --- | --- | --- | --- | --- | --- | --- |
| Pos | No | Driver | Team | Lap Time | 1st Gap | Laps | Tyres |
| 1 | 33 | Max Verstappen | Red Bull | 1:29,379 | | 62 | C3 |
| 2 | 29 | Mick Schumacher | Ferrari | 1:29,976 | +0,597 | 56 | C5 |
| 3 | 4 | Lando Norris | McLaren | 1:30,800 | +1,421 | 22 | C3 |
| 4 | 8 | Romain Grosjean | Haas | 1:30,982 | +1,603 | 42 | C3 |
| 5 | 23 | Alexander Albon | Toro Rosso | 1:31,089 | +1,710 | 71 | C3 |
| 6 | 44 | Lewis Hamilton | Mercedes | 1:31,156 | +1,777 | 77 | C3 |
| 7 | 3 | Daniel Ricciardo | Renault | 1:31,584 | +2,205 | 45 | C4 |
| 8 | 18 | Lance Stroll | Racing Point | 1:31,964 | +2,585 | 33 | C3 |
| 9 | 55 | Carlos Sainz | McLaren | 1:32,059 | +2,680 | 32 | C2 |
| 10 | 99 | Antonio Giovinazzi | Alfa Romeo | 1:32,067 | +2,688 | 53 | C3 |
| 11 | 14 | Fernando Alonso | McLaren | 1:32,207 | +2,828 | 64 | 2020 |
| 12 | 51 | Pietro Fittipaldi | Haas | 1:32,708 | +3,329 | 20 | C5 |
| 13 | 88 | Robert Kubica | Williams | 1:33,290 | +3,911 | 19 | C5 |
| 14 | 26 | Daniil Kvyat | Toro Rosso | 1:33,653 | +4,274 | 45 | 2020 |
| 15 | 63 | George Russell | Williams | 1:33,682 | +4,303 | 27 | C3 |
---
✅ Check out more posts with related topics: