Third Free Practice Results 2021 Portuguese F1 GP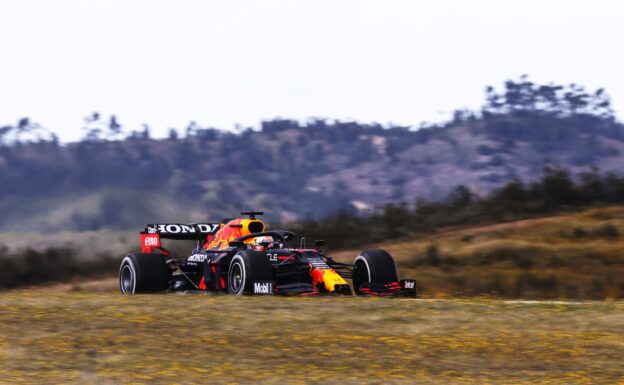 F1 Event: Portuguese Grand Prix
Race Track: Portimão Circuit
Weather: dry  16.6°C
Tarmac: dry  29.7°C
Humidity : 46%
Wind : 0.7 m/s W
Pressure: 1006.4 bar
The third practice for the 2021 Portuguese Formula 1 Grand Prix was kicked off by both rookie drivers from the Haas team. Nikita Mazepin and MIck Schumacher were the only cars in the first 10 minutes of the session who tried to lap the circuit in the Algarve as quick as possible.
Almost 25 minutes into the session both Red Bull and Mercedes drivers didn't set any lap times. Until then Esteban Ocon was quickest on the medium tyres in the Alpine with 1:19.672 min. He even was faster than Charles Leclerc in the Ferrari who drove a lap on the soft tyres, but made a mistake.
Just as the Red Bull's and Mercedes' drivers drove a quick lap on the soft tyres a virtual safety car period was used to clear an advertising board that had came down. After that Max Verstappen was quickest in the Red Bull with a 1:18.545 and Mercedes driver Lewis Hamilton was on P2 only 0.190s slower.
Fernando Alonso drove a P3 time in the Alpine but his time was deleted after the stewards detected he had crossed the track limits of turn 1.
With 10 minutes to go Verstappen started to push for an even better lap time. Some traffic caused him to back off. He told his team he lost a lot of time in the last sector because of oversteer.
Haas driver Mick Schumacher was surprisingly quick on P15. He was even quicker than Sebastian Vettel in the Aston Martin.
1:16.654 min was the fastest lap time of last years FP3 in Portimao and was clocked by Valtteri Bottas in the Mercedes W11.
✅ Check out our 2021 Portuguese F1 GP preview.
FP3 Times Table 2021 Portuguese GP
| | | | | | | | |
| --- | --- | --- | --- | --- | --- | --- | --- |
| P | No | Driver | Team | Lap Time | P1  Gap | Laps | Tyres |
| 1 | 33 | Max Verstappen | Red Bull | 1:18,489 | | 21 | S (C3) |
| 2 | 44 | Lewis Hamilton | Mercedes | 1:18,725 | 0,236 | 21 | S (C3) |
| 3 | 77 | Valtteri Bottas | Mercedes | 1:18,820 | 0,331 | 19 | S (C3) |
| 4 | 11 | Sergio Pérez | Red Bull | 1:18,840 | 0,351 | 24 | S (C3) |
| 5 | 31 | Esteban Ocon | Alpine | 1:18,860 | 0,371 | 19 | S (C3) |
| 6 | 16 | Charles Leclerc | Ferrari | 1:19,001 | 0,512 | 23 | S (C3) |
| 7 | 55 | Carlos Sainz Jr. | Ferrari | 1:19,050 | 0,561 | 24 | S (C3) |
| 8 | 4 | Lando Norris | McLaren | 1:19,272 | 0,783 | 18 | S (C3) |
| 9 | 10 | Pierre Gasly | AlphaTauri | 1:19,374 | 0,885 | 25 | S (C3) |
| 10 | 7 | Kimi Räikkönen | Alfa Romeo | 1:19,415 | 0,926 | 25 | S (C3) |
| 11 | 22 | Yuki Tsunoda | AlphaTauri | 1:19,485 | 0,996 | 25 | S (C3) |
| 12 | 3 | Daniel Ricciardo | McLaren | 1:19,582 | 1,093 | 19 | S (C3) |
| 13 | 99 | Antonio Giovinazzi | Alfa Romeo | 1:19,588 | 1,099 | 23 | S (C3) |
| 14 | 14 | Fernando Alonso | Alpine | 1:19,949 | 1,460 | 20 | M (C2) |
| 15 | 47 | Mick Schumacher | Haas | 1:20,033 | 1,544 | 21 | S (C3) |
| 16 | 18 | Lance Stroll | Aston Martin | 1:20,090 | 1,601 | 17 | S (C3) |
| 17 | 63 | George Russell | Williams | 1:20,127 | 1,638 | 18 | S (C3) |
| 18 | 5 | Sebastian Vettel | Aston Martin | 1:20,214 | 1,725 | 21 | M (C2) |
| 19 | 6 | Nicholas Latifi | Williams | 1:20,681 | 2,192 | 19 | S (C3) |
| 20 | 9 | Nikita Mazepin | Haas | 1:20,690 | 2,201 | 20 | S (C3) |
---
Check out more items on this website about: