Third Free Practice Results 2021 French F1 GP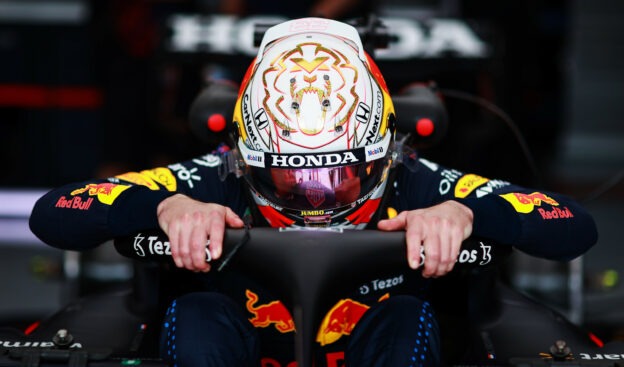 Event: French F1 Grand Prix
Track: Paul Ricard Circuit
Weather: dry  25.8°C
Tarmac: dry  36.8°C
Humidity : 55.4%
Wind : 0.8 m/s SE
Pressure: 967.7 bar
Max Verstappen drove the quickest lap with the Red Bull RB16 during the third and final practice for the French Grand Prix.
Carlos Sainz shows the Ferrari can also be quick around a 'normal' circuit being 3rd, while his teammate Charles Leclerc is only 11th.
Lewis Hamilton who was complaining yesterday about there is something wrong with car, was only 5th. The British driver now seems to drive around with the chassis that Bottas used earlier this year.
1:30.159 min was the fastest lap time of last FP1 in France back in 2019. It was clocked by Valtteri Bottas in the Mercedes W10 SF90.
FP3 Times Table 2021 French GP
| | | | | | | | |
| --- | --- | --- | --- | --- | --- | --- | --- |
| P | No | Driver | Team | Lap Time | P1  Gap | Laps | Tyres |
| 1 | 33 | Max Verstappen | Red Bull | 1:31,300 | | 11 | 🔴S (C4) |
| 2 | 77 | Valtteri Bottas | Mercedes | 1:32,047 | 0,747 | 14 | 🔴S (C4) |
| 3 | 55 | Carlos Sainz Jr. | Ferrari | 1:32,195 | 0,895 | 17 | 🔴S (C4) |
| 4 | 11 | Sergio Pérez | Red Bull | 1:32,238 | 0,938 | 15 | 🔴S (C4) |
| 5 | 44 | Lewis Hamilton | Mercedes | 1:32,266 | 0,966 | 15 | 🔴S (C4) |
| 6 | 4 | Lando Norris | McLaren | 1:32,336 | 1,036 | 14 | 🔴S (C4) |
| 7 | 14 | Fernando Alonso | Alpine | 1:32,624 | 1,324 | 15 | 🔴S (C4) |
| 8 | 31 | Esteban Ocon | Alpine | 1:32,681 | 1,381 | 16 | 🔴S (C4) |
| 9 | 10 | Pierre Gasly | AlphaTauri | 1:32,707 | 1,407 | 16 | 🔴S (C4) |
| 10 | 3 | Daniel Ricciardo | McLaren | 1:32,759 | 1,459 | 14 | 🔴S (C4) |
| 11 | 16 | Charles Leclerc | Ferrari | 1:32,820 | 1,520 | 15 | 🔴S (C4) |
| 12 | 99 | Antonio Giovinazzi | Alfa Romeo | 1:33,017 | 1,717 | 17 | 🔴S (C4) |
| 13 | 18 | Lance Stroll | Aston Martin | 1:33,051 | 1,751 | 15 | 🔴S (C4) |
| 14 | 5 | Sebastian Vettel | Aston Martin | 1:33,200 | 1,900 | 18 | 🔴S (C4) |
| 15 | 7 | Kimi Räikkönen | Alfa Romeo | 1:33,328 | 2,028 | 16 | 🔴S (C4) |
| 16 | 63 | George Russell | Williams | 1:33,364 | 2,064 | 16 | 🔴S (C4) |
| 17 | 22 | Yuki Tsunoda | AlphaTauri | 1:33,424 | 2,124 | 17 | 🔴S (C4) |
| 18 | 6 | Nicholas Latifi | Williams | 1:33,584 | 2,284 | 16 | 🔴S (C4) |
| 19 | 47 | Mick Schumacher | Haas | 1:34,143 | 2,843 | 14 | 🔴S (C4) |
| 20 | 9 | Nikita Mazepin | Haas | 1:34,642 | 3,342 | 13 | 🔴S (C4) |
---
Check out more items on this website about: