Qualifying Results 2019 Monaco F1 Grand Prix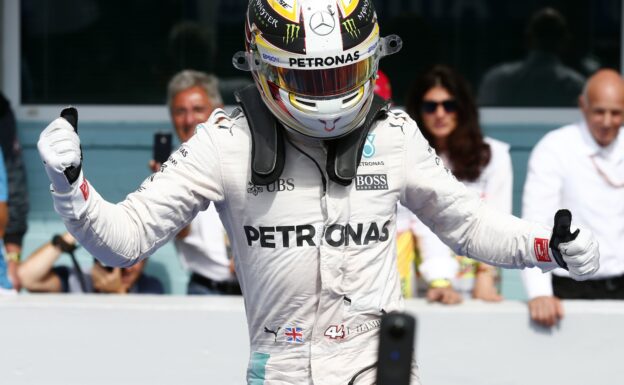 Event: Monaco Grand Prix
Track: Monaco Street Circuit
Weather: 21.4°C cloudy & dry
Tarmac: 45.0-40.5°C dry
Humidity: 62.9%
Wind: 1.0 m//s
Pressure: 1014.6 bar
Lewis Hamilton scored pole position for the 66th Monaco Formula 1 Grand Prix. The Mercedes driver scored his 85th! pole position and his second pole of this season. It was the 106th pole position for the Mercedes F1 team and the 66th 1-2 front row lock-out.
Q1
The weather was bit warmer then expected. The fight for getting in Q2 was on. All drivers tried to do a quick lap in free air, which can be very difficult on the tight track in Monte Carlo. Max Verstappen was quickest right from the start and was flying round in the Red Bull RB15. Kevin Magnussen was also showing his talent by being second fastest.
With 6 minutes to go Nico Hulkenberg, Sergio Pérez, Lance Stroll, Robert Kubica and George Russel had to give it all to get into Q2.
Sebastian Vettel made a small error in the pool section and went in the pits to check his car. It went out to try and get to Q2. His out lap had to be quick and with less than  10 sec. on the clock he crossed the finish for his final effort.

At the end of the session he got P1 and showed all his criticisers he still has it. All the commotion at Ferrari turned out as a nightmare for his Leclerc, because he didn't go out to defend his position and was kick-out by the very good result of Sebastian Vettel and Nico Hulkenberg in the Renault. He was only 0.052 to slow to get into Q2.
Q2
In the second qualifying session Lewis Hamilton was the first driver that clocked a lap time. He set it to 1:11.124, but was quickly followed by Valtteri Bottas who clocked a 1:10.701 who was fastest in the first stint.
With 2 minutes to go the drivers at risk were Alexander Albon, Lando Norris, Nico Hulkenberg, Romain Grosjean, Kimi Raikkonen and Antonio Giovinazzi.
Verstappen was the only driver who gave both Mercedes drivers a run for their money and clocked P1 with 1 minute to go.
Q3
In Q3 it was Bottas who drove out on to the track to try and score his 10th pole position. After the first stint it was Bottas who was fastest with Hamilton 2nd on 0.231 sec and Verstappen on P3 on 0.389 sec.
The second stint of Q3 it was Vettel who got out as first, but he couldn't improve. Hamilton did improve and scored his 85th pole and only his 2nd pole in Monaco.
Qualifying Results 2019 Monaco GP
Here you can see the highlights of qualifying in Monaco:
A dramatic day in Monte Carlo...

Qualifying highlights ⬇️ #MonacoGP 🇲🇨 #F1 pic.twitter.com/ff40ajt6X3

— Formula 1 (@F1) May 25, 2019
We also have the pole lap of Lewis Hamilton onboard:
🍿

Lewis' pole lap@pirellisport #MonacoGP 🇲🇨 #Fit4F1 pic.twitter.com/tZqO29Lukr

— Formula 1 (@F1) May 25, 2019
---
✅ Check out more posts with related topics: