First Free Practice Results 2021 French F1 GP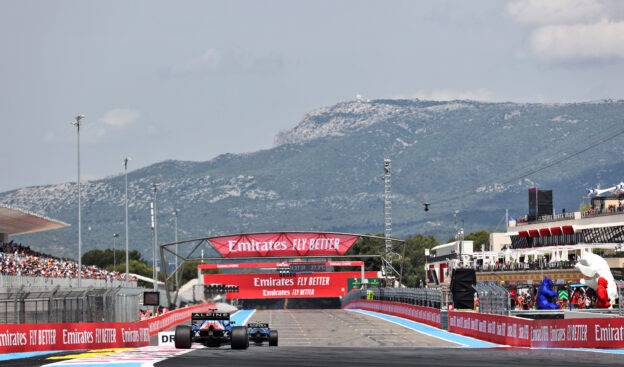 Event: French F1 Grand Prix
Track: Paul Ricard Circuit
Weather: dry  25.5°C
Tarmac: dry  38.9°C
Humidity : 54%
Wind : 1.0 m/s SE
Pressure: 967.8 bar
The first practice for the 2021 French Formula 1 Grand Prix was driven (as usual) under perfect weather circumstances. The track in the south of France was quite slippery and rookies Mick Schumacher (Haas) and Yuki Tsunoda (AlphaTauri) both caused a yellow flag early in the session when they spun their car.
The whole circuit is almost completely resurfaced with a new layer of tarmac and has now some new high yellow curbs in turn 2. Valtteri Bottas experienced these very early in the session by going wide at this turn and damaged the front wing and floor of the Mercedes W12. The Finn was called in by his team to replace the wing and check the car. Later on the team told the FIA that their car took a lot of damage and complained to them that the curbs are way to aggressive.
10 minutes in to the session Max Verstappen put in a good lap on the hard tyres and clocked a time to beat of 1:34.139 min in the Red Bull. Lewis Hamilton was almost 0.7s slower at this stage in the Mercedes. Carlos Sainz was 3rd in the Ferrari on 1.2s towards Verstappen.
After 15 minutes Sebastian Vettel lost control of the Aston Martin in turn 11 and hit the barrier backwards. He was able to drive back to the pits, but had ruined the set of Soft tyres that was only 5 laps old. The rear wing looked undamaged, but the impact probably caused some damaged up close.
Halfway the session Hamilton drove the quickest lap up till then on a set of soft tyres. The British driver drove a flying lap in 1:33.783 min.
One lap later Sainz lost control of the Ferrari and also demolished a set of softs. He also crossed the new high  yellow curbs at turn 2, but didn't damage the car. At this point Mercedes driver Valtteri Bottas was quickest on a set of red tyres with a 1:33.448 min, over 0.335s quicker than his teammate. Verstappen was 3rd on 0.432s. Verstappen's teammate Perez was 4th on 0.745. Charles Leclerc 5th on 1.502s in the Ferrari.
1:32.738 min was the fastest lap time of last FP1 in France back in 2019. It  was clocked by Lewis Hamilton with the Mercedes W10.
FP1 Times Table 2021 French GP
| | | | | | | | |
| --- | --- | --- | --- | --- | --- | --- | --- |
| P | No | Driver | Team | Lap Time | P1  Gap | Laps | Tyres |
| 1 | 77 | Valtteri Bottas | Mercedes | 1:33,448 | | 24 | 🔴S (C4) |
| 2 | 44 | Lewis Hamilton | Mercedes | 1:33,783 | 0,335 | 21 | 🔴S (C4) |
| 3 | 33 | Max Verstappen | Red Bull | 1:33,880 | 0,432 | 23 | 🔴S (C4) |
| 4 | 11 | Sergio Pérez | Red Bull | 1:34,193 | 0,745 | 25 | ⚪H (C2) |
| 5 | 31 | Esteban Ocon | Alpine | 1:34,329 | 0,881 | 25 | 🔴H (C4) |
| 6 | 3 | Daniel Ricciardo | McLaren | 1:34,644 | 1,196 | 24 | 🔴S (C4) |
| 7 | 14 | Fernando Alonso | Alpine | 1:34,693 | 1,245 | 21 | 🔴S (C4) |
| 8 | 10 | Pierre Gasly | AlphaTauri | 1:34,699 | 1,251 | 20 | 🔴S (C4) |
| 9 | 4 | Lando Norris | McLaren | 1:34,707 | 1,259 | 21 | 🔴S (C4) |
| 10 | 22 | Yuki Tsunoda | AlphaTauri | 1:34,847 | 1,399 | 22 | 🔴S (C4) |
| 11 | 16 | Charles Leclerc | Ferrari | 1:34,950 | 1,502 | 24 | 🔴S (C4) |
| 12 | 99 | Antonio Giovinazzi | Alfa Romeo | 1:35,116 | 1,668 | 23 | 🔴S (C4) |
| 13 | 7 | Kimi Räikkönen | Alfa Romeo | 1:35,135 | 1,687 | 20 | 🔴S (C4) |
| 14 | 18 | Lance Stroll | Aston Martin | 1:35,275 | 1,827 | 23 | 🔴S (C4) |
| 15 | 5 | Sebastian Vettel | Aston Martin | 1:35,289 | 1,841 | 16 | 🔴S (C4) |
| 16 | 55 | Carlos Sainz Jr. | Ferrari | 1:35,342 | 1,894 | 24 | ⚪H (C2) |
| 17 | 6 | Nicholas Latifi | Williams | 1:35,612 | 2,164 | 22 | 🔴S (C4) |
| 18 | 9 | Nikita Mazepin | Haas | 1:36,651 | 3,203 | 24 | 🔴S (C4) |
| 19 | 47 | Mick Schumacher | Haas | 1:37,329 | 3,881 | 14 | 🔴S (C4) |
| 20 | 45 | Roy Nissany | Williams | 1:37,881 | 4,433 | 16 | 🔴S (C4) |
---
Check out more items on this website about: