Fastest lap times 4th day 2017 2nd F1 testing Barcelona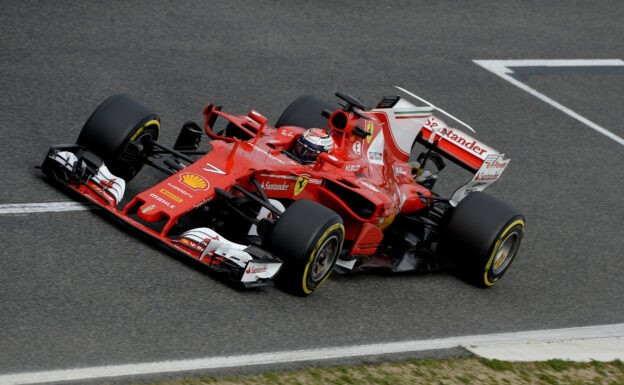 Testing is done for now. All F1 teams had the opportunity to test their creations on 4 wheels for 8 days at Circuit de Catalunya in Spain.
Who was fastest you ask? According the quickest lap time it's Ferrari with their SF70H. Today Kimi Raikkonen set a lap time that was 1:18.634 min. That's 3 seconds faster than his own lap record of 2008. In 2008 F1 cars where generating tons of down force, because a lot of extra wings where allowed those days. Cars also had a V8 2.4 L engine which reached over 18.000 RPM and made the proper noise we still hunger for.
So being 3 seconds quicker than that lap record is huge, no doubt. But the biggest question is who was sandbagging? It could be that Mercedes and Red Bull where sandbagging big time.
All speculation will stop once the Australian Grand Prix starts in 2 weeks time. We will see who has done their homework the best way. Will it be Ferrari? Or will Mercedes show they where sandbagging big time. We are very excited about the new cars and can't wait for the start of the first race on 26th of March. All eyes will be on Ferrari for sure.
Fastest Lap times 4th day of 2nd testing 2017 Barcelona
| | | | | | | | |
| --- | --- | --- | --- | --- | --- | --- | --- |
| Pos | No | Driver | Team | Lap Time | 1st Gap | Tyres | Laps |
| 1. | 7 | Kimi Räikkönen | Ferrari | 1:18,634 | | SS | 111 |
| 2. | 33 | Max Verstappen | Red Bull | 1:19,438 | 0,804 | SS | 71 |
| 3. | 55 | Carlos Sainz Jr. | Toro Rosso | 1:19,837 | 1,203 | US | 132 |
| 4. | 77 | Valtteri Bottas | Mercedes | 1:19,845 | 1,211 | SS | 53 |
| 5. | 44 | Lewis Hamilton | Mercedes | 1:19,850 | 1,216 | US | 54 |
| 6. | 27 | Nico Hülkenberg | Renault | 1:19,885 | 1,251 | Us | 45 |
| 7. | 11 | Sergio Pérez | Force India | 1:20,116 | 1,482 | US | 128 |
| 8. | 30 | Jolyon Palmer | Renault | 1:20,205 | 1,571 | US | 43 |
| 9. | 18 | Lance Stroll | Williams | 1:20,335 | 1,701 | S | 132 |
| 10. | 8 | Romain Grosjean | Haas | 1:21,110 | 2,476 | US | 76 |
| 11. | 14 | Fernando Alonso | McLaren | 1:21,389 | 2,755 | US | 43 |
| 12. | 9 | Marcus Ericsson | Sauber | 1:21,670 | 3,036 | US | 59 |
| 13. | 94 | Pascal Wehrlein | Sauber | 1:23,527 | 4,893 | S | 42 |
---
Check out more items on this website about: