Drivers comments 1st day 2019 Practice for China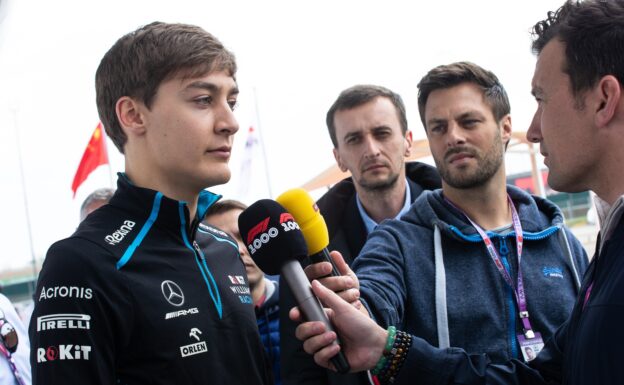 FP1 & FP2 are history for the 2019 Chinese F1 GP. The top teams Mercedes, Ferrari and Red Bull look to be even closer than ever.
I can't recall a gap of 7 tents between Valtteri Bottas and Lewis Hamilton in FP2 on P4 ever before. Will there be a problem or was Hamilton in winter testing mode, to surprise everybody tomorrow with an unbelievable quick lap.
Hopefully Pierre Gasly was sandbagging, but I'm afraid is hisn't. He was still struggling to get grip in the Red Bull RB15. The French driver wasn't even near the top and ended up halfway on P10, only 0,2 s faster than his former team Toro Rosso.
Charles Lelcrec didn't have a perfect afternoon again during the FP2 session. A cooling problem on the Ferrari SF90 kept him inside the garage for most of the second free practice. He only drove 13 laps during the whole session, which is a poor result compared to Vettel's 33 laps.
Nico Hulkenberg was again best of the rest in the Renault RS19 and outpaced his highly rated Australian team mate Daniel Ricciardo by almost 0.3 s. Hulkenberg did get a new power unit in the back of his RS19. That helps a lot, but it's clear to see that Ricciardo isn't comfortable yet behind the wheel of the Renault and is still adapting to his new team.
Both Haas drivers also had a tough afternoon in China being on P16 & P17 at the end of the day. Kevin Magnussen was very close to the midfield. If he could go 0,1 sec faster he would have been on P13. His team mate Romain Grosjean on P17 looks much more worse with a difference of 1 second to his Danish team mate.
McLaren shows their revelation of the first 2 races isn't luck. With both drivers Carlos Sainz (P6) and Lando Norris (P8) in the top 8 they look to have a very promising weekend. Sainz' car also got fitted with a new Renault power unit. Let's hope it will run longer than the first unit.
What have we learned from FP1 & FP2 in China
Temperatures were relatively warm compared to previous years, with track temperatures peaking at 33 degrees during the day and ambient temperatures around 20 degrees.
This contributed to the fact that hardly any graining was seen. The warm ambient temperatures helped to keep the tyres within the correct temperature window on the long straights here, which was an important factor.
The performance gap between the hard and medium tyres is around 0.7s seconds, while the gap between the medium and the soft is about 1.1 seconds.
There's some degradation on the soft tyre as expected, around 0.2 seconds per lap so far.
As usual, the circuit was quite green and slippery in the morning but the cars were slightly quicker than the free practice times last year in both sessions: by just over 0.1 s in FP2.
The warm conditions are expected to remain for race day, following slightly cooler weather tomorrow, so the data collected today should be quite representative.
One of the drivers who was most impressed by the Shanghai circuit was 1996 world champion Damon Hill, who drove his father's Lotus 49 in a demonstration that finished in the F1 Pirelli Hot Laps garage: part of the celebrations for the 1000th Formula 1 race.
This is what the drivers said after their the first day of practice in China.
---
Mercedes AMG Petronas Motorsport
"The day ended up ok, we made it to the top of the time sheets, but it is always very difficult to find a good balance through an entire lap on this track. We got there step by step and the car was feeling ok in the end, but it's only Friday and it's the next two days that count. Ferrari still seem to be quicker than us on the straights, whereas we were better in most corners in FP2.
We still have room for improvement, but we know the others are going to work hard on their cars as well, so we're going to have to wait and see how much we can improve in relation to them. The wind is forecasted to change direction over the next two days which can make things really tricky as we saw in Bahrain two weeks ago, so that's going to make things interesting."
"It was a relatively straightforward day, we got through our programme ok. It was quite cold out there, which makes it difficult for the tyres. I was struggling with the car today, so we've got work to do, particularly on my side as Valtteri looked much more comfortable in the car.
We're going to work hard tonight to find some tweaks and hopefully come back stronger tomorrow; the car has the pace in it to compete at the front, we just need to find the right set-up. It is nice to see how close it is between us, Red Bull and Ferrari. As we expected, the Ferraris still look quicker on the straights, but overall it's very close between the top cars and I anticipate that it is going to be the same tomorrow."
---

Scuderia Ferrari
"Overall it was a positive day. We still have to do some homework, the picture is a bit similar to Bahrain, where we were competitive.
There are some parts of the track where we are very strong and others where we still have to improve. I expect it to be very close tomorrow and also on Sunday, so it will be key to keep working to improve the feeling with the car."
"I got a good feeling from the SF90 today. There is still a bit of work to do in terms of the balance, but overall I'm pleased with the work we did. It's a shame I wasn't able to do a long run test, because it would have been useful for the race, but I'm not worried about that.
We have all the information we need to do well and now, it's just a case of putting everything together for qualifying, especially as I expect it to be very close between us and our competitors."
---

Aston Martin Red Bull Racing
"Today was ok but it could have been better. On the medium tyre we look pretty competitive and I should have been fastest on my first short run but I had a little issue at the last corner which lost me two or three tenths. On the softest tyre I just didn't have enough grip, so we need to look into that and extract more out of it.
On the longer runs we also looked competitive on the medium tyre which should be the most dominant tyre for the race. We still have a bit of set-up work to do, especially as we will probably only get one timed lap on the tyres in qualifying. It also looks like the issues Ferrari had in Melbourne have been resolved, they look fastest at the moment so we need to work to close that gap."
"I always want more, but I'm quite happy with the programme today. I think we have a good direction and Max showed that the car has good potential. We tested a lot of things between FP1 and FP2, we were pushing the development as much as we could, so now we need to analyse every part we used today.
In FP2 I had quite a big moment in the third sector on the fastest lap and lost a bit of time, so it's actually not really representative for the potential of the car. I think we need to focus on tomorrow now and improve my set-up. Also the degradation of the tyres is always difficult here, as the track layout is really tough for the fronts, especially the front left tyre. It is important to find a compromise between qualifying and the race here, but the Team has the experience and the knowledge so I'm sure we'll find the right direction for tomorrow."
---

Renault F1 Team
"We can be pleased with our day. It was smooth running for us across both sessions with no issues and we completed our programme as we expected.
I felt positive and comfortable in the car today and I think that reflects in our lap times across both short and long runs. We still have a few areas to work on and some details to assess, but I feel today is a solid baseline to work off heading into Saturday."
"It wasn't a bad day for us, if a little bit mixed. We got out the gates well this morning and it seemed quite positive in the car. This afternoon we tried a few things with balance.
I felt we were closer to what we wanted in the morning, so we have a few things to work on and figure out ahead of tomorrow. Our short run pace looks like it belongs inside the top ten, so tomorrow will be about piecing everything together and extracting some good one-lap pace."
---
McLaren F1 Team
"We had an encouraging FP2 after facing some issues in FP1. I think we reacted well as a team and put together a better baseline in the afternoon. The field looks as close as it was at the first two races, or even closer, which means you can't take anything for granted. It would be a huge mistake not to analyse every detail just because we had a decent Friday. I want more from the car and we need to make sure we don't fall back down the order if anyone improves tomorrow.
"The car's still not perfect – we still have a few things to improve – but hopefully we can put it together for tomorrow and have another positive Saturday."
"It was my first time driving on this circuit and I think I got up to speed reasonably quickly, which was good because that meant we could start focussing on the car and the set-up much earlier than we could in Australia. That's a very positive thing for our whole weekend.
"We made further progress in FP2 but there's still a lot of work to do. The car's not exactly where we want it yet but we made some improvements, so we just need to make sure we keep going in that direction. Overall, not a bad first day."
---
Alfa Romeo Racing
"It's Friday, so the result doesn't really matter. We will work as usual tonight and go through everything.
We will have a better picture of where we stand after FP3, and see where we will get in qualifying."
"It's a shame to have missed the first free practice today. We had a technical problem on my car, but the team set out to resolve the issue quickly and we were able to start FP2 without trouble.
The second practice was ok. We did our best to make up for the time we lost in the morning and are now concentrating on doing the best job possible tomorrow."
---
Scuderia Toro Rosso Honda
"It was a pretty good day in the office. I think, as we've seen already, the midfield is really close which leaves no room for error. We struggled a bit with balance in the morning session but we were able to fix that for FP2, although we need to make some changes overnight to further improve the performance of the car.
There's definitely a few things we need to tune in order to be ready for tomorrow, so it's just going to be about maximising the package we have and being at the sharp end of the midfield. We know what needs changing, so hopefully we can be more competitive tomorrow for Qualifying."
"Generally, we had quite a productive Friday. We managed to cover all of the useful test items we planned for the day, and also covered both short and long runs – which is very important for Friday practice!
It seems like everything is quite tight in terms of performance among the midfield teams, so we will work hard overnight to optimise the car for tomorrow in order to put us where we want to be."
---

SportPesa Racing Point F1 Team
"We completed a good amount of running today, collecting all the usual Friday data. I had a lot of traffic around me through both sessions on the short and long runs. It's frustrating when that happens but I think everyone was dealing with traffic out there. It's always very busy here going into the last corner and finding a gap is not easy.
It's competitive in the midfield, but I think we're in the mix. There are quite a few positions covered by a few tenths but it's not until Saturday that we'll see everyone's true colours. I'd like to think we can be fighting for a place in the top ten, but we need to get everything just right tomorrow."
"We showed some good pace early on this morning, but after some of the changes we made we seemed to be missing something.
Fortunately we have lots of information and data to pick through tonight so that we can try and understand the direction we need to take for tomorrow. The goal is still to make Q3, but we need to find something tonight to be in better shape for qualifying."
---
Rich Energy Haas F1 Team
Kevin Magnussen (7th in FP2 best lap time 1:30.000)
"Today it's been somewhat cold, I think we've been struggling a little but for tire temperatures. There's definitely some work to do for tomorrow.
We're looking over everything – it's still a normal weekend, we're not panicking. We'll see if we can find something for Saturday and get a bit more performance out of those tires. Hopefully we'll be better tomorrow."
Romain Grosjean (9th in FP2 best lap time 1:30.068)
"It hasn't been an easy day, just an okay day. It wasn't so easy in the afternoon with the issue on the front-wing on the low fuel run. We didn't really get much information there. I think we made some progress for the long run after that, and I was happier with the car.
There's still some work we need to do, especially in race configuration. I'm not too worried about qualifying, but we saw in Bahrain we struggled with race pace. We've got good ideas of what to do, but we haven't yet found the magic key to the VF-19."
---

ROKiT Williams Racing
"It was a usual Friday. We were trying to understand some of the different characteristics of the Shanghai circuit and how our car copes. Generally, the car feels a bit different to the last two weekends so that is a good sign.
Now we have to look at the data and see what to do but the balance is quite different to the previous two events. The characteristics of the car have changed, and it feels like it is responding differently."
"It was my first time out in China, so it took a bit of getting used to the circuit. It was a fairly normal Friday; the long run pace seems better than the qualifying pace for me. I am struggling with the single lap, but it's my first day and I'm looking forward to tomorrow.
We seem closer as a team to everybody else than the previous two races, so we are heading in the right direction. We have to make the most of it, keep pushing, understanding the car, and see what we can do tomorrow."
---
See Lap times 1st practice 2019 Chinese F1 GP
See Lap times 2nd practice 2019 Chinese F1 GP
---
✅ Check out more posts with related topics: