Best Lap Times Abu Dhabi test - Day 1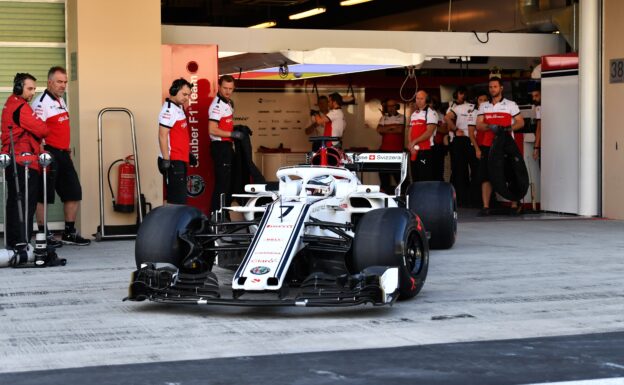 Yesterday was the first day of 2019 tyre testing in Abu Dhabi. All ten teams were present at the Yas Marina Circuit and carried out their testing programs.
After 3 hours Sebastian Vettel lost control of his Ferrari SF71H in turn 1 and spun to collide backwards into the barrier. He damaged his rear wing, but was able to drive back to his garage to repair it.
The biggest change during this first day of testing in Abu Dhabi, was to see Kimi Raikkonen back at the Sauber team, the team were he began his F1 adventure back in 2001 and exchanged seats with Charles Leclerc, who will drive for Ferrari next season.
We hope Leclerc will deliver to Ferrari, but when you compare the first season at Sauber of both drivers, you must say that Raikkonen performed much better in his first season at Sauber. Leclerc best result was 6th in Azerbaijan while Raikkonen finished 2x 4th. Raikkonen had a productive day in the Sauber C37, but his car broke down in turn 7 after 100 laps of Yas Marina circuit.
We also saw Lance Stroll in the Force Inda VJM10 for the first time. It wasn't a real surprise, but he still isn't officially announced as race driver for 2019 at Racing Point Force India.
Another new name on the timing boards was Pietro Fittipaldi, grandson of the legendary 2 times World Champion Emerson Fittipaldi. He was testing the Haas VF-18, He drove 54 laps, but had to replace his power unit, because it was leaking oil.
Sean Gelael drove the most laps. He drove 150 laps with the Toro Rosso STR12 Honda on day one.
Although driving the quickest lap time during testing isn't very important, Vettel did drove the fastest lap of the day on this year Pirelli Hypersoft tyres..
Here you can find some pictures from the first day of 2019 tyre testing in Abu Dhabi.
Best Lap Times 2019 Tyres Testing - Day 1
| | | | | | | | |
| --- | --- | --- | --- | --- | --- | --- | --- |
| Pos | No | Driver | Team | Lap Time | 1st Gap | Laps | Tyres |
| 1 | 5 | Sebastian Vettel | Ferrari | 1:36,812 | | 67 | Hyper 18 |
| 2 | 77 | Valtteri Bottas | Mercedes | 1:37,231 | +0,419 | 120 | Hyper 19 |
| 3 | 18 | Lance Stroll | Force India | 1:37,415 | +0,603 | 56 | Hyper 18 |
| 4 | 33 | Max Verstappen | Red Bull | 1:37,947 | +1,135 | 131 | Ultra 18 |
| 5 | 11 | Sergio Pérez | Force India | 1:37,976 | +1,164 | 67 | Hyper 19 |
| 6 | 47 | Lando Norris | McLaren | 1:38,187 | +1,375 | 135 | Hyper 19 |
| 7 | 27 | Nico Hülkenberg | Renault | 1:38,789 | +1,977 | 128 | Hyper 19 |
| 8 | 51 | Pietro Fittipaldi | Haas | 1:39,201 | +2,389 | 54 | Hyper 18 |
| 9 | 40 | Robert Kubica | Williams | 1:39,269 | +2,457 | 32 | Hyper 18 |
| 10 | 63 | George Russell | Williams | 1:39,512 | +2,700 | 42 | Hyper 19 |
| 11 | 7 | Kimi Räikkönen | Sauber | 1:39,878 | +3,066 | 102 | Hyper 19 |
| 12 | 38 | Sean Gelael | Toro Rosso | 1:40,435 | +3,623 | 150 | Hyper 19 |
---
Check out more items on this website about: