Race Results 2018 Abu Dhabi F1 Grand Prix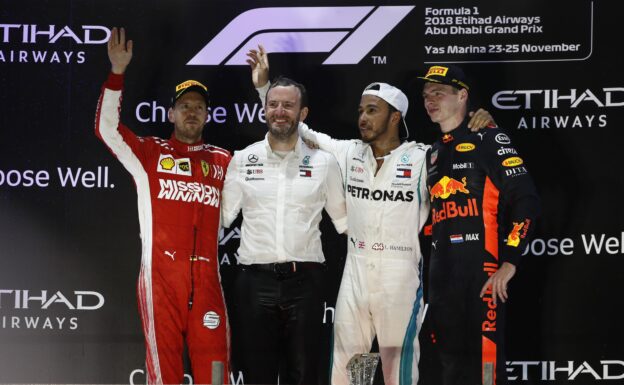 Event: Abu Dhabi Grand Prix
Track: Yas Marina Circuit
Weather:   Partly clouded & dry
Air temp:  32.6ºC
Tarmac: Dry, 35ºC
Wind speed: 4.0 km/h
Humidity: 38.2%
Lewis Hamilton won the 2018 Abu Dhabi Formula 1 Grand Prix for the second time in his career  It was his 73rd win, his 11th win of the 2018 season and the 87th victory for Mercedes.
The last race in Abu Dhabi was the last F1 race for 2 times WC Fernando Alonso. He started from P15 in his McLaren. Max Verstappen was the only driver who had a bad start and dropped from P6 to P10 when the first safety car drove out for a spectacular crash.
The spectacular crash was done by Nico Hulkenberg in the Renault RS18. He made a double roll when his right rear tyre hit the front left tyre of Romain Grosjean's Haas in turn 9. Hulkenberg was trapped in his car hanging upside down, when his car catches fire that was extinguished by the marshal's. Hulkenberg was unharmed and could walk away.
The safety car was pulled in on lap 5. Verstappen had a hard time beating the very fast Force India cars with his under powered Red Bull when Kimi Raikkonen's Ferrari stopped on the start/finish straight with power unit problems. He retired in lap 7 and caused a VSC period to clear the track. A lot of drivers decided to do a pitstop to switch tyres. Lewis Hamilton also pitted to switch from Ultrasoft to the hardest compound Supersoft tyres to go to the end. Valtteri Bottas got in the lead.
Replays showed that Brandon Hartley oversteered into the barriers back on the fourth lap. Having already pitted for a new front wing on the opening lap, the Kiwi isn't doing himself any favours in his battle to keep his race seat today...
In lap 16 Sebastian Vettel did his pitstop for Supersoft tyres. The pitstop was quite slow with 3.7 sec. One lap later Valtteri Bottas also got fresh tyres and gave the lead to Daniel Ricciardo who drove his last race for Red Bull. His teammate Verstappen pitted in lap 18 to switch from Ultra to Supersoft tyres.
In lap 20 a few drivers were warned that rain could fall in 5 minutes and In lap 23 it started to rain in de Abu Dhabi desert! Nobody switched to rain tyres anyway. Marcus Ericsson who also was driving his last race in F1 for Sauber also had to retire with Ferrari power unit problems.
In lap 34 Ricciardo at last did his pitstop. The Red Bull team fitted new Supersoft tyres and returned to the track 8 seconds behind Verstappen on P5. Force India driver Esteban Ocon received a 5 second time penalty for leaving the track and gaining an advantage. In lap 35 Valtteri Bottas made an error in turn 5 when he braked to late and Vettel padded the Finnish driver for P2. Verstappen who was driving on P4 also came very close when Bottas again outbraked himself and cut the chicane to stay ahead of the Dutch driver. In turn 11 of lap 38 he got P3 from Bottas with a great overtaking manoeuvre. One lap later Bottas also lost P4 on the charging Daniel Ricciardo on the fresh Supersoft tyres.
In lap 40 Bottas did a pitstop to get rid of his tyres that had a few flat  spots and ruined his race. He switched to the softest compound, the pink Hypersoft tyres.
With 10 laps Ricciardo closed the gap to his teammate Verstappen and was looking at a podium finish in his last race. In lap 46 Ocon had an engine problem and lost oil. He retired the car while driving on P9. Right after Ocon's retirement we saw Pierre Gasly also had a smoking power unit. The French driver also retired and stopped in turn 12 of lap 48.
✅ Check out 2018 F1 Championship Standings
✅ Check out 2018 F1 Calendar
✅ Check out 2018 Used F1 Power Unit Elements
✅ Check out All Time F1 Drivers Rankings
✅ Check out All Time F1 Teams Rankings
✅ Check out All Time Country Rankings
✅ Check out All F1 Drivers Records
F1 classification 2018 Abu Dhabi GP
| P | No | Driver | Team | Time | Laps | Grid | Pts |
| --- | --- | --- | --- | --- | --- | --- | --- |
| 1 | 44 | Lewis Hamilton | Mercedes | 01:39:40.382 | 55 | 1 | 25 |
| 2 | 5 | Sebastian Vettel | Ferrari | 01:39:42.963 | 55 | 3 | 18 |
| 3 | 33 | Max Verstappen | Red Bull | 01:39:53.088 | 55 | 6 | 15 |
| 4 | 3 | Daniel Ricciardo | Red Bull | 01:39:55.761 | 55 | 5 | 12 |
| 5 | 77 | Valtteri Bottas | Mercedes | 01:40:28.339 | 55 | 2 | 10 |
| 6 | 55 | Carlos Sainz | Renault | 01:40:52.930 | 55 | 11 | 8 |
| 7 | 16 | Charles Leclerc | Sauber | 01:41:11.171 | 55 | 8 | 6 |
| 8 | 11 | Sergio Pérez | Racing Point | 01:41:11.657 | 55 | 14 | 4 |
| 9 | 8 | Romain Grosjean | Haas | 01:40:04.140 | 54 | 7 | 2 |
| 10 | 20 | Kevin Magnussen | Haas | 01:40:05.675 | 54 | 13 | 1 |
| 11 | 14 | Fernando Alonso | McLaren | 01:40:23.266 | 54 | 15 | 0 |
| 12 | 28 | Brendon Hartley | Toro Rosso | 01:40:30.045 | 54 | 16 | 0 |
| 13 | 18 | Lance Stroll | Williams | 01:40:31.261 | 54 | 20 | 0 |
| 14 | 2 | Stoffel Vandoorne | McLaren | 01:40:31.945 | 54 | 18 | 0 |
| 15 | 35 | Sergey Sirotkin | Williams | 01:40:47.948 | 54 | 19 | 0 |
| DNF | 10 | Pierre Gasly | Toro Rosso | Power unit | 47 | 17 | 0 |
| DNF | 31 | Esteban Ocon | Racing Point | Power unit | 46 | 9 | 0 |
| DNF | 9 | Marcus Ericsson | Sauber | Power unit | 24 | 12 | 0 |
| DNF | 7 | Kimi Räikkönen | Ferrari | Power unit | 7 | 4 | 0 |
| DNF | 27 | Nico Hülkenberg | Renault | Collision | 0 | 10 | 0 |
Fastest lap:  1:40.867 by Sebastian Vettel (Ferrari) in lap 54 @198.225 km/h
Highest speed:  338.7 km/h by Sebastian Vettel with the Ferrari SH71H
---
✅ Check out more posts with related topics: