Results 1st day in-season testing in Spain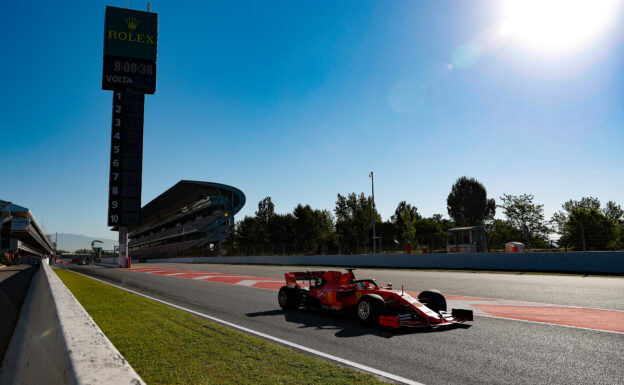 On the first of two days of in-season testing at Catalunya Circuit, Valtteri Bottas was back behind the wheel of the W10 Mercedes and was again very dominant.
His quickest lap time was only 0.1 sec slower than the pole position lap from Saturday.
Although he set this time on Pirelli C5 compound, which was not part of the race selection, it was still very quick.
The use of the C5 in the afternoon session hints at Mercedes looking ahead to the Monaco Grand Prix, where the softest three compounds are provided at the street circuit for the first time this season.
Second fastest was Charles Leclerc in the Ferrari SF90. Leclerc was over 1.4 sec slower on the C2 compound than Bottas. In terms of laps it was the Ferrari who drove 1 more lap than Mercedes. Together with Williams driver for the day Nicholas Latifi, they drove over 130 laps.
Ferrari had two cars on the track yesterday. Sebastian Vettel was working for Pirelli. He did some tyre testing duties using unmarked tyres.
Racing Point also had 2 drivers driving around. Next to Sergio Pérez it was the first time NIck Yelloly was behind the wheel of the RP19. Yelloly is the simulator driver for Racing Point. He focussed on aerodynamic work and car familiarisation to ensure the feedback he gives in the simulator is accurate. Perez was also on driving duty in a second car completing a Pirelli testing programme.
McLaren was even driving around with 3 cars! They tested a few things on car set-up that helped them to understand the behaviour of the car in qualifying and in the race. They say they have acquired some useful information for the coming races. McLaren also conducted some aerodynamic tests to learn more about the aero package that they took to the Spanish Grand Prix, in addition to some further aerodynamic developments that they are considering for future introduction.
The Haas team seemed to have had a good day wit a lot of miles. The car ran well and was really reliable according Pietro Fittipaldi, who was testing it for 103 laps. He said that they have tried different things throughout the day and the pace was good. The car felt good over both short and long runs and the balance of the car felt great. Said the Barzillian.
Quickest times 1st day 2019 test Spain
| | | | | | | | |
| --- | --- | --- | --- | --- | --- | --- | --- |
| Pos | No | Driver | Team | Lap Time | 1st Gap | Laps | Tyres |
| 1 | 77 | Valtteri Bottas | Mercedes | 1:15,511 | | 131 | C5 |
| 2 | 16 | Charles Leclerc | Ferrari | 1:16,933 | +1,422 | 132 | C2 |
| 3 | 26 | Daniil Kvyat | Toro Rosso | 1:17,679 | +2,168 | 121 | C4 |
| 4 | 27 | Nico Hülkenberg | Renault | 1:18,051 | +2,540 | 68 | C3 |
| 5 | 10 | Pierre Gasly | Red Bull | 1:18,140 | +2,629 | 118 | C3 |
| 6 | 55 | Carlos Sainz Jr. | McLaren | 1:18,263 | +2,752 | 64 | C2 |
| 7 | 51 | Pietro Fittipaldi | Haas | 1:18,326 | +2,815 | 103 | Proto |
| 8 | 34 | Nick Yelloly | Racing Point | 1:18,361 | +2,850 | 111 | C5 |
| 9 | 5 | Sebastian Vettel | Ferrari | 1:18,425 | +2,914 | 133 | Proto |
| 10 | 4 | Lando Norris | McLaren | 1:18,567 | +3,056 | 44 | C3 |
| 11 | 11 | Sergio Pérez | Racing Point | 1:19,719 | +4,208 | 118 | Proto |
| 12 | 37 | Callum Ilott | Alfa Romeo | 1:19,819 | +4,308 | 41 | C2 |
| 13 | 40 | Nicolas Latifi | Williams | 1:20,670 | +5,159 | 134 | C2 |
---
Check out more items on this website about: