Race Results 2019 Spanish F1 Grand Prix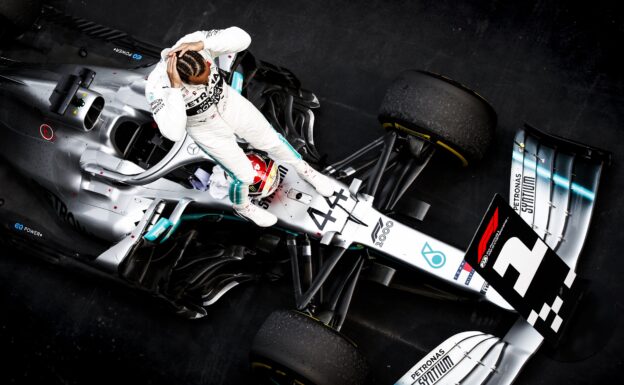 Event: Spanish Grand Prix
Track: Catalunya Circuit
Weather: Dry 19.7-19.8°C
Tarmac: Dry 41.8-38.8°C
Humidity: 58.5%
Wind: 1.9 m//s
Pressure: 1007.1 bar
Lewis Hamilton won the 49th Spanish Formula 1 Grand Prix today. The British driver scored his 76th Formula 1 race win and the 92nd victory for Mercedes. Valtteri Bottas finished 2nd, to score the 49th 1-2 finish for Mercedes and their 5th record breaking 1-2 finish in a row of the 2019 F1 season.
The start of the race was clean. Valtteri Bottas who was on pole didn't have the best of starts and lost his P1 right away to his teammate Lewis Hamilton. Ferrari driver Sebastian Vettel also had a much better start than the Finn, and almost passed him before turn 1. He had to slam the brakes to not drive into Bottas and both drivers almost lost control of their car. Max Verstappen was driving very smart and could overtake Vettel for P3. Kimi Raikkonen lost control of his Alfa Romeo C38 in turn 4 and drove through the gravel, but could return to the track.
Lewis Hamilton who took the lead at the start already had a 2 second gap to his team mate on P2 after 5 laps. Charles Leclerc was closing the gap between him and Vettel to pass him for P4. In lap 12 passed his Ferrari team mate, to try to drive to the podium.
Hamilton was hammering his lap times and was the only driver who drove lap times below 1:22. The gap towards Bottas was already 4 seconds after 16 laps. Vettel had a lot of vibration of his lef-front tyre that locked-up in turn 1 right after the start. he pitted in lap 20 to go to the yellow medium tyres. His pitstop was not very quick. His pitstop took 4.4 sec. and dropped to P10.
Max Verstappen did a pitstop of 2.9 sec in lap 21 and only dropped back to P5. He got fresh soft tyres and had to come in for a second pitstop. At that moment Hamilton already had a gap of 7.5 sec. towards Bottas.
Charles Lecerc did his pitstop in lap 26 and switched to the white hard tyre. Bottas was the first to pit of the Mercedes drivers. He switched to the medium tyres in lap 27. He came back on the circuit 1.3 s in front of Verstappen. Race leader Hamilton also switched to yellow medium tyres in lap 27 and kept the lead after his 2.6 sec. pitstop.
In lap 36 Vettel passed his team mate Leclerc for P4 because they where on different tyre compounds. Vettel pitted In lap 41 to get fresh medium tyres and dropped back to P6, right behind Gasly.
In lap 46 the safety car was deployed that closed all gaps, when Lance Stroll didn't pay attention and just steered into the McLaren of Lando Norris who was driving next to him in turn 2. In lap 51 the safety car disappeared and the race got going again to have sprint to the finish.
✅ Check out 2019 Spanish F1 GP Pictures
✅ Check out 2019 F1 Championship Standings
✅ Check out 2019 F1 Calendar
✅ Check out All Time F1 Drivers Rankings
✅ Check out All Time F1 Driver Records
✅ Check out All Time F1 Teams Rankings
Classification 2019 Spanish GP
| P | No | Driver | Team | Time | Laps | Grid | Pts |
| --- | --- | --- | --- | --- | --- | --- | --- |
| 1 | 44 | Lewis Hamilton | Mercedes | 01:35:50.443 | 66 | 2 | 26 |
| 2 | 77 | Valtteri Bottas | Mercedes | 01:35:54.517 | 66 | 1 | 18 |
| 3 | 33 | Max Verstappen | Red Bull | 01:35:58.122 | 66 | 4 | 15 |
| 4 | 5 | Sebastian Vettel | Ferrari | 01:35:59.610 | 66 | 3 | 12 |
| 5 | 16 | Charles Leclerc | Ferrari | 01:36:03.804 | 66 | 5 | 10 |
| 6 | 10 | Pierre Gasly | Red Bull | 01:36:10.019 | 66 | 6 | 8 |
| 7 | 20 | Kevin Magnussen | Haas | 01:36:18.602 | 66 | 8 | 6 |
| 8 | 55 | Carlos Sainz | McLaren | 01:36:22.785 | 66 | 12 | 4 |
| 9 | 26 | Daniil Kvyat | Toro Rosso | 01:36:23.499 | 66 | 9 | 2 |
| 10 | 8 | Romain Grosjean | Haas | 01:36:25.084 | 66 | 7 | 1 |
| 11 | 23 | Alexander Albon | Toro Rosso | 01:36:25.888 | 66 | 11 | 0 |
| 12 | 3 | Daniel Ricciardo | Renault | 01:36:27.201 | 66 | 13 | 0 |
| 13 | 27 | Nico Hülkenberg | Renault | 01:36:29.684 | 66 | 20 | 0 |
| 14 | 7 | Kimi Räikkönen | Alfa Romeo | 01:36:32.246 | 66 | 14 | 0 |
| 15 | 11 | Sergio Pérez | Racing Point | 01:36:37.320 | 66 | 15 | 0 |
| 16 | 99 | Antonio Giovinazzi | Alfa Romeo | 01:36:38.134 | 66 | 18 | 0 |
| 17 | 63 | George Russell | Williams | 01:36:50.228 | 65 | 19 | 0 |
| 18 | 88 | Robert Kubica | Williams | 01:36:57.514 | 65 | 17 | 0 |
| DNF | 18 | Lance Stroll | Racing Point | Collision damage | 44 | 16 | 0 |
| DNF | 4 | Lando Norris | McLaren | Collision damage | 44 | 10 | 0 |
Fastest lap : 1:18.492 by Lewis Hamilton (Mercedes) in lap 54 (@213.499 km/h)
Highest speed : 338.2 km/h by Lando Norris (McLaren)
---
Below you can see a timelapse animation video of the 2019 Spanish F1 GP:
We also have the start footage for you:
A dramatic start to the #SpanishGP, as @LewisHamilton muscles his way to the front

It got VERY tight down there ? ?#F1 ?? pic.twitter.com/vtTvBUUHcW

— Formula 1 (@F1) May 12, 2019
---
✅ Check out more posts with related topics: