Post-Race Driver Comments 2022 British F1 Grand Prix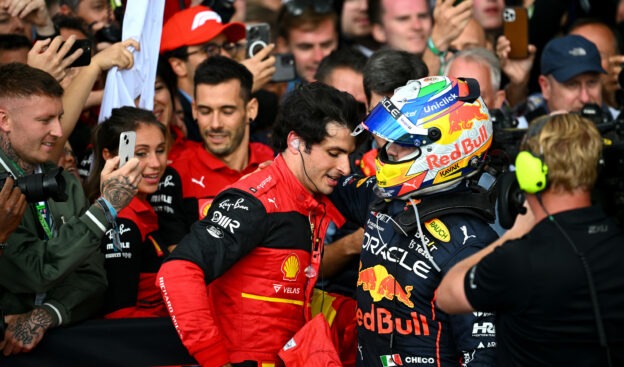 Jul.4 - After his first ever pole position on Saturday, Ferrari driver Carlos Sainz now also can call himself a Formula 1 race winner, after an exciting race on Sunday. The Spanish driver almost lost the British GP victory against his teammate Charles Leclerc halfway. He couldn't get up to speed on the hard tyres and had to let Leclerc pass, to not lose the race to Mercedes driver Lewis Hamilton.
A lot happened during yesterdays 10th round of the 2022 F1 season. A terrifying crash at the first start were Alfa Romeo driver Guanyu Zhou survived a horrifying crash unharmed. His car got flipped upside down by the impact between him and George Russell's Mercedes. He then slid into the gravel pit, to tumble and roll over the tyres barriers, hitting the fence behind it quite hard.
In the second start Red Bull driver Sergio Pérez and Ferrari driver Charles Leclerc collided in turn 3. Both came out with a damaged front wing. Pérez pitted a few laps later for a new front wing, while Leclerc just kept going. In last race in Canada Haas driver Kevin Magnussen was ordered by the race stewards got get a new front wing. This venue every one could just stay out with front wing damage.
Below you can find all post-race comments the drivers gave after the 2022 British F1 Grand Prix was finished.
---

Scuderia Ferrari
"What a day! Winning my first F1 GP and with Scuderia Ferrari in front of this amazing crowd, at one of my favorite tracks, Silverstone, is literally amazing.
Mentally it was one of the toughest races I've done: managing the gaps, lots of fights on track, the second start. We struggled a bit with understeer and on the second stint we had to save fuel in order to make it to the end, so the lift-and-coast put me at risk from the cars behind.
However, as soon as the Safety Car came out, we knew it was paramount to change the tyres as mine were pretty old. At the restart, I had fresher tyres but we were fighting for a 1-2 as a team, so I tried to be as clean as possible in overtaking Charles. Thanks to the fuel saved behind the Safety Car we could then push until the end and finally I got my first win. I will enjoy it for today but we'll immediately start working on preparing for the next one."
"I didn't finish where I wanted to, so it was a frustrating race for me. There were times when I really had to be on the limit to keep my position, fighting with others who were on Softs which was not easy at the end. It's a shame not to bring home more points for our team today, but that's how it goes sometimes.
No matter how disappointed I am, it should not take away from what is an amazing first win for Carlos. It's a moment he will never forget, a dream come true for every driver and I hope that he enjoys it!"
Mattia Binotto Team Principal & Managing Director
To get back to winning, especially at such a demanding track as Silverstone, is particularly pleasing and confirms that we have worked well this season, both at the track and back in Maranello. Carlos had a great weekend, in which he also secured his first pole position. He was strong and consistent throughout and the win was richly deserved.
On the other hand, it's a shame we scored fewer points than we could have done with Charles who, when the Safety Car came out, was comfortably in the lead. Pitting Charles at that moment, which would have put him behind Hamilton, who at that point would have stayed out on fresh Hard tyres, did not seem the right choice, so we therefore decided to leave him out on track. Unfortunately, at the restart, he was at a disadvantage in terms of tyres. We also want to congratulate Mick Schumacher on scoring his first championship points. They are well deserved.
Finally, it's worth underlining once again the efforts of the FIA and Formula 1 in terms of safety. The fact that no drivers involved in the accidents at the start suffered any serious injury confirms just how effective are the current safety measures.
---

Red Bull Racing Honda
"It is a good day for us and the Team after such a messy weekend for us. Physically I wasn't one hundred percent this week and after lap one I was last, so to come away with second place is a great result. I was so unlucky on the first lap making contact with Charles,
I broke my front wing and had to drop to the back. So we had to fight for it and it feels good to have a result like this. I am also very happy for Carlos and to share his first win with him is a nice moment for him and his family. I enjoyed the racing today a lot, we were fighting hard and fair and it felt like my karting days. Everyone was pushing really hard and going wheel to wheel, my heartrate was pretty high on those last laps. It was a race where it was important not to give up."
"Seventh place is a good result considering the damage I had on the car and with Checo on the podium, we've scored some good points for the Team. I of course had hoped for more but today was just unlucky. I had a look at the car during the red flag and the whole of the underneath on the left-hand side was ruptured. I hit a huge piece of debris; I think it was carbon.
As I was driving it felt like a puncture as I had no balance and a lot of oversteer. The car was a handful to drive, I tried to find a good aero balance but it was difficult. I understand that Alex is having precautionary checks at the hospital, so I hope that he's okay. It's never nice to see these things and today proved once again that the halo is a massive improvement for safety, I think without it Zhou would have been in a different state."
---
Mercedes AMG Petronas Motorsport
"I gave it everything today! I was chasing, trying to get those Ferraris, but congratulations to Carlos. They were just too quick today for us and at the end I was in amongst that battle with Checo. Those guys were just too quick on the straights for me today, but I'm so, so grateful for all the hard work the team did to get an upgrade here, we've made a step closer to them, so we've got to keep pushing!
We lost a little bit of time in the pit stop, and then I was chasing, and chasing, and chasing, but the pace was great on both sets of tyres and then at the end there it was just a little bit difficult. Once you get a Red Bull behind, they're so fast on the straights. We've got some improvements to make but this is a huge bonus for us to be on the podium. I'm glad everyone was safe from that big crash at the beginning of the day. Thank you to everybody, we're going to continue to push."
"We started on the Hard tyre because I made a mistake in qualifying and we thought that risk gave us the best opportunity later in the race but there was just very little grip at the start. It's the hardest compound, it's cold out there and I got swamped by all the cars. Next thing I know I got touched, I was in the side of Zhou, and that was it.
I jumped out the car to see if Zhou was okay and I saw it was red flagged straight away but when I came back to the car, I couldn't quite get it started for whatever reason, so I ran back to the team to check. I asked the marshals to leave the car and next thing, when I got back, the car was on the back of the flatbed which meant I couldn't restart. It was obviously frustrating for my race because the car just had the puncture and there's no doubt we had the pace to come back to P6 today but I'm just glad that Zhou was OK."
---

Alpine F1 Team
"It was a fun race today and we are happy to finish in fifth position. I was hoping there would be some drama at the end, and we might have sneaked a podium with all of the action, but it was fun to be fighting amongst it inside the top five places. I think our final position should realistically be fourth because I saw Charles [Leclerc] weaving multiple times in front of Lewis [Hamilton] and, compared to what happened to me in Canada, I guess it's not allowed and should be a penalty.
Looking back at the weekend as a whole, I think the car was very good and I felt more competitive than in any other races so far this season. We executed our race very well and showed consistent pace. I'm expecting us to keep this up and hopefully maintain our competitiveness again over the next few races. I must say congratulations to Carlos [Sainz] on his first win and, also, I'm glad Zhou is OK after his incident at the start. It shows how far safety has come in modern Formula 1 racing."
"The most important thing to take out of this race is that Zhou is OK after that massive crash. It happened right in front of me, and I was lucky to avoid most of it, but then I sustained damage on the right side of the car from contact with Alex [Albon]. I have to say, the guys did an incredible job getting the car repaired and ready for the race restart, so thanks and well done to them.
We did well at the restart and the pace in the car was good. A fuel pump issue on lap 38 ended our race unfortunately and we had to retire the car. All in all, it wasn't a smooth weekend with some of the car issues in Q2 and today during the race, so we'll need to look into all of this closely. It was a weekend with a lot of learning and I'm happy for the team with the solid points from Fernando today. Onto the next race in just a few days' time"
---
McLaren F1 Team
"Firstly, it was great to see Zhou, Alex and George get out of their cars safely today, it's never nice to see an accident like that, so I'm glad the safety equipment did its job properly. On our side, a decent race. I felt like we deserved P5, but unfortunately we lost out at the final pit stop under the safety car. I think we drove a good race. We did a lot of things very well today and we had reasonable pace in the car, it was just maybe a late call with the pitstop and that cost us one position today. I'm not annoyed, I think we still got some good points, but it could have been one more place.
Finally, it's been great to see the British fans this weekend, they've been amazing all weekend come rain or shine. I had a really great run on the second restart and could see the fans cheering for me in the stands, which was awesome to see. I already can't wait to come back next year!"
"Firstly, I'm glad to hear the drivers are OK after that first lap incident. For our race, the car just didn't really seem to operate at the same level of grip as the others. I could just feel it through the tyres as well, trying to carry speed. It was just a bit odd, so we have a bit of investigating to do.
Then we had an issue with DRS which meant I couldn't use it after lap 31 which was also a bit of a shame. Obviously, it's tough to overtake with that as well – but simply we weren't really quick enough anyway today. It was a bit of a lonely afternoon."
---
Haas F1 Team
"We're really happy. Coming back from P19, I said we have the speed to go forwards and we definitely showed it today. It's great for the team, a double-finish in the points, so that's obviously very helpful in the constructors.
For me, I'm happy now to focus on what's really important and that's the racing and the driving."
"I don't think we could've hoped for anymore. I think on the first stint we didn't have great pace, at least compared to the second stint where the pace picked up. I lost a few positions in the first stint, annoyingly, because then we got the safety car towards the end.
We were advised to pit both cars and I took the decision to stay out – I don't know if it was right or wrong – but if it was wrong, it was my decision. Two cars in the points though, you have to be super happy with that, to get a decent amount of points at this stage in the year, it's very good. We go away from here with a big smile on our faces and with big motivation for the races ahead."
---

Aston Martin Cognizant F1 Team
"It is nice to score points on my birthday and in the team's home race, especially when you consider where we started [in 18th]. Overall, I think it was a decent race and a good recovery.
The first start before the red flag was very chaotic. I had made a really good getaway and it launched me into a gap nearly alongside Alex [Albon]. Then I got squeezed and everything backed up as a reaction to the accident ahead. I braked but could not avoid making contact with Alex. The most important thing is that everybody involved is fine."
"I thought we had a reasonably positive race. The cars showed much better pace than yesterday, so it is a shame I was not able to score some points.
"We are still learning and understanding the upgrades but based on the race today, I see potential for the races to come. I am glad Zhou [Guanyu] and Alex are okay after the crash at the start."
---

Williams Racing
"​​From Lap 1 we were always fighting an uphill battle. At the beginning, I was surprised at how much I could stay with the cars ahead but in reality, there was a little DRS train that was keeping me there because the cars behind were much quicker.
It felt really nice to be properly racing in the pack. Unfortunately, we didn't have the basic pace in the end alongside managing the car towards the end of the race. The car's lacking downforce compared to the others with us missing pace in the high-speed corners, which wasn't helped by some floor damage today. We put up a good fight, but it wasn't meant to be today. Frustrating in the end but overall a positive weekend."
"I'm very glad that everyone else involved in the first lap incident is okay.
Thank you to all the medical staff at the track and Coventry Hospital.
It's a shame our race ended before it began today, but we are already fully focused on Austria. Bring on the next one."
---
Scuderia AlphaTauri Honda
"It's been a difficult day. The collision I had at the start of the race was completely unavoidable, a car came in front of me sideways and there was nothing I could do. Luckily, I only damaged my front wing and was able to get back to the pits with the red flag and continue to race with the restart.
Unfortunately, I then had contact with Pierre later on. I need to review it properly but at the moment, I think I could've waited for another opportunity to pass him. My speed was good going into the corner so I thought I could make it through, I also didn't expect Pierre to close the door quite as much as he did, so this is a mistake from my side. Mainly, I just want to say sorry to the team. After that, I had damage to the car, it was very tricky to drive and that made the rest of the race very difficult for me."
"From a difficult weekend we actually made it quite a bit better with Qualifying, then after the race restart today I was running in seventh, we were in a great position. Following the incident with Yuki I had damage to the rear wing, so we had to retire the car.
Every point is valuable, especially in a season like this, so I'm disappointed with the end result today, as it was an unnecessary collision. The accident with Zhou was really scary at the start of the race, it was shocking to see him upside down but I'm glad to hear he's ok, that's the most important thing."
---
Alfa Romeo Racing Orlen
"First and foremost, the main thing today is that Zhou is fine. It was a big shunt, and I'm glad that nothing serious happened and that he has already been cleared by the FIA. Today, we got additional proof on how the Halo is one of the greatest innovations in F1, and how safety has improved in recent years.
For what concerns my race, we had a lot of opportunities after the restart, but we had an issue with the gearbox, so I ultimately had to stop to prevent further damage. It was unfortunate because we had good pace and we could have scored a big amount of points. Even though it's been a tough weekend, we can still draw some positives: the pace we showed on track was a good sign, and I think we can be competitive in Austria next weekend."
"It was a big crash and I'm glad I'm ok. The marshals and the medical team at the track were fantastic with their quick response, and I also owe my thanks to the FIA and Formula One for all the work they have done, and they keep doing, to improve the safety of our cars: the Halo saved me today, and it goes to show that every step we take in improving our cars has real, valuable results.
I'm keener than ever to get back on track and do what I love: I'm fit and I'm looking forward to Austria next week."
---
✅ Check out 2022 British F1 Grand Prix results
✅ Check out 2022 F1 Championship Standings
---
✅ Check out more posts with related topics: