Lando Norris and his Meteoric Rise to Success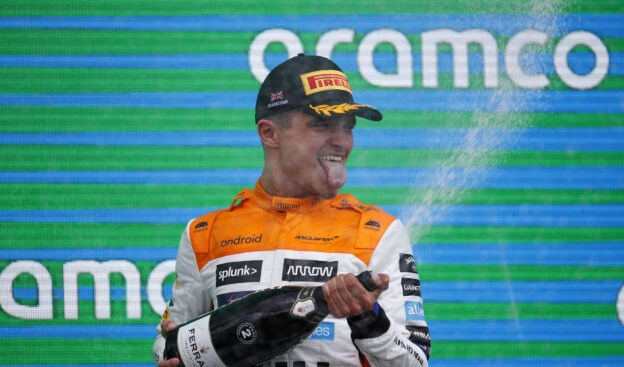 When Lando Norris finished second behind the inevitable winner, Max Verstappen, at this year's British Grand Prix, it came as no big surprise to many motor racing fans.
That's because ever since the 23-year-old British/Belgian driver burst onto the F1 scene in 2019 many have had him ear-marked as a future world champion.
Even in a sport where all of the top drivers have excelled at every level to reach the pinnacle, Norris seems to have been on a super-accelerated route to glory.
It's one that all started at the tender age of just seven when he achieved his very first pole position. By 2013 he was competing in KF-Junior karting in various championships, becoming the youngest-ever world champion in the CIK-FIA KF World Championship, driving for Ricky Flynn Motorsport.
Fortunate to have a father who is just outside of the 500 richest people in Britain, the search for funding and sponsorship was never really a problem for Norris. But that's not to underplay his huge skill and talent.
The early years
By 2014 Norris was involved in the Ginetta Junior Championship, finishing third in his first full season winning four races and picking up the Rookie Cup along the way.
It also helped him to catch the eye of Carlin Motorsport who signed him in 2015 for their MSA Formula Championships team. With a total of eight wins, ten poles and 14 podium finishes his great success continued.
After a season competing in New Zealand in the Toyota Racing Series, which he won convincingly, he returned to Europe to compete in the Formula Renault 2.0 category driving for Joseph Kauffmann Racing.
By 2017 he was firmly established in the world of Formula 3 and proving more than a match for other contemporaries including Joel Erikkson and Callum Ilott. The season concluded with Norris recording twenty podium finishes, nine victories and eight pole positions. He also claimed the championship with two races remaining, his fifth overall victory in four years of competition.
Naturally, Formula 2 beckoned and he shifted up the gears effortlessly, at first at least. He won in Bahrain and his was to be his only victory of the season. But despite a strong start he was eventually overtaken by George Russell. After dropping out of two further races he was out of contention – but he did manage to take second place overall.
The move to Formula One
Norris's precocious success had been noted by the McLaren team so in February 2017 he was signed a junior driver. Following a great showing in the second day of testing at the Hungaroring he was named as the team's official rest and reserve driver for the following season.
2019 saw his breakthrough into Formula One proper, driving alongside Carlos Sainz Jr. His first full race for the team was at the year's Australian Grand Prix where he finished in a very creditable twelfth. In the very next race, in Bahrain, he won his first ever championship points with a number six finish.
Despite being dogged by mechanical problems in several subsequent races he did manage to pick up points in Italy, Singapore and Russia to bring his total to 49 points for his rookie season and earn him eleventh position overall.
By this point, confidence about Norris was starting to grow with F1 fans and his name was increasingly starting to appear in parlay bets in particular, for example backing him for a podium finish alongside a win for Lewis Hamilton.
He did indeed find himself on the podium at the season's opening Austrian Grand Prix after a third-place finish. He went on to enjoy many successes over the season, ending with a ninth-place, 97-point finish, only nine behind McLaren's number one driver Sainz.
In 2021 Sainz was replaced by Daniel Ricciardo and Norris's success continued to flourish. He achieved his first ever podium finish with a third place in the Emilia Romagna Grand Prix, a feat he repeated at Monaco.
By the end of the season, he had achieved a very creditable sixth place, just 4.5 points behind his former team-mate Sainz.
Despite the fact that 2022 was the year that he signed a contract extension to 2025, it's been the one major hiccup in his career to date. His only podium finish came at Emilia Romagna once again but the best he could manage was a seventh place overall.
Looking to the future
Now partnered by Oscar Piastri, hopes are high that Norris could achieve his greatest success yet. The one major issue is the MCL60 car that he has described as being "pretty terrible" on circuits with tight corners to negotiate.
However if the designers and technical team at McLaren can iron out these issues for next season, there's every reason to hope that Norris will win that coveted world championship at last.
---
✅ Check out more posts with related topics: