Rosberg holds on to Abu Dhabi win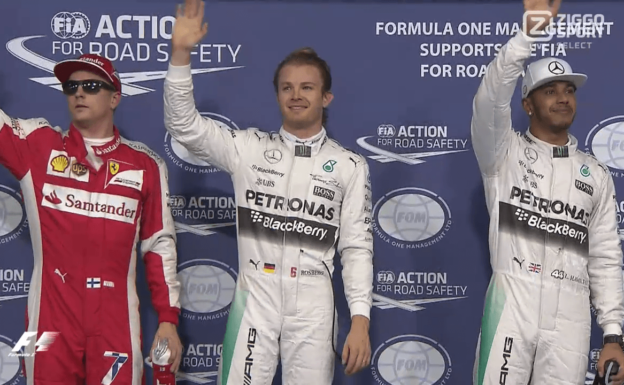 Nico Rosberg held off a gutsy fightback from Lewis Hamilton to win the final race of the year in Abu Dhabi.
The German, who started on pole, controlled large parts of the race to win his third grand prix in a row which gives him the momentum ahead of 2016.
Hamilton chose to run a different strategy to Rosberg and was placed on fresh tyres 10 laps from the end, but he couldn't quite haul in his Mercedes team-mate.
Kimi Raikkonen scored his third podium of the year for Ferrari, ahead of Sebastian Vettel who fought his way up the grid from 15th.
Vettel avoided damage on a frantic first lap, which saw Fernando Alonso and Pastor Maldonado collide and a whole host of overtakes.
Williams pair Valtteri Bottas and Felipe Massa were in the thick of the action, but the Finn fell out of contention to score points when he clashed with Jenson Button.
Bottas was released by his pit crew too soon and the pair made contact in the pitlane, which damaged the Finn's nose.
There was far less drama for Rosberg out front as he showed supreme pace to consistently pull away from Hamilton on his way to a 14th career win.
Sergio Pérez also ended the season in fine style with a well deserved fifth pace, ahead of Daniel Ricciardo, Nico Hulkenberg, Massa, Romain Grosjean and Daniil Kvyat.
Alonso had a miserable end to a miserable season as he trawled round at the back and eventually finished 17th. Question marks continue to surround his future.
However, Rosberg's end of season form shows that he will be here in 2016 and pushing Hamilton harder than before.
See 2015 Abu Dhabi GP race results.
---
Check out more items on this website about: