Hamilton wins after Rosberg error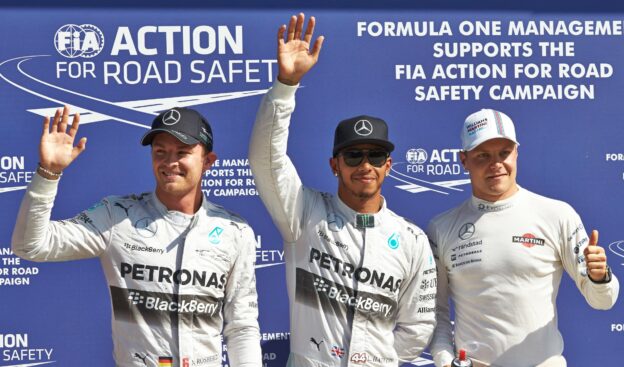 Lewis Hamilton combined brilliant speed and great determination to win the Italian Grand Prix. After a mechanical problem saw him drop to fourth at the start, he charged through to win his sixth race of the season.
His championship rival, Nico Rosberg, followed him home in second, but a crucial error from the German gifted Hamilton the win.
Twice Rosberg out braked himself at the first chicane, and the second time saw a charging Hamilton go through. Once the Brit was ahead, he wasn't being caught and won comfortably to close his championship deficit to 22 points.
Felipe Massa had an easy afternoon as he guided the Williams to third, his first podium since May last year. On the podium, the Italian fans gave him a great reception in his first Italian Grand Prix since leaving Ferrari. The home team disappointed as Fernando Alonso retired and Kimi Raikkonen came ninth.
Behind Massa, Valtteri Bottas, who also had a miserable start, showed how gritty he is by coming from tenth to finish fourth. He produced some breath taking overtakes and had a race-long battle with the likes of Kevin Magnussen, Sergio Pérez and Jenson Button.
At the start of the sunny race, Hamilton couldn't engage drive which left him stranded. Rosberg took the lead and was followed by a fast starting Magnussen and Massa. Hamilton fell to fourth, but it wasn't as bad as Bottas who sunk from third to tenth. With Hamilton's car quickly fixed, he followed Massa in disposing of Magnussen early on.
Rosberg had built up a four second lead but blew half of it when he out braked himself into the first chicane. He got lucky this time, but he wouldn't be next time. Hamilton quickly got past Massa, who chose not to fight, and the Mercedes battle began. Hamilton reeled in Rosberg slowly, but his pace advantage was obvious.
After their pit-stops, Rosberg remained in the lead and Hamilton was told to sit back and bide his time. However, the Brit, who hasn't followed team instructions too rigorously this year, failed to obey and decided to go after the German. With the gap down to under a second, Rosberg caved in. He, again, out braked himself into the first corner and was forced to take to the run off area. Hamilton breezed past. He built up a four second lead and Rosberg couldn't recover.
Further back, a great race was unfolding. Bottas charged through the field before his pit-stop, but once he pitted he fell back after failing to take the initiative when he exited alongside Vettel, Perez and Magnussen. Eventually, with a bump or two, he got back through despite illegal manoeuvring from Magnussen. The Dane was penalised with a five second penalty for forcing Bottas off the track.
Further behind, an epic fight between Button and Perez was going on. Button had the straight line speed to get past Perez but the Mexican was able to muscle his way back past each time, as the Englishman out positioned himself. It was great racing. They scrapped all afternoon, either side of being overtaken by Bottas and, latterly, Daniel Ricciardo.
After being set for an anonymous afternoon, Ricciardo went longer than anyone else before pitting. This gave him fresher tyres for the end of race and he made them count. He barged his way past Raikkonen, Button, Perez, Magnussen and, eventually, Sebastian Vettel to take fifth.  Despite falling further behind in the championship, Ricciardo will hope that the final six races, which are suited to Red Bull, will give him a chance to close the gap to Rosberg.
This is something that Alonso can only dream of. The Spaniard suffered engine failure on the home straight in what is a symbol of his year. Kimi Raikkonen finished tenth but will be promoted to ninth when Magnussen's penalty is taken into account. It was a disastrous home race for Ferrari.
In two weeks, Formula One heads east again as Singapore becomes the first of the six final fly away races. Hamilton is on the hunt again after his win today, and there is a suspicion that the momentum is in his favour.
---
✅ Check out more posts with related topics: