Haas F1 Team Motivated for Malaysia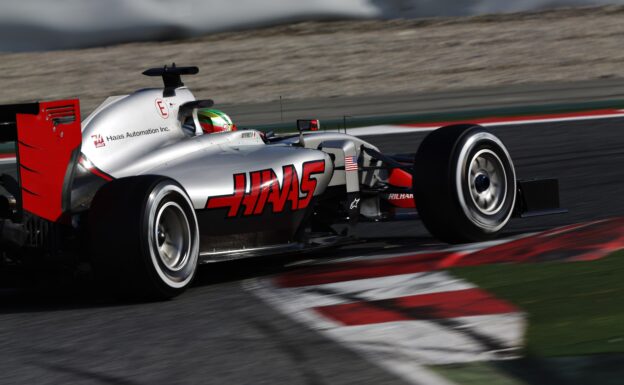 Haas F1 Team Turns Page from Singapore to Sepang 
Perhaps no team competing in the FIA Formula One World Championship is looking forward to the Malaysian Grand Prix Oct. 2 at the Sepang International Circuit more than Haas F1 Team.
The first American Formula One team in 30 years had high expectations heading into the series' most recent race in Singapore. It brought significant updates to its racecars, with the Haas VF-16s for drivers Romain Grosjean and Esteban Gutiérrez getting outfitted with new front wings, floors and brake ducts. And in addition to having new parts and pieces that would allow for quicker lap times, Grosjean and Gutiérrez were ready to attack the track, with each praising the layout and embracing the challenges it offered.
But then practice began, or didn't for Grosjean. His car developed technical issues and after making only two installation laps, an engine inlet air leak sidelined him for all of FP1. Then came a spin into the barrier in FP2, followed by another spin into the barrier in qualifying. Lastly, an issue with the car's brake-by-wire system on raceday meant that Grosjean was scratched from the start of the Singapore Grand Prix. Perhaps the only person happier to see the checkered flag drop at Singapore other than Grosjean was race winner Nico Rosberg.
Gutiérrez had a trouble-free weekend in comparison, but with Grosjean's limited running time, the new front wing was shelved as Gutiérrez instead focused on collecting tire data. It was a shrewd move, as Gutiérrez took advantage of all the info available to qualify 13th and finish a respectable 11th, but still one spot shy of earning points.
Knowing that Gutiérrez is on the cusp of adding to Haas F1 Team's 28-point tally in the constructor standings is reason enough to look forward to Malaysia. For Grosjean, of course, the opportunity to turn laps and drive farther away from the circumstances of Singapore is even more welcome.
With Singapore's Marina Bay Street Circuit growing ever smaller in Formula One's mirrors, the industry turns its sights to Sepang International Circuit, the purpose-built Formula One racetrack outside Malaysia's capital city of Kuala Lumpur.
Constructed in an astonishing 14 months, Sepang was the first Formula One track noted designer Herman Tilke built from scratch. When the 5.543-kilometer (3.444-mile), 15-turn circuit opened on March 9, 1999, it was considered revolutionary, with modern facilities and a unique design.
Two massive straights bookended by tight corners are signatures of the track. It's a twisting layout that challenges the drivers and their engineers. The track's width allows for numerous overtaking opportunities, but the incredible speed that can be attained on the straights is actually restricted by the fast, flowing corners as teams sacrifice outright speed for aerodynamic grip and balance.
This places extremely high loads on the tires. Heavy braking increases the load, as drivers spend 17 percent of their lap under braking. Add an abrasive track surface and high ambient temperatures and you get a cauldron of punishment for the four tires carrying the driver and the sophisticated car beneath him. It's why Pirelli has brought the hardest tire compounds in its range to Malaysia – the P Zero Orange hard, the P Zero White medium and the P Zero Yellow soft – a combination that was last seen in early July for the British Grand Prix at Silverstone Circuit.
But with weather often impacting practice, qualifying and the race, expect to see Pirelli's Cinturato Blue full wet tire and Cinturato Green intermediate tire at some point during the race weekend.
Torrential rain storms are a frequent occurrence at the Malaysian Grand Prix as its tropical environment and mid-afternoon start time conspire for unwieldly conditions. This was especially evident in 2009 when the race was forced to end after only 31 laps as rain inundated the track. This prompted the FIA to award half points to the drivers participating, the first time half points had been awarded since the 14-lap Australian Grand Prix in 1991.
Points of any kind are what Haas F1 Team seeks. Eighth in the constructor standings, 19 points behind seventh-place Toro Rosso and 21 points ahead of ninth-place Renault, Malaysia provides another opportunity for Haas F1 Team to further distance itself from Renault and challenge the more established squads that are still in reach with six races remaining. And after quickly turning the page on Singapore, Haas F1 Team is ready for Sepang.
---
✅ Check out more posts with related topics: