Is it time for Vettel to go home?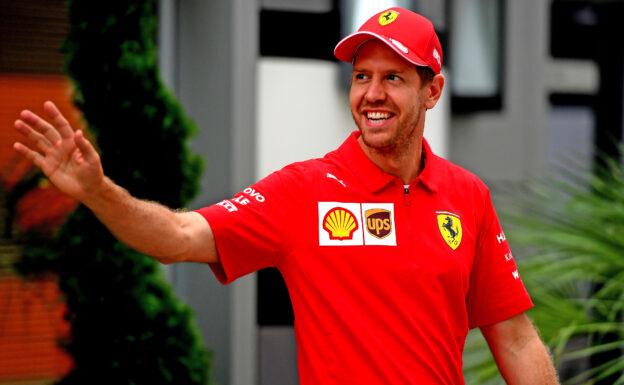 Question: When was the last time you were seriously impressed with Sebastian Vettel?
Now, I don't have Bernie Ecclestone's excuse of being achingly close to nonagenarianism, but I don't really remember either. And, like Bernie, I'm a big Vettel fanboy too!
"Recently, I have not seen his willingness to do anything to win," the former F1 supremo said this week. Bernie also told Sport Bild magazine in Germany that he would "not put my money" on Vettel, 32, still being in the paddock in 2021.
But let's get back to my question: When was the last time Vettel blew *me* away?
Before I answer, reassure yourself that I'm not picking on Vettel here. As I said, I really like the guy. Even before Martin Brundle - within earshot of the baby-faced kid - cringingly questioned on the 2007 Indy grid whether he is adept enough to replace Robert Kubica after the Pole's terrifying Montreal crash, I have liked him.
He was funny, smart, he knew his history, loved The Beatles (and had the hairstyle to prove it), and was most definitely *not* scared in the slightest of the terrifying challenge that lay ahead.
A few years on, of course, I was just as sick of his diagonally-angled pointer finger of victory as you were. But there was no denying it: Bernie was right. This German was a true winner. A four-championships-in-a-row kind of winner. A record-smashing young winner who *still* makes you think of Red Bull as a truly top team, even though it's only been winning the odd race since Vettel left for Ferrari in 2015.
My favourite Vettel race? Actually, I have two:
1. Abu Dhabi 2012
I really loved Seb's 2012 championship year. He incredibly clawed back a 40-point deficit to Fernando Alonso but was disqualified from qualifying at the crucial third-last race of the season for some stupid reason. Vettel, staring down his third consecutive title, started from the pits and needed to demonstrate something that people have questioned ever since - can he actually overtake? Answer: Yes. Yes he can.
2. Brazil 2012
Another one from 2012? Yep. Why? Because Seb was firing on every cylinder in these days - even when the sh*t hit the fan at the most crucial moments, like this title finale. Yes, he was brilliant when he smashed everyone from pole, never needing to look into his mirrors. But when a title was at stake, he was hit from behind by Bruno Senna and fell to dead last, and needed to drive out of his skin with brilliant pass after another brilliant pass, Vettel can get it done too.
Now, I have absolutely no doubt that Vettel has had his brilliant moments whilst zipped up in a red suit as well - because I do vaguely remember thinking to myself from time to time since 2015: "Aha! Seb's still got it!" It's just that I don't particularly remember those moments very well.
Obviously, all of our memories since the dawning of the 'power unit' era are a sort of silver-coloured blur. And there's no doubt that there was something particularly magical about those Red Bull years, and the sight of Seb in yet another differently-sparkled helmet driving an absurdly nose-down rake angle just oozed chemistry and that elusive F1-style perfection.
But I can't quite seem to shake the idea that, as a young Vettel ...
* Matured
* Said goodbye to the coolness and brilliance of Red Bull and Adrian Newey
* Put a zillion bucks in the bank
* Buried himself under Ferrari pressure
* Became a Dad and fell in love with his family, and
* Struggled, as many of us have, with the modernisation and sanitisation of Formula 1...
... that some of the Vettel magic is simply gone forever. Yes, he's still good. But no, Vettel at 32 is simply no longer purring like the engine of his favourite vintage Suzuki motorbike. Something's off.
Consummate professional he may be, but we *all* know that Seb can be pretty whingey as well. And when he is, you get the feeling he would rather be at home, in the workshop in his garden in tranquil Thurgau, surrounded by his lovely little family who he protects fiercely and probably loves a lot more than he loves this post-Bernie Ecclestone Formula 1.
No more backgammon with Bernie, no more innocent Beatle mop, annoying diagonal finger-pointing - no more Vettel magic. And so, after hurling yet another sack of Maranello-made cash onto the bank manager's desk next year, is it time for Seb to go home, do a Jos Verstappen with his newly-born son, and come back to the paddock in 2037? I doubt he'll regret it for a moment.
---
Disclaimer:
The opinions expressed are those of the author's and do not necessarily reflect the opinions or views of F1-Fansite.com, staff or partners.
---
Check out more items on this website about: