Ricciardo wins after Mercedes tangle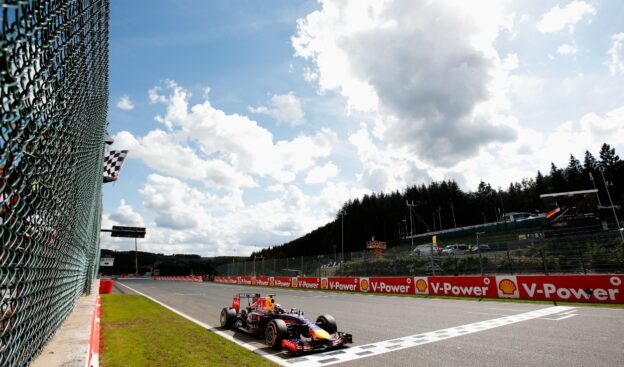 Daniel Ricciardo was able to hold off a charging Nico Rosberg and win the Belgium Grand Prix. In a flawless drive, Ricciardo took control after a crazy start which saw the Mercedes pair clash. Lewis Hamilton had the lead before Rosberg made contact with his rear wheel, giving him a puncture, in what could be a vital afternoon in the drivers' championship.
After they clashed Hamilton languished at the back, while Rosberg overcame his damaged car to take second and extend his championship lead to 29 points. In a post-race interview, Mercedes non-executive chairman Niki Lauda blamed Rosberg for the clash and he was heavily booed on the podium.
The incident, which happened at the end of Les Combes, saw Hamilton have to complete a whole lap with a puncture. By going faster than he should have done, he caused damage to his floor which hampered him for the rest of the race. Rosberg needed to pit for a new front wing which also affected his afternoon.
With Rosberg driving a damaged car, there was an opportunity for one of the drivers behind to take advantage. With Fernando Alonso lacking pace and suffering a five second penalty for having his mechanics on the grid at the beginning of the formation lap, Ricciardo took the initiative. He got past both Valtteri Bottas and Vettel on his way to an early lead.
Bottas showed great straight line speed to come third ahead of the impressive Kimi Raikkonen, who's blistering laps after coming in for his first stop almost saw him grab a much deserved podium. Vettel salvaged fifth but he will not enjoy being beaten again by Ricciardo.
At the start, Hamilton raced off the line and into the lead past Rosberg. Vettel, starting third, also got past Rosberg but ran wide when attacking Hamilton. On lap two, Rosberg got a better run out of Eau Rouge and attacked the leader. Hamilton had the racing line but the German couldn't slow down enough to avoid contact.
After pitting for a new front wing, Rosberg ruined his new strategy by messing up an overtake attempt on Vettel. He flat spotted his tyres and was forced to make an extra stop. This was the decisive moment as Rosberg couldn't make up the time he lost, and finished three seconds behind.
Fernando Alonso suffered a frustrating afternoon after his penalty. He didn't have the pace of his team mate and spent much of the race behind Kevin Magnussen. At the end of the race, Alonso was passed by a faster Vettel and Jenson Button as he finished eighth.
Felipe Massa will also be frustrated as, once again, car problems ruined his race. Sergio Pérez and Daniil Kvyat benefited from the chaos ahead and claimed points.
The fall-out from this race will be fascinating as the championship battle has taken a decisive turn. The reaction of the Mercedes team and the fans means there is an added spice to the final seven races. For Hamilton and Rosberg, their rivalry is now getting to an unhealthy stage. Italy, in two weeks, is a must watch.
See 2014 Belgium F1 GP result.
See 2014 F1 drivers championship standings.
See 2014 F1 constructors championship standings.
---
✅ Check out more posts with related topics: