2013 Korean GP Report: Supreme Sebastian inches closer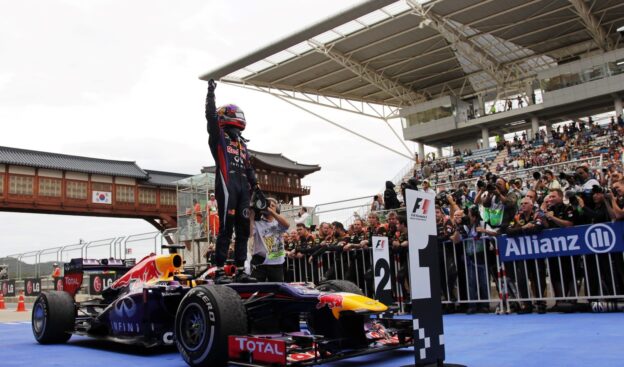 Next Sunday could be the day that Sebastian Vettel finally claims his fourth consecutive world championship after a fourth straight victory at the Korean Grands Prix.
Vettel was dominant. From Pole Position he rarely looked troubled as he cruised to his 34th career win. His 35th and a failure to finish higher than 8th for Alonso next week in Suzuka, would see him become just the second man in history to win four titles in a row. If it doesn't happen next week then the champagne is only on ice. Victory is inevitable now, he surely can't be caught by a field that is so far behind in terms of points and speed.
Behind Vettel at the Yeongam circuit was an action packed race filled with superb racing and bazaar scenes. Romain Grosjean, starting third, disposed of Lewis Hamilton effortlessly early on and drove an assured race that will only boost the confidence of his team as they look towards next season. Eventually he finished third behind his team mate Kimi Raikkonen, who once again drove an impeccable race strategically, as he has so often done, to make up for his poor qualifying performance. 11th was converted into 2nd for the Ferrari destined Finn.
Raikkonen skilfully and manoeuvred his way through the chaos with the aid of well timed pit stops and safety cars. It was a very smooth drive, but behind him couldn't have been different. Nico Hulkenberg, who started 7th, made a superb start and climbed up to 5th past both Ferrari's and displayed some excellent defensive work to keep Alonso and Raikkonen behind. Ahead of him sat the two Mercedes of Lewis Hamilton and Nico Rosberg who both went on to endure very frustrating afternoons.
After the first round of pit stops, where Raikkonen jumped both Hulkenberg and Alonso, Sergio Pérez suffered a tyre explosion which brought out the safety car. At the re-start Raikkonen overtook Grosjean, while Vettel disappeared once more.
Later in the race Lewis Hamilton suffered severe tyre degradation and started to drop back alarmingly from the Lotus pair and into the hands of his team mate. However when Rosberg came to overtake the Brit his front wing failed and he was forced into a pit stop. This put Hamilton behind Hulkenberg, and Rosberg out of the points.
Shortly after, a second safety car was called after Mark Webber was sent into a spin by an out of control Adrian Sutil. Webber's car caught fire off the track and it didn't look necessary for a safety car to be called. However, an obvious break down in communications by the officials saw a fire truck emerge onto the circuit, while the race was going on. A second safety car was called which created a thrilling final few laps.
Hulkenberg was at the front of a train of cars that included Hamilton, Alonso, Button and Rosberg. Hamilton passed the Sauber driver into the first corner, but Hulkenberg's car was excellent in a straight line and he re-passed Lewis immediately. It was a superb fight, with Alonso behind keeping Hamilton on edge.
Hulkenberg hung on for a superb 4th, while Hamilton and Alonso will be disappointed with 5th and 6th. Rosberg eventually piped Button for 7th, while Felipe Massa recovered from a spin on the opening lap to claim 8th.
See 2013 Korean F1 GP classification.
See 2013 F1 Drivers Championship.
See 2013 F1 Constructors Championship.
---
Check out more items on this website about: