Race report Indian F1 GP: Magical Vettel seals fourth world title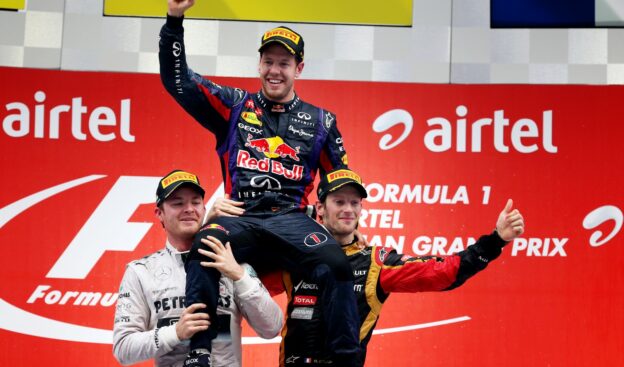 Sebastian Vettel confirmed himself as one of the all-time greats of Motorsport after winning his fourth straight Formula One World Championship.
The German dominated the Indian grands prix to win by almost half a minute ahead of Nico Rosberg to win his sixth straight race, and his 10th of the season. Fernando Alonso, Vettel's only title challenger before the race began, finished 11th in a result that symbolises both drivers recent form.
Vettel, 26, has followed in the footsteps of his hero Michael Schumacher and Juan Manuel Fangio in winning four championships in a row, and with Red Bull so dominant it is difficult to see him not adding to that list in the coming seasons.
Before the race the pole sitter just needed to finish within the top 5 to seal the title, but he did it in style after battling with Mark Webber during both the race, both Red Bulls intriguingly on different tyre strategies. Webber was the only leading driver to start on the medium compound and led until lap 29 when he made his first stop. Vettel, by contrast, started on the soft compound and made his first stop on lap 3 and took the lead when Webber changed tyres.
The gamble from Webber to try catch his team mate during the middle stint, while on fresher and quicker tyres, didn't pay off as he couldn't bridge the deficit. A few laps later he was told to pull over by his team and retire following an Alternator failure. The Australian is chasing one more win before he bows out of the sport at the end of the season, but luck still evades him.
Behind the Red Bull's the race was fun and frantic. A front wing change on the first lap, following contact with Kimi Raikkonen, ruined Fernando Alonso's race and all but assured Vettel's success.
However his Ferrari team mate, Felipe Massa, made a trade mark blistering start and took 2nd from the Mercedes team mates of Lewis Hamilton and Nico Rosberg. The Brazilian, who is looking for a race seat next season, impressed throughout as he finished 4th. Romain Grosjean continued his fine form and followed Lotus's decision to retain him for next season with a careful and measured drive to finish third. The Frenchman started 17th, but careful tyre management saw him get past his team-mate Kimi Raikkonen and hold off the charging Massa.
Grosjean's reward for his tyre work was not unique as Sergio Pérez finished fifth. The McLaren driver, who is rumoured to be fighting for his seat, gave his team bosses a timely reminder of his capabilities, despite them missing for much of the season. He piped Lewis Hamilton to the post as the Brit suffered a rare low key weekend in which he was slower than team mate Nico Rosberg throughout.
There was a welcome return to the points for Paul di Resta as Force India marked their home grands prix with both di Resta and Sutil in the points with 8th and 9th. The mid-table team has struggled since Pirelli made alterations to their tyres but they managed to boost their performance in front of their own fans.
However the day was all about Vettel, and now the title is sewn up the grid can start planning for next season's cars. For the majestic German however, there are three races left and you wouldn't back against him winning the lot.
---
✅ Check out more posts with related topics: