AlphaTauri's 2024 Driver Lineup Decision Still Up in the Air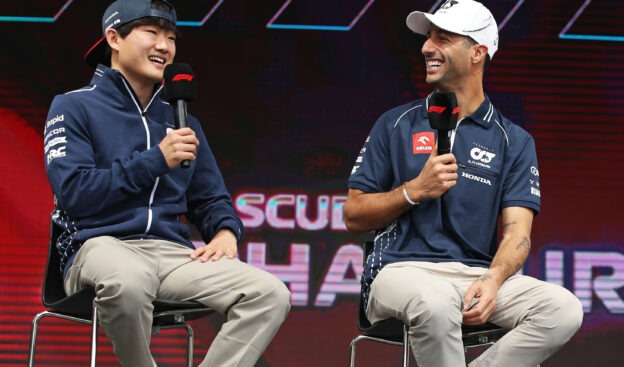 Sep.22 - Team chiefs insist the decision about AlphaTauri's driver lineup for 2024 is yet to be taken.
With the injured Daniel Ricciardo's short-term replacement Liam Lawson currently performing so well, team owner Red Bull now has three viable candidates to slot into the two race seats.
It was believed the extension of Yuki Tsunoda's contract would be announced at his home race at Suzuka - but that appears to have been delayed.
"We're speaking but it's not confirmed yet," the Japanese said on Thursday.
Complicating the situation somewhat for Tsunoda, for whom 2024 would be his fourth consecutive season with the junior Red Bull squad, is that his deal involves the backing of the eventually-departing engine partner Honda.
"I mean, Honda has supported me from the age of 16," he confirmed on Thursday. "So without them, I'm not here. But at the same time, without Red Bull I'm not here either."
However, the conventional wisdom in the Suzuka paddock is that Tsunoda will keep his seat - as will Ricciardo. That would leave the impressive rookie Lawson on the reserve bench again.
"I wouldn't be happy to go back to being reserve," the 21-year-old New Zealander admitted at Suzuka. "Obviously I know how hard it is to get into Formula 1.
"What will happen will happen. I'm just trying to make the most of it."
A really positive sign for Lawson, however, is that he has impressed the mercurial Dr Helmut Marko.
"That was sensational, that's clear," team consultant Marko told Kleine Zeitung newspaper ahead of the Japanese GP, when asked about Lawson's two-point haul in Singapore.
"You can't be thrown into Formula 1 under more difficult conditions and then he scores points in the third race and would have already been able to do that at Monza," he said.
And Marko denied that the decision to leave Lawson on the bench has already been made.
"It should now be decided this weekend," said the 80-year-old.
AlphaTauri's new CEO Peter Bayer agrees.
"Of course we have a certain idea about how it could ideally be done," he said. "But at the moment we leave it open and all three have a chance."
AlphaTauri aside, the only other free seat on the 2024 grid is at Williams, where American Logan Sargeant admits he is making too many mistakes.
"Yeah, I know what I need to do," he said when asked about his uncertain seat for next year. "It starts with cutting out those mistakes and delivering clean weekends."
Former F1 driver Ralf Schumacher told Sport1: "Sargeant seems overwhelmed. You can see it clearly.
"In the long term, Williams, which is on the upswing, cannot afford a second driver who has plenty of accidents but no points."
Ralf's nephew Mick, however, is not a candidate to replace Sargeant, despite Sport1 reporting that Mercedes boss Toto Wolff put a lot of pressure on his Williams counterpart and former colleague James Vowles.
Rather, first in the queue to replace Sargeant is the 2022 Formula 2 champion Felipe Drugovich, who reportedly has $15 million in Brazilian sponsorship in tow.
---
✅ Check out more posts with related topics: