New F1 Pit Stop Record Red Bull & Verstappen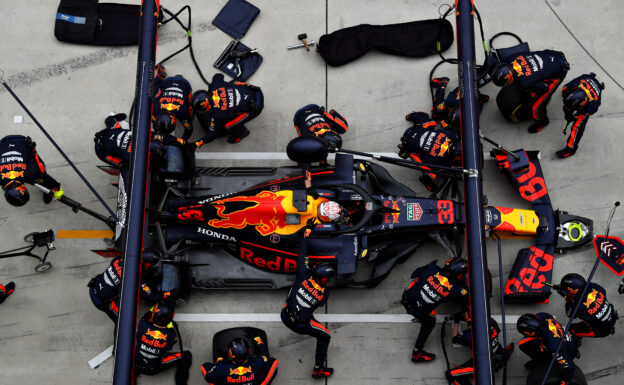 Red Bull Racing lowered the record for the fastest tire change in Formula 1 history even further at the German Grand Prix. They completed the DHL Fastest Pit Stop at Hockenheim in an incredible 1.88 seconds, only two weeks after setting a new benchmark figure of 1.91 seconds in Silverstone.
Dramatic changes in weather and difficult conditions characterised the German GP. Overall, the ten teams performed an amazing total of 78 pit stops.
Red Bull brought Max Verstappen in for his fifth and final stop on Lap 46. The track had finally started to dry out after a long spell of drizzling rain, and Verstappen had to switch from intermediates to soft slicks for the final sprint to the line.
Verstappen was sent back out on his way again after only 1.88 seconds. He then took the lead after just a few meters and proceeded to secure his second win of the season. The record breaking stop was the icing on the cake for Red Bull's crew, who had earlier serviced Verstappen's car in 2.04 seconds on Lap 25 and 2.11 seconds on Lap 41.
Overall, Red Bull executed five of the ten fastest stops in the race. "The pit stop crew were unbelievable today," said delighted Team Principal, Christian Horner. "That was the reason for sending our Chief Mechanic, Phil Turner, up to collect the Constructors' Trophy, as he did an amazing job."
---
✅ Check out more posts with related topics: