Hamilton steals US win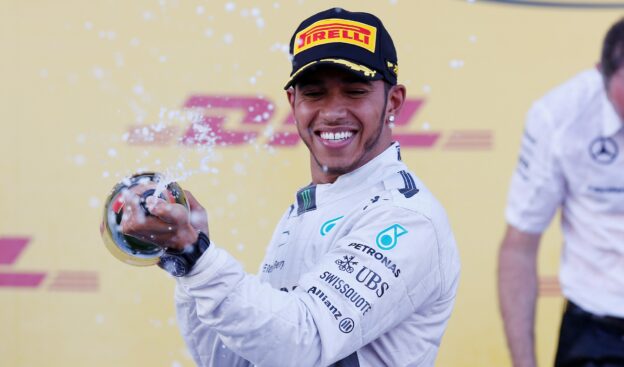 Lewis Hamilton won the US Grand Prix after a smart move on Nico Rosberg proved to be decisive.
Hamilton patiently waited behind the German until the moment was right, when he was ruthless and efficient.
Rosberg couldn't make his tyres work in the middle stint and Hamilton reeled him in and muscled his way past at the hairpin. In the last few laps Rosberg set some hot times as he attempted to catch Hamilton but he failed to do so.
Hamilton now has a 24 point lead in the standings, and is on course for his second world championship win.
Daniel Ricciardo followed Mercedes home in third after outthinking the faster Williams pair of Felipe Massa and Valtteri Bottas. While Fernando Alonso edged out Sebastian Vettel for sixth.
At the start, Rosberg flew out of the traps but his progress was halted by an early safety car, called after Sergio Pérez stupidly drove into the side of Adrian Sutil.
After the re-start Rosberg drove away but in the middle stint he struggled on his tyres and with understeer. Hamilton didn't let the chance pass him by, showing the killer instinct which has seen him win ten races this season.
There was some great action all over the track, as different strategies were played out. At the end of the race there was a titanic battle for the lower end of the points with Jenson Button, Pastor Maldonado and Jean-Eric Vergne involved.
Maldonado picked up two different penalties during the race for speed offences. However, he scored his first point of the season for a well-deserved tenth.
---
Check out more items on this website about: