Why F1 Racers Love The A-1 Auto Transport Website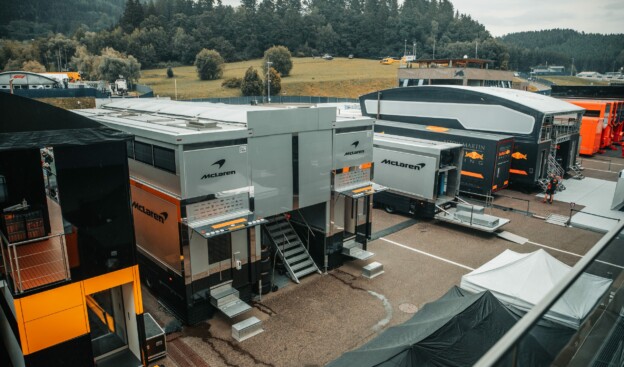 While not all F1 Racers are shipping their own vehicles, they still do have their own vehicles that they enjoy in their spare time.
But what happens when it comes time to ship your own vehicle? Well, A1 Auto Transport a great solution for any F1 racer, fan or even someone that doesn't even know about F1!
Below we'll get into who is A1 Auto Transport, what they do and what they excel at.
Let's get started.
Who is A1 Auto Transport?
A1 Auto Transport has been in the vehicle shipping industry for over 30 years. They can get your vehicle to any of the 190+ countries they service. A1 Auto is capable of transporting not only F1 vehicles but cars, ATVs, SUVs, golf carts, boats, planes, and anything in between.
A1 prides itself in fair quotes, simple shipping terms, and any confusion along the way. Whether you need domestic or worldwide shipping, they can help you get any vehicle you own (or heavy equipment for that matter) to where you need it.
In 1988, Tony Taylor purchased his first tow truck in California. In 1998, they started their brokerage firm to handle shipments that they couldn't undertake themselves. In 2004, they established a preferred list of vetted carriers. And now we jump to 2011 when they became the company that cars.com uses as an officer car shipper. And today, they've been around for over 30 years and still fulfilling orders in today's world.
What Makes A1 Auto Different?
Multiple Shipping Options
While some shipping companies only service one type of vehicle, A1 Auto Transport has the expertise to ship any kind of vehicle from F1 racecars, NASCAR, and luxury vehicles from Bugattis to Porsche as well as classics.
ATVs, boats, planes, and even heavy equipment and home goods are all capable of being serviced by A1 Auto. With such a wide variety of offerings, it means that A1 Auto has the expertise and knowledge to help any kind of customer.
It's always nice to see a company that not only had a wide variety of offerings but the capability to fulfill expectations no matter what they have on their plate. Considering A1 Auto has been around for many years, it means they know exactly how to handle their business.
Pricing
A1 Auto guarantees that its customers will get the best price for their schedule. It doesn't mean they're going to give you the lowest price possible, but they give you a realistic quote that won't get money added on later.
What normally happens is a broker will quote an unusually low number to an unsuspecting customer, who then is shocked at the final bill upon arrival. This isn't honest and doesn't build trust, which is what A1 Auto is trying to avoid with its fair pricing model.
Customers at A1 will know exactly what they're going to pay and love to avoid any surprises that their customers will have. Keep in mind though that pricing will change the year depending on time, weather, and fuel costs, so keep that in mind when asking for a quote from A1.
International Shipping
While some brokers only offer domestic shipping, A1 Auto can help you transfer your vehicle to almost any part of the world. They also offer storage so that you can keep your car safely wherever it is in the world without having to worry about the whereabouts of your vehicle.
If you're in the military, they're also able to help you with a discount. All you need to do is ask for a quote from them and let them know you're in the military and they'll give you a quote as soon as possible.
If you are shipping your car overseas, remember that you'll need to book it well in advance because not only is it a lengthy process, it requires lots of documents. You'll need to call your local embassy and ask them about tax rates which you'll be on the hook for.
You'll also need to provide the Customs Department with proof of compliance so that your shipping company is working in compliance. Remember to prepare your vehicle for overseas shipment by removing any valuables inside of the vehicle and anything on the outside. Remember to keep the fuel tank at a capacity of 1/4th and that you've thoroughly cleaned your vehicle to make inspection easier.
Conclusion
For the world's top racing drivers, precision and care extend from the racetrack to the transportation of their personal vehicles. A1 Auto Transport emerges as the paramount choice for all vehicular transportation needs, whether for an F1 racer, an enthusiast, or anyone seeking reliable shipping.
Over 30 years, A1 Auto Transport has carved a niche, moving from a humble beginning with a tow truck in California to a trusted officer car shipper for cars.com. This journey speaks of their adaptability and consistent growth, ensuring vehicles are always in expert hands.
A1 Auto Transport differentiates itself with a wide array of services. Their ability to cater to diverse requests, from shipping F1 cars to transporting household goods, showcases unmatched expertise.
Transparency in pricing underscores A1 Auto's customer-first ethos. They prioritize clarity over the industry's common hidden costs, making them a trusted leader. Additionally, their proficiency in international shipping, accompanied by storage options and adeptness with customs, further elevates their reputation.
In essence, A1 Auto Transport's commitment to quality, comprehensive services, and transparency positions them as the top choice for F1 professionals and others alike.
---
✅ Check out more posts with related topics: