Malaysian F1 Race Report: Hamilton cruises to Malaysia win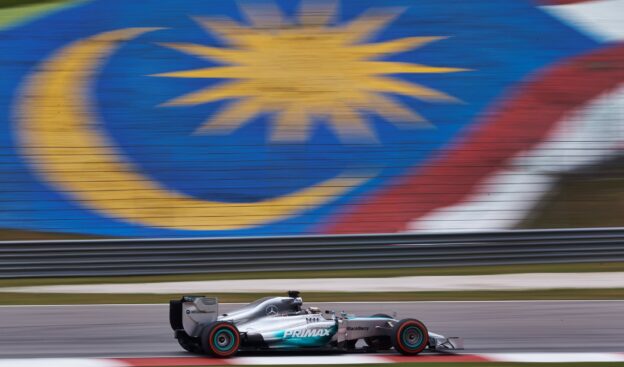 Lewis Hamilton made up for his Australia disappointment by comfortably winning the Malaysian Grand Prix. Hamilton, in need of a victory after retiring in Melbourne, dominated the race and won by a 13 second margin from his team-mate, Nico Rosberg. World champion Sebastian Vettel was a distant third in his first finish of the season.
Hamilton, starting from pole, eased away at the start and as others battled behind he built up a comfortable lead. From there he controlled the race and produced a faultless performance in the Kuala Lumpa heat. He sent a strong message to Nico Rosberg, who couldn't match the pace of Hamilton. The battle between the Mercedes drivers will be a fascinating sub-plot to the season.
At Red Bull, it was a race of contrasting fortunes. Sebastian Vettel, after a scrappy start, battled past his team-mate Daniel Ricciardo and enjoyed a comfortable run to third. He was never in contention to pass the Mercedes but the reliability of the Red Bull was positive after such a disastrous winter. It seems that they will be Mercedes main rivals this season.
However, Ricciardo ended up pointless again after some pit-stop drama. It seemed he was on his way to an easy 4th but the Red Bull crew didn't secure his front left tyre and he pulled up in the pit lane. After being re-attached he went back out and suffered a front wing failure and ultimate retirement. Behind, Fernando Alonso extracted the maximum from his Ferrari to finish 4th. The performance is clearly lacking from Ferrari and they need to find some speed fast.
The atmosphere at Williams may not be friendly anymore after Felipe Massa refused to accept team-orders and let team-mate Valtteri Bottas through in the closing stages. Bottas had been the faster driver all afternoon but he was stuck behind Massa for much of the race. Massa has been on the wrong side of team-orders before and clearly didn't want to start his Williams career on the back foot. Tensions at Williams will now increase after he held off Bottas to take 7th, just behind Jenson Button.
Elsewhere Kimi Räikkönen drove an anonymous race to come 12th. A puncture suffered after a collision with Kevin Magnussen ended any chances of points as his dismal return to Ferrari continued. Much of the grid needs to recover from an unsuccessful start and catch the runaway Mercedes before it gets too late. Next week F1 heads to Bahrain where Hamilton and Rosberg will expect another one-two. It seems ominous for the rest of the season.
See Malaysian F1 GP Race Result
See 2014 F1 drivers standings
See 2014 F1 teams standings
---
Check out more items on this website about: