Feature- Vettel gives F1 a timely boost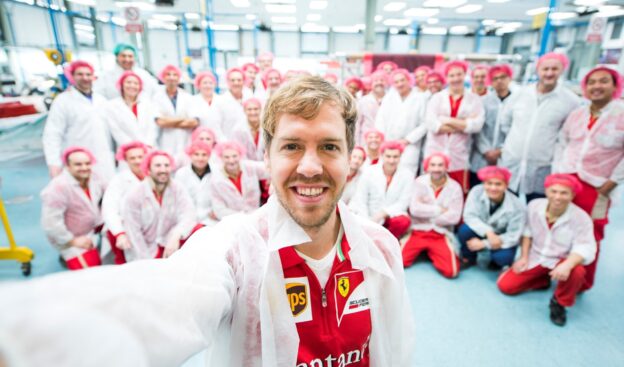 Just two weeks ago, Nico Rosberg cheekily invited Sebastian Vettel to sit in on a technical debrief after Mercedes ran away with the Australian Grand Prix. However, as Rosberg and his team left Malaysia on Sunday night, they will feel that the joke is on them.
Vettel, a four-time champion, and Ferrari, the biggest name in the sport, were drawn together by a mutual quest to re-establish themselves at the top of the tree. But no one could have predicted that Vettel's winning finger would be wagging so soon.
The reinvigorated German produced a masterclass to beat both Lewis Hamilton and Rosberg at the Sepang International Circuit, instantly sparking talk of a four-way title fight with Vettel's team-mate Kimi Raikkonen also in the frame. Mercedes v Ferrari. Hamilton v Rosberg v Vettel v Raikkonen. It sounds too good to be true. Almost.
For the first time in the sport's new era, which is 21 races old, Mercedes were beaten. Daniel Ricciardo may have inherited race victories last season, but he never challenged the mighty silver arrows when they were healthy. Vettel, and Ferrari, took them on, and emerged victorious.
It was also a timely reminder of Vettel's quality. It sounds laughable to say that a four-time world champion, aged 27, can be questioned, but the manner in which Ricciardo beat him last season hurt his reputation. However, he has emphatically proved a point to the nay-sayers so far.
Overcome with emotion, he said:  "It's been a while I've not been on the top step, and my first time with Scuderia Ferrari - I'm speechless. There was a big change over the winter, and the welcome the team gave me when I arrived was fantastic. I've only done two races, but I'm so proud of today.
"We beat them [Mercedes] fair and square, I guess that's why it's a bit emotional. Today was a very, very special day, and will remain a part of me. Thank you to the team - grazie Italia!"
The mystery is not how Ferrari managed to beat Mercedes so convincingly in the backyard of their main sponsors (make no mistake, that will hurt). But quite simply, where was it two weeks ago when the silver arrows swept all before it in Melbourne? That day, Vettel finished over 30 seconds behind.
"In Melbourne, they were very dominant," said technical director James Allison. "We were better than we looked. Even in free air, we couldn't have held a candle to them."
Mercedes could not hide their shock either. Ferrari, it appears, has emerged from a turbulent winter of uncertainty into a spring of hope, and the German manufactures have been caught off-guard.
"Yes, that is worrying", said Toto Wolff, Mercedes head of motorsport. "Especially if you have the kind of track temperatures that we had today. They have been able to go faster than us over the long runs, so we need to analyse why that was the case. It clearly shows that this year is not going to be an easy one for us - gone are the illusions of a walk in the park."
A Mercedes inquest will be held. Both drivers vented their frustrations over team radio, but the most striking comment from Hamilton was his admission that Ferrari was unstoppable. As those words were said extra optimism was felt down the paddock, blowing away the negative clouds that gathered after Australia. Fernando Alonso was probably the only man not in the mood to celebrate.
The Spaniard must have felt sick as he watched Vettel, who piped him to two world titles in 2010 & 2012, win so convincingly in the car he raced in for five years. Alonso's decision to leave Ferrari for McLaren was always seen as brave. After yesterday's race, it looks reckless.
The British team had another grand prix to forget here as Alonso retired on lap 21, while Jenson Button followed 20 laps later. Both suffered engine problems. Their car may have improved from Melbourne, but they are still a long way from competing with the midfield runners. After qualifying, the 33-year-old vowed that they won't be knocked out in Q1 for much longer, but his buoyant mood must have been punctured by Vettel's result.
The German, whose spark went out at Red Bull, drove a race that Alonso would have been proud of. At the start, he stayed second despite a slow get away thanks to an aggressive squeeze on Rosberg. In the early laps he maintained a consistent gap behind Hamilton, and he took the lead on lap four when Marcus Ericsson beached his Sauber at turn one.
The safety car was called and Mercedes pitted both of their drivers, along with most of the other top runners. Rosberg suffered, as he had to wait for Hamilton to clear, and he fell back behind Felipe Massa's Williams and Daniel Ricciardo's Red Bull. Vettel was the only leading car to stay out, as Ferrari sensed that they could stop twice in the race, once less than Mercedes.
Their risk paid off. Vettel, one of the best at preserving tyres, showed a delicate touch, mixed with brutal speed to make their decision work. Questions have always been asked about his abilities in wheel-to-wheel combat, but there can be no denial that he is the best front runner in the sport. Hamilton tried hard to bridge the gap which was caused by his extra pitstop, but he didn't have the speed.
Rosberg, who was forced to play catch-up following his earlier misfortune, ran a race of his own in third. He couldn't catch his teammate, who finished four seconds ahead. However, ironically this result works better for the German, who is only ten points behind Hamilton in the championship, rather than the 14 it would have been had Mercedes secured the one-two it expected.
Further down the order, Kimi Raikkonen's unlucky start to the season continued as an early puncture sent him to the back of the grid. However, the safety car brought him back into play and he went on to finish fourth. Unlike last season when he was nowhere near the pace of his teammate, Raikkonen matched Vettel all weekend. His long-run pace concerned Mercedes on Friday, and they'll know that Vettel isn't a lone ranger, just as Alonso always was.
The 35-year-old Finn is more than double the age of the sport's  new youngest ever points scorer, as Max Verstappen finished seventh for Toro Rosso, aged 17 years and 180 days.
Red Bull may be in the midst of a crisis (they limped home to ninth and tenth here due to brake problems) but they can take some solace in the fact that they have a star for the future. Verstappen looks like a champion in the making, along with Valtteri Bottas and Daniel Ricciardo. Their time will surely come.
However, this day belonged to the last, and only, champion Red Bull has made. Vettel is back, and he's back with aplomb, lifting F1's mood and setting tongues (or fingers) wagging. Bring on China.
---
Check out more items on this website about: