Vettel claims Hungary classic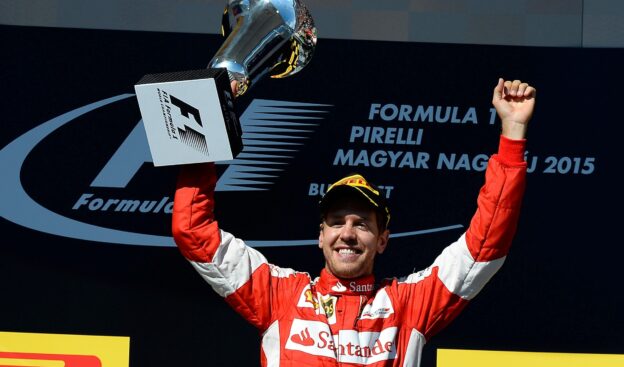 Sebastian Vettel has won his second race of the season in a dramatic Hungarian Grand Prix, which came to life in the final 20 laps.
The German took the lead on the first lap and comfortably drove to the finish, while drama unfolded behind him.
A late crash between Nico Rosberg and Daniel Ricciardo, who were running second and third, cost the Mercedes driver heavily as he dropped behind Lewis Hamilton and ultimately finished eighth.
Hamilton had a woeful first lap as he fell from first to fourth, before he ran wide and fell down to 11th. Ferrari surged into the lead as Raikkonen followed Vettel, with Rosberg behind in third.
However, he staged an impressive recovery drive to reach fourth before Nico Hulkenberg sparked chaos as he crashed at the first corner and brought out the safety car.
Kimi Raikkonen, who was running second, lost power as the race resumed and he dropped out of contention, while Hamilton collided with Ricciardo.
This broke his front wing and pushed him well down the order, but he recovered to salvage sixth.
It looked like Rosberg was going to eat into his title lead, until Ricciardo's front wing caught Rosberg's rear wheel and punctured it.
Daniil Kvayt took his first ever F1 podium by coming second, while Ricciardo managed to hold on in third.
Fernando Alonso scored his best points finish of the season in fifth, while Jenson Button came ninth.
See 2015 Hungarian F1 GP results.
See current 2015 F1 Championship standings.
---
✅ Check out more posts with related topics: