Italian F1 GP Race Report: Vettel dominates in Ferrari's back yard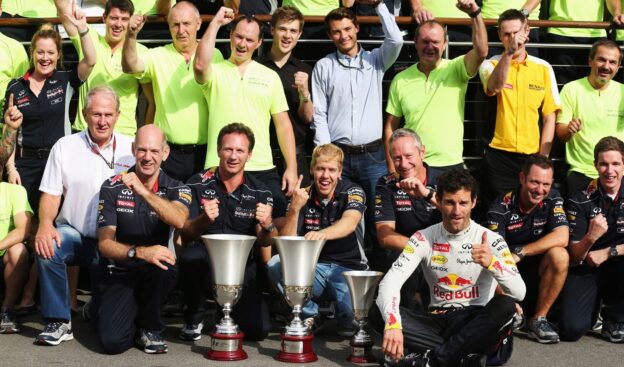 Sebastian Vettel led from start to finish on his way to winning the Italian grands prix and extend his championship lead to over 50 points. Fernando Alonso chased Vettel hard all afternoon but was forced to settle for second in Ferrari's home race, while Mark Webber clung on to beat Felipe Massa to third.
In a week where Ferrari have dominated the headlines for the wrong reasons amid rumours of tension between Alonso and the team, Vettel rubbed salt into the wound as he dominated the weekend from Friday to Sunday. He was in unbeatable form as he converted pole position to the lead and set about driving into the distance.
Alonso was impressive again but his afternoon which started from 5th, involved a frantic opening ten laps where he blitzed past Hulkenberg, Webber and Massa but ultimately falling short of Vettel is an all too regular occurrence. It was another fine drive but Ferrari will to pull a Rabbit out of the hat to try and compete with Red Bull. The Spaniard is Vettel's closest challenger but with the German's dominance in the last two races, a fourth world crown is looking inevitable.
Pirelli said that a one-stop strategy was likely to be the fastest strategy for the 53 laps of Monza providing it stayed dry for the duration of the race. When starting on the medium, we suggested changing to the hard on lap 25 and then running to the end. This was almost exactly what race winner Vettel did as he started on the mediums, pitted on lap 23 to change to the hards and then ran to the end to take the win.
Previous title contenders
Lewis Hamilton and Kimi Raikkonen had dismal qualifying's and failed to make it into the top ten. A puncture looked to ruin Hamilton's race as he put him near the back but a familiar late rally saw him fly past Button, Perez and Raikkonen to claim 9th while the Finn's 11th place saw him finish outside the points for the second consecutive race.
In a week where we expect to learn Ferrari's second choice drive for 2014, could Raikkonen's failure open the door for Hulkenberg? The Sauber man produced one of the best qualifying performances of the season on Saturday and backed that up with a strong 5th place ahead of Nico Rosberg. Daniel Ricciardo celebrated his promotion to Red Bull with 7th while Romain Grosjean held off a charging Hamilton for 8th.
Vettel will believe he should strengthen his grip on a fourth world crown even further over the next few races as F1 heads back to Asia. Alonso and co will have their work cut out even more considering Vettel has won in Singapore, the next race, for each of the past two seasons.
Fastest times of the day by compound:
| | | | | |
| --- | --- | --- | --- | --- |
| |  Medium |  Hard | Intermediate | Wet |
| First |  HAM – 1.25.849 |  ROS – 1.26.500 | N/A | N/A |
| Second |  RAI – 1.26.948 |  WEB – 1.26.690 | N/A | N/A |
| Third |  GUT – 1.27.092 |  HUL – 1.26.716 | N/A | N/A |
Longest stint of the race:
| | | |
| --- | --- | --- |
| Medium | 29 laps | Raikkonen (Lotus) |
| Hard | 33 laps | Grosjean (Lotus) |
| Intermediate | N/A | N/A |
| Wet | N/A | N/A |
---
✅ Check out more posts with related topics: