Verstappen enjoyed post-win partying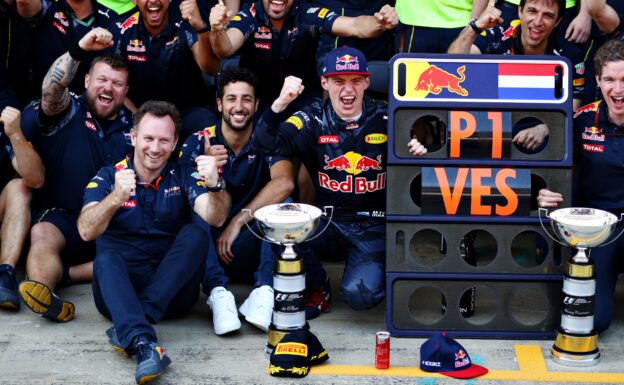 May 19 - F1's newest and youngest-ever winner appears to have enjoyed his post-race celebrations after the Spanish grand prix.
Just 18, some wondered if the Dutchman was even old enough to drink the champagne he sprayed on the podium.
"Yes. It tastes very nice," he confirmed.
Asked if he saw his normally-hard father Jos crying beneath the podium on Sunday, Max said: "I was looking for him but I couldn't (see him), there were too many people.
"But I saw it later on the video and it was very nice."
Verstappen, freshly switched from Toro Rosso after Red Bull sensationally ousted Daniil Kvyat, was back to work for Red Bull on Wednesday at the Barcelona test.
"I could try many things that I couldn't during the race weekend and it was perfect in that regard," Max is quoted by Spain's Diario As newspaper on Wednesday.
He also tried Renault's high-profile new engine specification, which he hopes will still be fitted to the RB12 in Monaco next weekend.
"You always want more power, right? We'll have to see whether we use it in Monaco or not," Verstappen added.
"Anyway I'm looking forward to Monaco, where the atmosphere is very special and in qualifying you go closer to the limit than anywhere else."
As for last Sunday's post-race partying, Max admitted: "It was very good, or at least the things I can remember."
---
Check out more items on this website about: