Leclerc's F1 Future at Ferrari: Will the Star Driver Stay or Stray?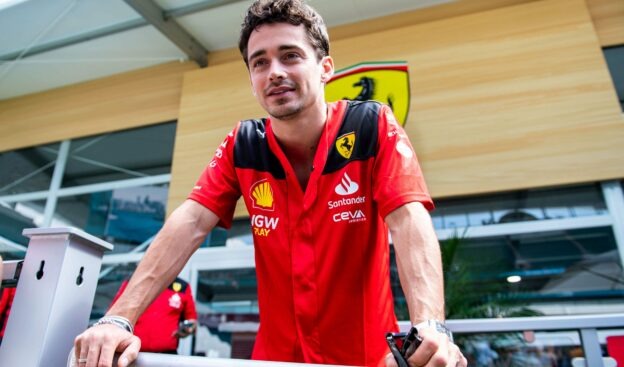 Jun.29 - It's still too early to be thinking about Ferrari's driver lineup for 2025.
That is the view of new team boss Frederic Vasseur, even though the contracts held by current stars Charles Leclerc and Carlos Sainz expire at the end of next year.
"There are 18 months left before the deadline," the Frenchman told Corriere della Sera ahead of the Austrian GP, adding that talks will only begin "during the summer".
Leclerc has seemed increasingly frustrated with Ferrari lately, while Spaniard Sainz is being linked with a move to the new Sauber-Audi works project.
"I have never spoken to Audi," Sainz insists to Blick newspaper. "But you never know."
According to Vasseur, however, both Ferrari drivers remain "impressed by our project".
"They want to stay and win," he added. "But we have to think as a team and mature in all areas. Talking about the drivers today would however be wrong for the steps forward we need to take as a team.
"Introducing the issue of renewals now would be a distraction," Vasseur said. "I told those responsible a couple of weeks ago already.
"The priority is that the drivers work together to develop the car."
However, there are rumours that Sainz's current contract, in particular, is increasingly seen by Vasseur as a clear relic of the old Mattia Binotto days.
"If that's true then I didn't choose Charles either," Vasseur insists. "I found him here too.
"I am satisfied with Carlos," he added. "He is consistent and gives important technical feedback, but like everyone else he has room for growth.
"With Charles, he forms a winning pair. I even think he is very undervalued."
But some think the biggest risk for Vasseur is that Ferrari will lose its most highly rated star - Leclerc.
Vasseur said the "best way" to convince him to stay is "to give him a competitive car".
"He knows that each season is crucial for his career," he added. "But he has one goal - to be world champion. And that is also our goal.
"We have to make both him and Carlos feel at the centre of the project."
It is clear, though, that most regard Leclerc as Ferrari's de-facto number 1.
"Charles is capable of magic in qualifying," Vasseur admits. "He is capable of going further.
"Sometimes that is beyond the limit, always looking for the maximum even when the car cannot give it. He always wants to win, so he can make mistakes like at the beginning of the season.
"But we've talked about it together," he added.
As for the car, Vasseur is also optimistic as he reveals that he is "starting to see progress" after a tough start to his life in red.
"In Canada, the car was travelling at Verstappen's pace," he said.
"These next races will tell us a lot about the state of affairs. If we do well in Spielberg, we will have confirmation that we are on the right track."
And at the same time, Vasseur says one of his priorities is to attract new engineers to Maranello from "outside the Ferrari world".
"We must bring in knowledge from outside as we are undersized compared to the others," he said, although he also thinks that under his predecessor Binotto, "certain decisions" were made last year that hurt the 2023 Ferrari.
---
✅ Check out more posts with related topics: