Sir Jackie Stewart reveals 'green' Dutch F1 GP Trophy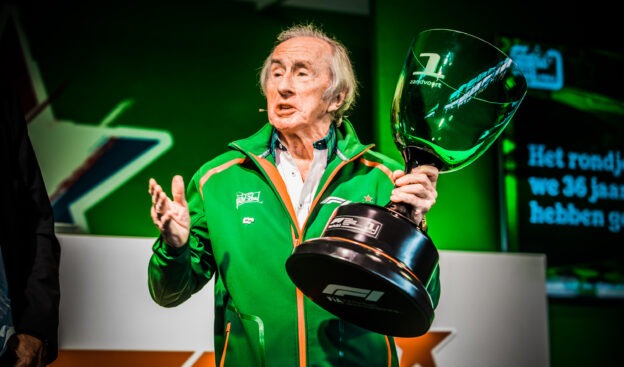 Sep.1 - Racing legend Sir Jackie Stewart today unveiled the Trophy winners for the 2021 Formula® 1 Heineken® Dutch Grand Prix and W Series in Zandvoort this weekend. Together with design icon Piet Boon, a contemporary design has been created that connects the present with the past.
The design of the cup is based on the very first official cup that was awarded in 1939 in Zandvoort and is partly made from recycled Heineken® bottles and crates. It is one of the many initiatives that the brewer has committed to in recent months to make the upcoming race weekend from 3 to 5 September a great success.
"Heineken, which has committed itself to the Dutch Grand Prix as title sponsor for three years, has a reputation to uphold when it comes to atmosphere and sport," explains marketing director Els Dijkhuizen. Despite all the restrictions, she has high expectations. "We are going to make it a wonderful race weekend for all racing fans, taking all guidelines into account.
Think of activations such as winning an exclusive place at our Pitwall Bar for two; you don't get closer to the spectacle. Together with top designer Piet Boon, we have designed a beautiful new cup that will soon be held up by the winner from a stage created by visual artist Joseph Klibansky.
Of course there will also be music by Dutch top artists such as Davina Michelle.This time unfortunately not from a stage in front of a heaving crowd, but via a live stream on a screen."
In addition to all these ingredients, Heineken is entering the race to further propagate the 'When You Drink Never Drive' message. The platform with which Heineken draws attention worldwide to responsible alcohol consumption in traffic. Also on the boarding along the circuit mainly Heineken 0.0 can be seen. We had to wait 36 ​​years for it, but at least the brewer is ready for it.
Trophy
The green glass trophy designed by Studio Piet Boon is mouth blown in the glass city of Leerdam and partly made from recycled Heineken® bottles, the plastic base from recycled plastic Heineken® crates and the box in which it is presented from waste plywood. As a nod to the beach at Zandvoort, the numbers 1, 2 and 3 are engraved with sand in the glass cup. To celebrate the launch of the winners' Trophy, Sir Jackie Stewart talks about the design process in a short film and shows the trophy that will be presented to the winner on the podium next weekend.
Designer Piet Boon: "It is an absolute honor to be involved in this championship and to be able to write a piece of history together with Heineken®. The discipline, an incredible eye for detail and the cooperation of a race team certainly have common ground with our design team. "
Hans Erik Tuijt, Director Global Heineken® Sponsorship: "We are very pleased to welcome Formula 1 back to the Netherlands for the first time since 1985! Heineken is a very proud sponsor of this iconic race in Zandvoort. To celebrate this moment, we collaborated with designer Piet Boon to create a winners' Trophy that strikes the perfect balance between the heritage of the first race in 1939, a modern twist and a positive outlook on the future."
---
Check out more items on this website about: