Zetsche: Alonso is best driver in Formula 1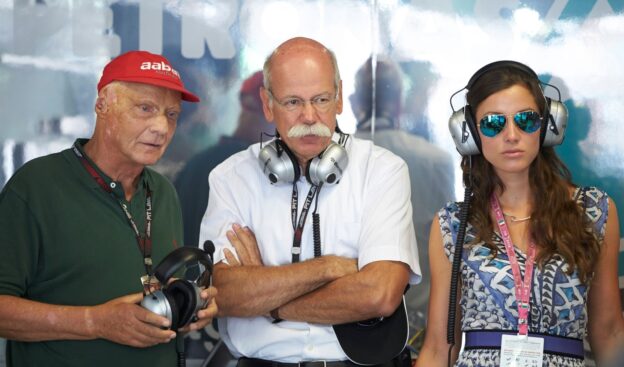 Fernando Alonso is "perhaps the best driver" in formula one.
That is the claim this week not of an F1 fan or an insider, but of Dieter Zetsche.
Zetsche is the chairman of Daimler, the parent company of Mercedes, whose Brackley based F1 team is utterly dominating in 2014.
It has been rumoured recently that Mercedes could be interested in reviving McLaren's fiery 2007 duo, by ousting Nico Rosberg and pairing current championship leader Lewis Hamilton with Spaniard Alonso next year.
Alonso is reportedly frustrated with Ferrari's continuing lack of championship-winning potential, and eyeing a 2015 move to Mercedes or perhaps McLaren.
Mercedes figures including Niki Lauda and Toto Wolff have denied the speculation.
But Zetsche said on Tuesday: "Alonso is perhaps the best driver on the grid, demonstrating it even in a slightly less competitive car."
And he is quoted by Spain's EFE news agency as saying driver skill is more important than ever, after the move to the new breed of turbo-powered cars.
"Drivers with the new hybrid power must be very good," said Zetsche, "because the cars are no longer the 'trams' that we have seen before.
"Today's cars are exciting; it doesn't bore me that the same team has won every race so far," he smiled.
"It is the job of the other teams to equal the performance of Mercedes, even if we also have a lot that we can improve."
---
✅ Check out more posts with related topics: