Webber: Vettel involved lawyers over 'Multi-21'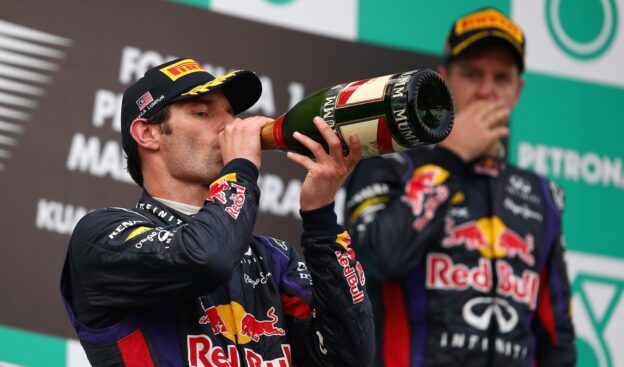 Jul.1 - Sebastian Vettel threatened to sue Red Bull over the 'Multi-21' affair of 2013.
That is the explosive revelation in Mark Webber's newly-published autobiography Aussie Grit.
The Australian this week revealed that the tension between himself and former Red Bull teammate Vettel was so great after the team orders affair of Malaysia that it led directly to his decision to retire.
"(Red Bull) just needed something to change so, you know, I helped that decision for them and left," he told ABC television.
On Multi-21, meanwhile, Webber had said Vettel was initially contrite after refusing team orders, privately admitting to Webber: "I fuc*ed up so bad".
"I don't know who spoke to him between Malaysia and China but we had a discussion in China and it didn't go well," Webber continued.
Now, it has emerged that in those intervening days, Vettel got his lawyers involved.
In his book, Webber wrote that his manager and partner Ann Neal had asked team boss Christian Horner why Vettel was not reprimanded for ignoring the order in Malaysia.
"He (Horner) admitted that the team had received a two-page letter from Seb's lawyer a few days after the Malaysian race stating that they were in breach of his contract by giving him an 'unreasonable instruction-team order'," Webber wrote.
Webber has said since retiring from F1 that his relationship with Vettel is no longer acidic.
But in his book, the 38-year-old claims it was Vettel's "arrogance" that contributed to their famously tense relationship as teammates.
"It seemed the thought of me simply being quicker was not one he could entertain," Webber wrote.
"There always had to be another reason why. Over time, I realised his meltdowns came when he thought he had done enough when in reality he hadn't.
"To my way of thinking, if you get done fair and square on the day you should take it on the chin, but Seb's arrogance meant he simply couldn't comprehend how it had gone wrong and would take it out on the team or rather want the team to do something about it," he added.
---
✅ Check out more posts with related topics: