One pitstop could be possible at 2012 Korean F1 Grand Prix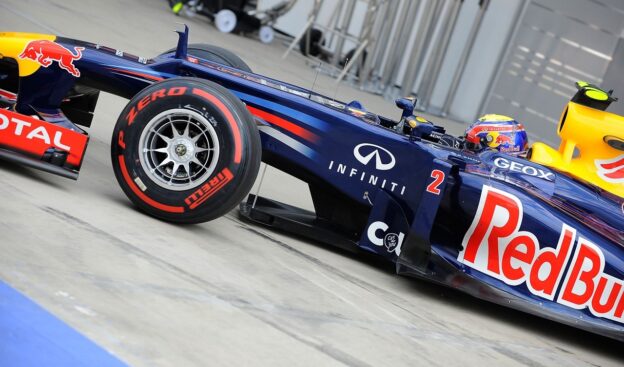 Red Bull driver Mark Webber has taken pole position for the first time at Yeongam ahead of his team mate Sebastian Vettel. Webber set a time of 1m37.242s on the P Zero Red supersoft tyres, which have been nominated together with the P Zero Yellow soft tyres for the Korean Grand Prix.
Qualifying got underway in ambient temperatures of 22 degrees centigrade, on a circuit featuring three distinct sectors: the first one fast and open with lateral accelerations of 4g acting on the tyres, the second one slower and more technical, and the final one tight and twisty like a street circuit. While the structure of the tyre is worked quite hard, the wear rate is low due to the smooth nature of the track surface – and this could even lead to some teams possibly trying a one-stop strategy.
All cars apart from the Caterham of Vitaly Petrov and the two HRTs started Q1 on the soft tyres, with the Ferraris of Fernando Alonso and Felipe Massa being the first of the frontrunners to switch to the supersoft for a final run at the end of the session. Vettel was fastest in Q1 on the soft tyre, while the fastest Q1 driver on the supersoft was Sauber's Sergio Pérez in fourth.
The 17 cars left that went through to Q2 all started the session on the supersoft tyre, with many drivers who had used the softer compound in Q1 taking the same set for their first run in Q2. Alonso – who leads the drivers' championship by just four points – topped the times using the same tyres he had used in Q1, before being headed by Vettel.
The top 10 shoot-out also took place exclusively on the supersoft tyre, with Vettel leaving the pits last for his first run to set an initial benchmark. The two Mercedes and the Force India of Nico Hulkenberg did not set a time on the first run. All the drivers went out for a second run to set a time, with Webber claiming his 11th career pole position from Vettel in the closing moments of the session.
Vettel went quickest in the final free practice session this morning, establishing a time of 1m37.642s on the supersoft tyres: just over half a second quicker than McLaren driver Lewis Hamilton, who will start third on the grid tomorrow.
Pirelli's motorsport director Paul Hembery commented: "We've seen a very interesting qualifying session that has hinted at some of the strategy that could lie ahead tomorrow. With around 0.2 to 0.6 seconds lap time difference between the two compounds, we would expect to see two pit stops during the race, but some teams could even try one stop, as the smooth surface means that wear is low. So we could see longer stints than expected, with the front tyre being the limiting factor here. A wide range of demands is placed on the tyres at this track, but despite that, there is not a huge gap in performance between the soft and supersoft, even after a series of flying laps. As expected we saw a high degree of track evolution over the course of the session, which also helped to contain degradation. However, getting the tyres up to temperature will be crucial here – especially with the long straights that cool the tyres down."
Tyres used by the top ten qualifiers:
| | | |
| --- | --- | --- |
| Driver | Q1 Time | Tyres |
| Webber | 1:37.242s | Supersoft |
| Vettel | 1:37.316s | Supersoft |
| Hamilton | 1:37.469s | Supersoft |
| Alonso | 1:37.534s | Supersoft |
| Raikkonen | 1:37.625s | Supersoft |
| Massa | 1:37.884s | Supersoft |
| Grosjean | 1:37.934s | Supersoft |
| Hulkenberg | 1:38.266s | Supersoft |
| Rosberg | 1:38.361s | Supersoft |
| Schumacher | 1:38.513s | Supersoft |
---
✅ Check out more posts with related topics: