Montezemolo: Alonso 'dark and moody' at Ferrari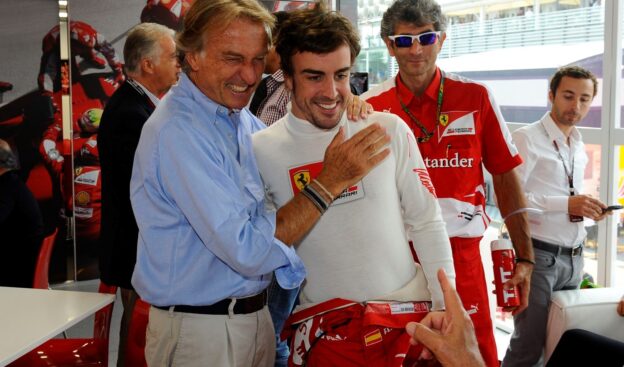 Fernando Alonso had become "dark and moody" by the time Ferrari realised it needed a change.
That is the claim of the ousted former long-time Ferrari president Luca di Montezemolo, who this week hit back at suggestions it was in fact his successor Sergio Marchionne who made the decisive move for Sebastian Vettel.
"The first to speak about Vettel at Ferrari was (Michael) Schumacher," he told La Repubblica newspaper.
"It was the summer when he was to replace (Felipe) Massa. He said 'Seb would be perfect for you'.
"(Stefano) Domenicali wanted him at all costs," Montezemolo continued. "He took him to my house in Bologna and he (Vettel) showed up with a box of Swiss chocolates.
"(Marco) Mattiacci continued the work, and when Marchionne saw that Alonso had become dark and moody and continually manifested distrust in the team, we decided to change," he revealed.
Montezemolo claims that Vettel has also brought a financial benefit to Maranello.
"Vettel certainly earns less than Alonso had asked for a renewal," he said. "And then (Maurizio) Arrivabene really helped to impose a new and positive climate."
Backing Montezemolo's claims that Ferrari needed the Alonso-Vettel switch is former test driver Pedro de la Rosa.
"Fernando has always said that the McLaren project is for the medium and long term," he insisted to the Spanish newspaper Diario Sport. "He knows better than anyone what he had (at Ferrari).
"But knowing as I do the atmosphere in the last months at Ferrari, it was something that needed change and that's why I always supported Fernando's decision, even if it is something that affected me," de la Rosa added.
---
✅ Check out more posts with related topics: